On the SPOT: Chris Tiu
The multi-hyphenated heartthrob on his new business, his "sweet" fans and why basketball is top priority this year.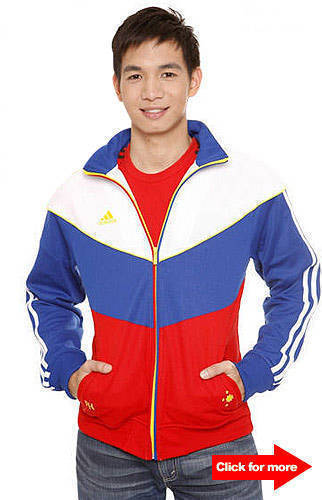 Chris Tiu-basketball player, barangay councilor, entrepreneur, TV host and heartthrob. Click for more photos.
(SPOT.ph) Often dubbed as every girl's dream guy, Chris Tiu first made waves when he donned an Ateneo de Manila University jersey and stepped out into the basketball court in the University Athletic Association of the Philippines (UAAP) games. Fast-forward to 2011, the charming chinito is now much more than just the shooting guard and team captain who led his university team to victory in 2008.
The 25-year old Management Engineering and Applied Math and Finance graduate has been wearing several hats since college graduation: as barangay councilor in Makati, as TV host for Man vs. Beast and Hanepbuhay, and as team captain and shooting guard of the national basketball team Smart Gilas.
Chris Tiu for Habitat for Humanity
The basketball heartthrob has also appeared in several TV commercials: Greenwich Pizza, Ako Mismo, Milo Wellness, Milo Mondial, Milo 3-in-1, Oracare, Nesvita, and Advil. Plus, he's an endorser for Smart Sandbox and Adidas. Tiu also lends his voice and star power to several advocacies like HPV cancer prevention, Habitat for Humanity, and World Vision's fight against hunger. Currently, he is one of the ambassadors of the National Book Development Board's (NBDB) Get Caught Reading (GCR) Campaign, among others.
ADVERTISEMENT - CONTINUE READING BELOW
Nesvita TVC
Now with another business venture under his belt, Tiu proves to be the budding food entrepreneur. In 2006, he opened his first food stall in Ateneo called Chinky Chickens, which still sells chicken rice meals at the university today. His latest baby, Happy Lemon, is a franchise from Hong Kong that serves milk tea fare, among other chilled concoctions.
We sidled up to the hardcourt cutie whose talents and good looks have spawned fan groups with witty names like "Iglesia ni Chris Tiu," and has graced both our Top 10 Most Eligible Filipino Bachelors and Top 10 Cutest Male Athletes lists as he talks about his newest business project, his fans, what he thinks about crazy rumors and why basketball will take top priority this year.
CONTINUE READING BELOW
Recommended Videos
Tell us about your newest business venture, Happy Lemon.
It took my friends and I awhile to get the franchise. The Promenade Greenhills is our flagship branch and we plan to open several more [branches] this year. We really like Happy Lemon, and we buy it every time we go abroad.
You're busy with the Smart Gilas basketball team, as Kagawad in Makati and your TV hosting  stints, do you even have leisure time?

The last few months have been really busy since we play most of our games abroad.
Chris Tiu on "Hanepbuhay"
What do you do during your downtime? Where do you hang out in Manila?
Whenever I have free time, I try to go out of the city. I go to Tagaytay and play golf. If I don't have the luxury of time, I have dinner with the family and friends. I love Japanese food and I love steak.
ADVERTISEMENT - CONTINUE READING BELOW
Which restaurants are your favorites in Manila?
I love Highlands Steakhouse in Mall of Asia. I also love Angel's Kitchen in Greenhills because it's home-cooked food. For Japanese food, I love ramen! I like the ramen of Konbini, they have good ramen there. I like Senri in Pasay Road, Sugi for sushi. I also like Chinese food-I like Gloria Maris and Lugang.
You have over 60,000 fans and followers on Facebook and Twitter. Have your fans done anything crazy or over the top that really surprised you?
Nothing crazy or over the top, they're really sweet. Some of them have created blogs and fan pages for me, with all my endorsements, magazine appearances, TVCs and news clippings. They gather everything and put them together, and the sites are very updated.
They're really sweet. Like sometimes after practice, they'd give me donuts and they're very supportive of all my activities.
What was the craziest rumor people have spread about you?
There've been a couple. It can't be avoided if you're in the media or if you're playing basketball. There were rumors that said I was dating and going out with a certain celebrity, which is totally not true.
Sometimes, I don't even know that person. It's like, "he's dating this certain celebrity and they've been going out..." They even quoted the girl. I mean, it's part of being in the industry. If there's no truth to it, it'll just die down naman, so nothing to be worried about.
ADVERTISEMENT - CONTINUE READING BELOW
Interview with Chris Tiu after the 2008 UAAP championship
You've been all over the world playing for the Smart Gilas team. Do you see yourself living in another city apart from Manila?
If it's [moving] for work, no [I don't see myself living in another country]. I'd really miss my friends and family, plus all the opportunities and projects I could do are here. But if I were to retire or take long vacations, I'd go to Vancouver-I like the views, nature, the discipline, and the people. It's very laidback, there's no traffic. It's just very organized and you feel safe there, plus the food is fantastic so I like going there.
What pre-game rituals do you have?

Three to four hours before a game, I go for a heavy meal and have a snack an hour before so I won't get hungry during the game. Sometimes, I listen to music in the bus while going to the venue.
What's in your iPod?
Contrary to most basketball players who like listening to music that pumps them up, I like slow and relaxing music like love songs, even Chinese music. I listen to Chinese music kasi. [I like] songs that are relaxing and soothing, to calm me and help me focus on the game. That's me (laughs).
What can your fans expect from you in 2011?
This is the year for Smart Gilas. The program was set up so we can qualify for the Olympics and the qualifiers are going to be this September in China, so that's what we're working for. From April to September, we'll be busy with preparations. It's really a lot of basketball. I don't want to waste energy on other activities, because training for the team also requires a lot of rest time and focus.
ADVERTISEMENT - CONTINUE READING BELOW
I'm trying not to plunge into too many engagements, which I tend to do most of the time. But of course, the TV stints will still be there, my TV hosting, I will be involved in my businesses and my barangay work in Makati. But mainly, the year will be about basketball, we want to bring back the basketball glory back to the country. Even if we don't qualify for the Olympics, we still want to bring back the respect for Philippine basketball and give Pinoys something to be proud of.
Photos from Adidas, NBDB website, GMA 7, Happy Lemon and Men's Health
Share this story with your friends!
---
Help us make Spot.ph better!
Take the short survey
Load More Stories