On the Spot: Marco Lobregat
The Minister of Mushrooms on his love for Manila, modeling, and what else? Mushrooms.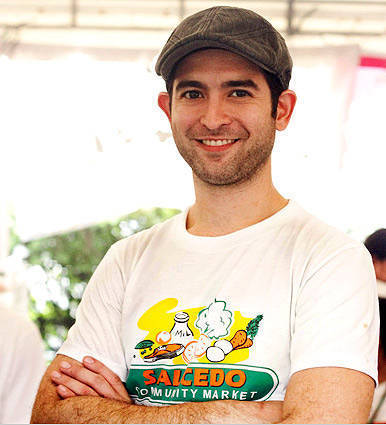 (SPOT.ph) You know this guy. You might not know his name, and things might be a bit vague, but you know him. You've seen his face in a lot of commercials, but right now, you probably know Marco Lobregat for his Ministry of Mushrooms project.

Ministry of Mushrooms is that stall at Salcedo Saturday Market that sells all things mushrooms. They've been there for seven months now selling anything and everything mushroom related. The short of the long: Ministry of Mushrooms is a group of three guys who grow mushrooms and supply to different restaurants. You can buy their goods at the market to take home, or you can try the food on offer-from their partner Edgy Veggy-and see what can be done with mushrooms.
If you've yet to try anything from their stall, don't fret. Because they supply mushrooms to many different restaurants in Manila, we're pretty sure you've already been shroomed by the Ministry.

Since they're becoming difficult to ignore, we went to Salcedo one Saturday and put Marco on the spot.
What is up with this Ministry of Mushrooms shebang?
We grow and supply mushrooms. The whole purpose of it is to try and build the mushroom industry in the Philippines into a sustainable and world class industry. It's been two years already. It's gonna take some time but slowly the voice is getting out there.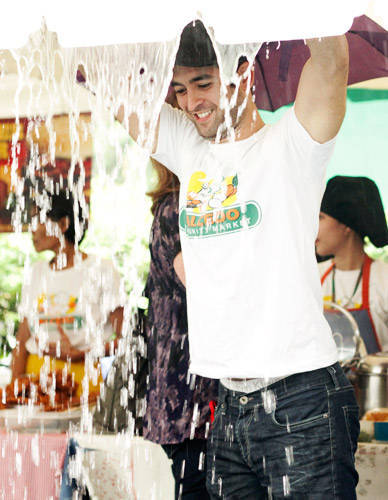 ADVERTISEMENT - CONTINUE READING BELOW
How long have you been here in Salcedo?
This stall in Salcedo Market is to reach our clients directly, learn what it is they want. It also allows us to showcase what you can do with mushrooms. We've been at it since December, so seven months.

So that's an intense seven-month hang out here in Salcedo. What are your favorite stalls here?
Apart from ours, you mean? Ha, ha! The inasal is very good. The kebabs beside the inasal are also pretty good, they're new. My favorites here are the Morrocan lady and the stall that sells Cuban fare, Sabor Cubano. There's a girl here who sells Asian dishes. I forget her name but that stall, they change every so often so they have Kimchi rice and the Nasi Goreng, pretty good stuff.

Oh, so you're not vegetarian.
No, I'm not. I eat a lot of vegetables but I'm not vegetarian. JJ, one of the guys, is.
CONTINUE READING BELOW
Recommended Videos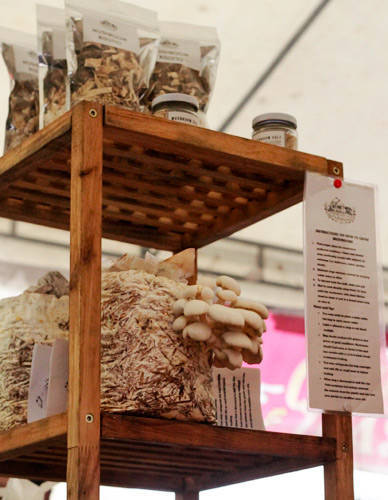 So why mushrooms, then?
I was sure this was going to be one of the questions, ha, ha. I noticed in the beginning that most of the mushrooms here were either imported or canned. Second, when I came back home, I wanted to start a business that was really grounded. During the financial crisis, I wanted to get back into what I knew I could understand: agriculture. I was looking for a product I could do that with and I noticed mushrooms were mainly imported, and I had a friend who was growing it as a hobby so I we decided, why don't we look into that? The more we did, the more I fell in love with it. Besides, I've always loved mushrooms. It's so underrated, always an add-on but I've always loved it. It's a favorite ingredient!

You came back home so you came from where? You lived abroad?
Yes, I lived in Spain for a year and then did four-month long stays in several countries for about four years for my job. I was working with a newspaper.

Did you miss anything about Manila while you were away?
It was really the friends and the comfort. Living abroad requires you to work and then take care of yourself. Here you have family looking after you, you have a support system. I noticed Manila has changed, too, while I was away.

Yes, how so?
Manila is getting more and more interesting to me. While I was gone, so many things were sprouting up, so many unique things were happening. I feel like before, there's just one mainstream and that's that. Now, there's still that mainstream but there are a lot of scenes going on as well-there's Cubao X, there's Collective, the dining scene is so exciting and the fashion scene is also so alive; so many models are coming in [from elsewhere]. I'm going back to modeling now and it's now much more competitive, which I like. Competition is up but you also meet more people from different places and they bring in more things. People are starting to open up more and more. People now have a wider mindset, appreciating more local things that you find here. We have a wider perspective now.

ADVERTISEMENT - CONTINUE READING BELOW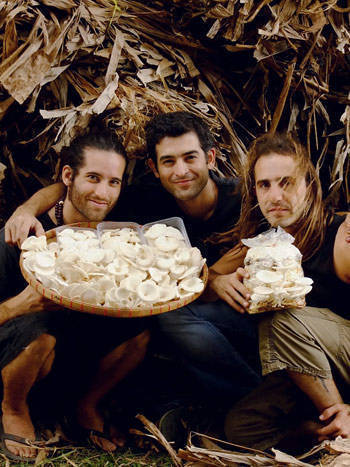 photo courtesy of Town and Country


You brought in two imports too.
Yes, my partners JJ Ortoll and Victor Sala. JJ, we've been friends since here in Manila and when I went to Spain, we became flatmates. Victor, our engineer, we met also in Spain. The three of us were doing different things. JJ was working in a shop, involved in art, Victor was in school, I was in sales. Eventually we were able to put our strengths together. Now we're starting to take on our own roles into developing the business.

You mentioned how so many things are happening in Manila now. Where do you go to have a happening time here?
I'm a Makati boy. I go to the Fort, that place has so many new places all the time! I also go down south a lot. Up north is treasure land for me, I'm like a probinsyano when I'm there. "What is thaaaat?!" And yet I find myself not wanting to go there because of all the traffic. (Laughs) I just go where my friends are. Handle bar is one of those places. Sometimes Craft. My other partners are always in Collective.

People don't know it but they've probably had your mushrooms just because you supply to a lot of restaurants. Can you name some where we've probably sampled your product?
ADVERTISEMENT - CONTINUE READING BELOW
Yes, when I see them eat at places we supply to, I'm like, 'yeah those are our mushrooms!' Haha we supply to this really great Chinese restaurant Hai Shin Lou. Chef Laudico is a big supporter, too; Simply Thai, Thai at Silk and Malcolm have been getting mushrooms from us. Quantum Café, Edgy Veggie, Sexy Chef. These are a few of the more regular ones. All with oyster mushrooms!
We're sure you're bringing a lot more varieties in the future.
This year, we should be able to introduce the straw mushroom as the asian button mushroom because it has the flavor. Everyone uses that but canned. You have to try it fresh. Iba talaga siya. Yun lang, it's highly perishable so we need to be able to deliver that ASAP. Right now, we're supporting Edgy Veggie because they want to put up a café. Eventually there is a possibility for a franchise and then a café. Our dream for the long term is possibly be, to have a restaurant focused on mushrooms.

Who thought of the name Ministry of Mushrooms?
I was hung over in Australia one morning. I came from a party. I was already talking about this and I knew I was coming home. I was thinking and telling myself, 'It has to be catchy. 'M,' 'M' mushroom, ministry!


Photos by Majoy Siason
Share this story with your friends!
---
Help us make Spot.ph better!
Take the short survey
Load More Stories