School Stereotypes: University of Santo Tomas
Bestselling author and FHM columnist Stanley Chi on what it's like to be Thomasian.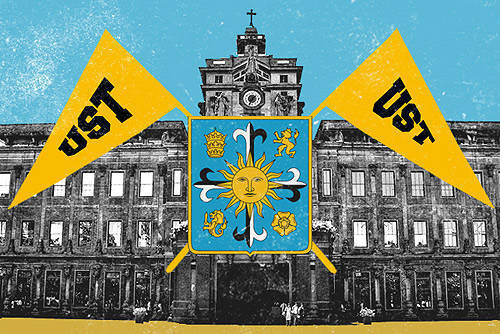 (SPOT.ph) ADMU, DLSU, UP, or UST? Choose your poison. There will always be stereotypes associated to whatever university you choose. And having graduated from the University of Santo Tomas, the oldest and biggest Catholic university in the Philippines, I have had to bear with my own share of typecasting.
ADVERTISEMENT - CONTINUE READING BELOW
CONTINUE READING BELOW
Recommended Videos
But before touching on the inaccurate generalizations associated with Tomasinos, here are a few stereotypes that any UST student can relate to.
If you're from UST, you are a suki of the photocopying and bookbinding stalls found in Dapitan.
As a Thomasian, you are not easily impressed by fireworks displays elsewhere, thanks to four (or more) years of exposure to pyrotechnics during Paskuhan.
As a student of USTe, you know that the security guards will eat you alive if you don't wear your ID upon entering your building.
After four years in UST, you become a certified guru in flood wading-and your friends start believing you're genuinely waterproof.
You know better than to assume that all Thomasian students wearing white uniforms are enrolled in medical courses. (To those not privy to UST culture: Even Thomasian students taking up Commerce and Education wear white uniforms.)
Growling Tiger, Hidden Dragon: Tomasino = Tahimik?
ADVERTISEMENT - CONTINUE READING BELOW
Perhaps my reference to the famous Chinese movie in the above heading can't be helped, especially because I'm Tsinoy. (Speaking of stereotypes, yes, I may be part-Chinese, but I don't know kung-fu, I'm not kuripot, and I don't necessarily have to marry another Chinese. But that's another topic altogether.)
I remember that whenever the UAAP season rolls in, even those who can't tell the difference between a free throw and a field goal start chanting, "Go USTe!" when the Growling Tigers are on deck.  But many Thomasians are relatively quiet in class, even when they know the answer during recitation.
There's that "Hidden Dragon" inside us-that intrinsic desire to stay tight-lipped and invisible-for as long as necessary. While graduates from other schools are more outspoken, those hailing from UST are content to stay out of the limelight.
But hey, maybe that's just another stereotype.
"USTereotypes"
There are many other stereotypes about Tomasinos, most of which are largely untrue. But you be the judge:
ADVERTISEMENT - CONTINUE READING BELOW
UST STEREOTYPE #1: If you're from UST, you're a Mayrics patron.
Although Mayrics was known as the hotspot of underground Pinoy music during its heyday, not all Tomasinos were aware that it was just a stone's throw away from UST. Too bad.
UST STEREOTYPE #2: UST students are good little boys and girls.
Just because we went to a Catholic school does not make us instant angels. And don't assume we're not activists. We go to rallies, too-but you can hardly find us because of our "hidden dragon" powers.
UST STEREOTYPE #3: UST is the last to announce suspension of classes during typhoons.
Okay, this may be true sometimes. But who needs an official declaration when you've got the fast-rising floodwaters making the announcement?
UST STEREOTYPE #4: If you don't prove your mettle in UST, you end up transferring to "the other school."
There's a statue of Bishop Benavides in front of the main UST entrance-and it's pointing in the direction of another university. "If you're not UST material, doon ka sa kabila!" is its hidden subtext, or so others claim. But that's a rather rude punchline a Thomasian of good upbringing will never make.
ADVERTISEMENT - CONTINUE READING BELOW
UST STEREOTYPE #5: If you're from UST, you are anti-RH law.
No, this is not necessarily true. But with my fellow MIBF literacy ambassador Carlos Celdran facing charges for allegedly hurting religious feelings, elaborating on this would be like stirring a hornet's nest-and I don't want to get stung.
Besides, my favorite color is yellow.
About the Author:
Stanley Chi is the author of the bestselling Suplado Tips book series and Pogi Points. He is also a cartoonist, stand-up comedian, and host. Tapping his business-centric Chinese roots, he designs the now-viral Suplado Shirts. When you're not reading his online FHM column called One Night Stan, you can stalk him on Twitter (@stanleychi).
Load More Stories