Give In: How to be Happy
Jenny Santi, author of The Giving Way to Happiness, talks to us about her new book and how giving changes lives.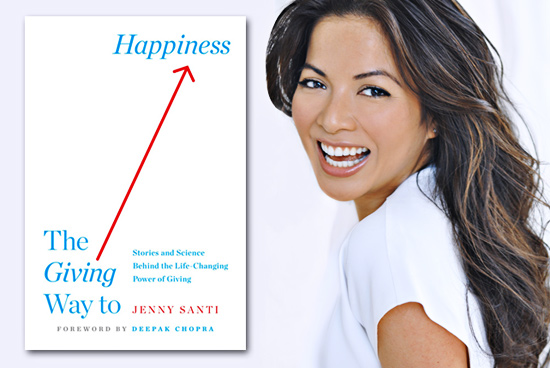 (SPOT.ph) We wouldn't have thought that someone like Jenny Santi, author of the new book, The Giving Way to Happiness, would ever consider herself an introvert. A noted philanthropy adviser, Santi is energetic and passionate about helping other people learn how to help others out. But perhaps because of her busy lifestyle, she always craves quiet time.
We recently sat down with the author to talk about her book, her high-profile clientele, and what exactly a philanthropy adviser does.
What is a philanthropy adviser? We've never heard of that job before.
Neither have I, until eight years ago when I started out. I see my role as a philanthropy adviser helping my clients channel their wealth, power, or their fame towards social good. Essentially, I'm a management consultant where all my engagements are philanthropy-related, like setting up a foundation or improving an existing foundation's operations. But sometimes, I'm also a family discussion facilitator, when people don't get along. Sometimes I'm a career counselor, to help people figure out their role within the foundation. Sometimes I'm also an event organizer. I've set up a lot of forums and round table discussions on the topic of philanthropy, giving, social impact, that's meant to bring people to talk to each other.
So you're working now within a corporate framework?
Not really. I have my own practice now which is set up in Singapore and New York. But I never really planned this. I had a job for five years, running the philanthropy services division at UBS, which is this bank here in Southeast Asia. But I left that to write this book.
ADVERTISEMENT - CONTINUE READING BELOW
But what happened was, a few months into writing, I got a call from Goldie Hawn. She needed help with her foundation and she wanted to hire me as a consultant for a short period of time. When you get a call like that in your pajamas while you're writing your book, from an Oscar-winning actress who needs your help, you don't say no. I figured, "Why can't I write this book and do that at the same time?" That job turned out to be a longer engagement, but I also got other clients out of that experience.
CONTINUE READING BELOW
Recommended Videos
How long did it take you to write the book?
It's about a two-and-a-half year process. When I started out, I didn't know anything about the publishing industry, and the longest thing that I had written before was probably my college thesis. But I just had an idea that I was obsessed with, which was about how giving can be tremendously fulfilling and can change the life of the giver.
Was philanthropy work something you were interested in before, or was this because of your work experiences?
I was always interested in having a career that meant something and that made a difference. I guess that's the idealist in me, which I guess emerged growing up here in Manila, where every day you're reminded that there are those less fortunate than you are. I didn't exactly know how I would do that, but I knew I wanted to do something meaningful.
ADVERTISEMENT - CONTINUE READING BELOW
In the book, you wrote that working in the social sector doesn't necessarily translate to social impact. Can you talk about that briefly?
Having been in this career for eight years, there isn't a week that goes by without some mid-career person or a young person asking me for career advice. Usually, the story I hear is that they don't feel fulfilled in their corporate job and they want leave it to work for non-profit. What I tell them is that just because you want to do good doesn't mean you have to quit your job now. I tell them that the life of the non-profit professional is not for everyone, but that if that's what they really want then I won't tell them no.
But I also tell them to think of ways that they can help where they are now. We don't have to all go to work for non-profit to make a difference in other people's lives. There are ways to make an impact without leaving what they have now.
What are the ways that someone, who doesn't necessarily have a lot, could help out other people?
We don't have the same amount of wealth, but we all have time. So giving up some of your time to help others is one way. And doing just that will also change you. You'll meet new people, make new friends, and you'll have more meaningful connections with them because what you have in common is the desire to improve the lives of others.
ADVERTISEMENT - CONTINUE READING BELOW
But the other thing is, we need to really figure out what we really care about. Take the time to think about what really concerns you, rather than helping or giving your time out of a sense of obligation. I think that's a better starting point for giving, because you'll find that fulfillment that you're looking for when you feel passionate about what you're doing.
The Giving Way to Happiness (P755) is available at National Book Store and Powerbooks.
Share this story with your friends!
---
Help us make Spot.ph better!
Take the short survey
Load More Stories