A conversation about short stories, Cory Aquino, sari-sari stores + more
Author Mia Alvar tells us about In the Country, her new short story collection.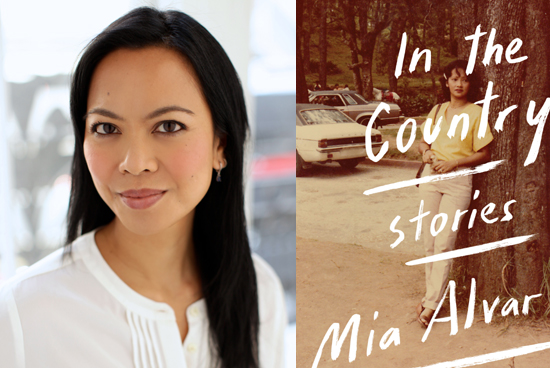 (SPOT.ph) Upon first glance, Mia Alvar seems intimidating. The author of In the Country, a short story collection published by Alfred A. Knopf, looks the part of a New York-based literary writer—graceful, articulate, thoughtful, and serious. Yet not a minute into our interview she breaks into laughter when asked a very candid question. "Ang hirap naman niyan," she tells us, and our preconceptions are pleasantly shattered.
ADVERTISEMENT - CONTINUE READING BELOW
Born in Manila but raised in Bahrain and New York, Alvar was recently in Manila to promote her book as well as attend a literary festival. We sat down with her to talk about her wellspring of story ideas, which authors have inspired her, and how she went about describing a sari-sari store in one of her stories.
We're going to start off with a question that you're probably asked a lot—where do you get your story ideas?
There's a lot of inspiration from family anecdotes, particularly my parents' stories about the '70s and '80s in the Philippines. There's at least a spark of inspiration from real life in each story. So I took those seeds of inspiration and exploded them. I combined them with other ideas, and took them further and further from reality.
Can you tell us about the process of writing a short story collection?
ADVERTISEMENT - CONTINUE READING BELOW
The truth is that I didn't set out to be a fiction writer. I wanted to be a poet for the longest time. But when I was in college, I visited the Philippines for the first time after being away for 10 years. It was like I was seeing the Philippines for the first time, I had been away for so long, so I was taking in a lot of details I took for granted. When I went back to the U.S., I had all these notes, but I didn't know what to do with them, they weren't material for poetry. So out of curiosity I took a fiction workshop.
This was in the late '90s, and there was number of short fiction collection that came out in the U.S. at that time that really inspired me. They were about immigrant communities, and they made me think about the material I had. Suddenly, the stories from my background and from my family could be the stuff of literature. So that's where the idea for the short story collection began.
ADVERTISEMENT - CONTINUE READING BELOW
You said that you were inspired in part by a number of short story collections. Can you tell us what they were?
One that I really loved was Junot Diaz's first collection, Drown, which focuses on the Dominican-American experience. I was just inspired by his prose, first of all. He's just so inventive with language. Another one that I liked was Jhumpa Lahiri's Interpreter of Maladies. I sort of pair these two, even though they're such different writers. She's very graceful and exquisite, and he's very explosive and inventive. But they inspired me in a similar way, to look at these seemingly mundane experiences I and members of my family had, and capture the reader's imagination with them.
Given that you were inspired by Diaz and Lahiri, does that mean you'll follow suit and your next project is a novel?
Yes. I am writing a novel. [Laughs.] It takes the main character of the title story in In the County, Milagros, and follows her life after the events in the story.
ADVERTISEMENT - CONTINUE READING BELOW
Speaking of the stories in In the Country, can you tell us about your story, "Old Girl." We were surprised to find ourselves reading a fictionalized story about Cory and Ninoy Aquino in Boston. How did you come up with that story?
That story was actually a replacement. It was the only story that I started writing after we sold the book to the publisher. I pulled out one of the original stories I sold, which was set in Boston where I studied, because the story just didn't fit in with the tone of the collection.
I had wanted to write about Boston and [the Aquino] family for a long time. For a while I even thought of writing an essay about it. I always found it fascinating in interviews, Cory Aquino would describe the three years they lived in Boston as the happiest time of their life, for obvious reasons. And I was thinking this in the aftermath of the Boston Marathon terrorist attack, and a lot of people were writing nostalgia pieces about Boston and their experiences there. So this was my way of putting those different things together.
ADVERTISEMENT - CONTINUE READING BELOW
Another story that fascinated us is "The Legend of the White Lady," which is notable for being the only story in the collection to have a non-Filipino protagonist. What was the inspiration for that story?
The original inspiration for that was Claire Danes. Remember when she came to Manila to shoot a movie, and she said those things? I was fascinated by the language she had used to describe Manila, which was surreal and dreamy. As disparaging as her words were, Manila is kind of dreamy and surreal. So it started out with that, but I soon changed the character from an actress to a struggling model, and weaved in the legend of the white lady (of Balete Drive).
We noticed that most, if not all of the stories are set in the '70s and '80s. Is there a particular reason you chose that period?
I was a child of the late '70s and early '80s. So I was too young to process what was happening in the Philippines. But I did grow up with adults who were there during Martial Law and People Power, and I was obsessed with their experience of it as non-politicians and non-activists. I just had such a curiosity about the lives of ordinary families at the time. I felt like I've read a lot of the historical and encyclopedic accounts, and the stories of the key figures. But I wanted to write about that experience from an ordinary perspective.
ADVERTISEMENT - CONTINUE READING BELOW
Finally, we were fascinated about your description of the sari-sari store in "The Kontrabida," because while it resembles a sari-sari store, the way you described it made it seem like an alchemical realm.
There are some details about the sari-sari store that I took from when I last visited the Philippines. My uncle had one built next to his house. I like to think of the sari-sari store in "The Kontrabida" as a stylized sari-sari store, and that's true for most of the settings in the book. They might share the name of a space in the real world but they're exaggerated in a way.
I think the word you used, alchemy, is an apt metaphor for what I try to do when I write. I tend to easily get bored when I try to write things as they are in the real world. So I like to jump off of whatever memory I have, or whatever research I've done—and there was a lot of that I did to write these stories. The fun part for me is when, after I've done all that work, I can spring into something imaginary.
ADVERTISEMENT - CONTINUE READING BELOW
In the Country (P815) is available at National Book Store and Powerbooks.
Recommended Videos
Load More Stories