(SPOT.ph) Professor Viet Thanh Nguyen has a mind as sharp as his dress sense, readily apparent as we sat down to talk about his debut novel The Sympathizer (2015), short story collection The Refugees (2017), as well as historical and contemporary politics and violence. In 1975,  Nguyen and his family fled with over 130,000 other Vietnamese across the Pacific. But before that, he was placed in a camp in the Philippines where he was separated from his family for a few months, though he has no recollection of this time.
These days, his life is completely different: He's an author, scholar, husband, and father in the United States. He may have won the 2016 Pulitzer Prize for Fiction and bagged himself a prestigious MacArthur Foundation Fellowship in 2017, but in reality, his life has been turned upside down ever since—and all the things that comes with it takes him away from his writing. In this chat, Nguyen talked about his new novel, the common things between Vietnam and Philippines, and literary inspirations.
ADVERTISEMENT - CONTINUE READING BELOW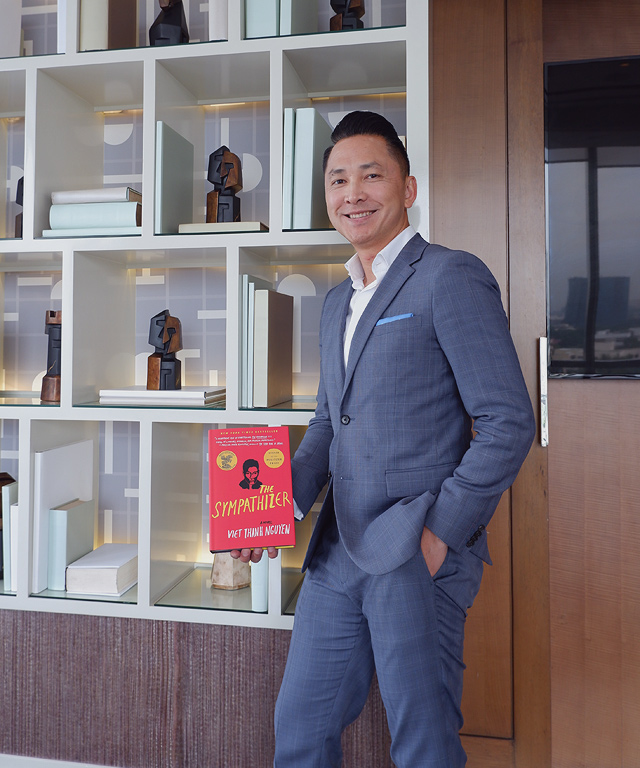 Between your novel and short stories, was there a difficult story, one that took years before it was ready to write?
The Refugees was a very difficult book to write. It took 17 years and three tries to get published. Almost every moment of that writing was misery. The worst story was the first story, Black-Eyed Women. I began it in 1997 and I finished it in 2014. It was the first story I wrote and the last story I revised. It had over 50 drafts and was a miserable, horrifying experience. I learned how to write with that story; because that story didn't break me, because I didn't quit, I became a writer. Ironically, for a lot of readers, especially refugees, Black-Eyed Women is the most successful of my stories. I hope when you read it that you can't tell it took 17 years to write—you can finish it in 20 minutes.
It was the first story I wrote. It bears the ambition that was realized in The Sympathizer, which is that I want to be a writer whose stories deal with a lot of issues—which is great for a novel. So when [the time came] to write a novel, I had all these hundreds of pages to write what I wanted to say. It was very liberating. It's impossible to do that in the context of a short story. I had to learn that with a short story, you have to make it less. In a novel, you put in a lot of things; in a short story, you throw a lot of things out. Those 50 drafts involved realizing what I had to cut out. That was very hard for me to do.
My wife, poor woman, is my sounding board for all my short stories from the very beginning, which means she's suffered through bad writing for 20 years. She's been enormously supportive. If she has any negative thoughts about my writing, she's kept them to herself. Which is how it should be.
ADVERTISEMENT - CONTINUE READING BELOW
How long did it take you to write The Sympathizer?
Two years and three months. I was very lucky. I had two years off from my job as a professor, and knowing who I was, everybody left me alone. It was very liberating. I wrote four hours a day and ran for an hour, which is also an important part of the writing process. I loved almost every moment of writing the book. I think it was a very unique experience and I hope that I have it again but I doubt I will. It's much more difficult to find two days of uninterrupted time.
In The Sympathizer, you set part of the story in the Philippines when you had the unnamed narrator become a movie consultant. Why did you make this narrative choice?
I wanted to have The Sympathizer be not just a spy novel, but also an entertaining novel and a comic novel. I thought it would be funny if unexpected things happened to him, including becoming this authenticity consultant in the making of a movie, and the reason I did that is because I wanted to take my revenge on Hollywood. I watched a lot of American movies about the Vietnam War when I was a kid, including Apocalypse Now, which is the most obvious object in the satire. And I thought when I started writing this novel, "I'm going to put in this movie satire regardless of whether it makes sense or not." So it does constitute a digression in the novel and I'm okay with digressions. I chose the Philippines because I wanted the satire to be very clear because the legend and making of Apocalypse Now is pretty well-known. It works perfectly both historically, but also because the Philippines and Vietnam share some history as colonized countries that were also occupied by Americans. And the fact that Vietnam War movies have been shot in the Philippines by Americans, a country that they themselves colonized, is a perfect set of historical coincidences that allow the comic sequence in the novel to make many kinds of references both to Hollywood and colonization and the ironies of depicting horrifying war through absurd films.
ADVERTISEMENT - CONTINUE READING BELOW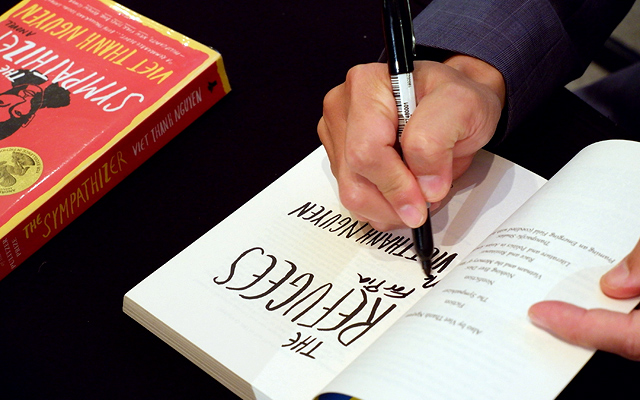 What kind of research did you have to do on the Philippines for your novel?
I read everything written on Apocalypse Now as well as Francis Ford Coppola, which is about a dozen to 15 books, as well as several articles. That included articles that talked about the actual Filipinos who were involved in the making of the movie, as well as the Vietnamese refugees who were involved, too. There's actually very little written about the Vietnamese refugees who played the Viet Cong, and so that allowed me a lot of room to make up stuff outside of the research. And then I also read whatever I could find about Manila and the Philippines in the late 1970s to make sure I got the details right about the geography and things like that. Outside of that, I knew little about Filipino history and politics and colonization from my work as a scholar. All of that filtered into this depiction in the novel.
ADVERTISEMENT - CONTINUE READING BELOW
Incidentally, the Philippines is the country I most wanted to visit due to having many Filipino-American friends. Also, the literature produced by Carlos Bulosan and Jessica Hagedorn are crucial to what I wanted to do as a writer.
What do you think Vietnam and the Philippines have in common, especially in terms of American colonization?
Well, the Philippines and Vietnam were colonized by other countries before the Americans came along, such as Spain and France. These experiences of colonization have left permanent traces in Filipino and Vietnamese culture. And the Americans came in ostensibly to "liberate" Filipinos and Vietnamese but obviously to re-establish colonial control over these countries. What that means in terms of the impact on Philippines and Vietnamese culture and psychology—a lot of the things I've heard about Filipinos apply to the Vietnamese as well: self-hatred, internalized racism—these are aspects of how we've internalized racism and maintained inequality in our societies.
ADVERTISEMENT - CONTINUE READING BELOW
Where the countries diverge a bit is that the Philippines never successfully de-colonized. The Philippines never had a successful revolution against Spain and the United States, whereas the Vietnamese were successful against the French and the Americans. I'm not saying this is better, I'm just saying these are two different ways of how history turned out. The place of the Philippines and Vietnam on the stage of global capitalism—which is a direct consequence of colonization—are also different, and may have something to do with the success or failure of revolutions. Right now, the Philippines exists in the global market as a source of export labor; whereas Vietnam is becoming a Little China, is replacing China as the go-to source of cheap labor, and is arguably more successful in integrating into global capitalism in terms of becoming a more successful player. I find these divergences interesting in terms of Filipino success, in terms of handling itself in the wake of colonization.                                       
ADVERTISEMENT - CONTINUE READING BELOW
How can we use that commonality to navigate today's geopolitical climate?
The irony is that Vietnam had these very successful anti-colonial revolutions to establish Vietnam as being free and independent. And yet, though Vietnam is economically prosperous and independent, it's also a country that is very un-free in terms of its domestic politics. That serves as a lesson as the failure of revolutions; what does it mean to revolt against colonialism and capitalism only to become a capitalist power yourself, arguably more repressive than the countries that you defeated?
The Philippines has not occupied the same place in the global imagination that Vietnam has because the Vietnam War was, for a while, on everybody's consciousness. Vietnam becomes synonymous with war and revolution and an inspiration for revolutionary movements around the world. Because the Philippines wasn't that successful in throwing off foreign occupation, it doesn't have that place in the imagination. I'm not sure what that lesson is for the rest of the world, because the Philippines is free and arguably less repressive than Vietnam, but it's still a country that is suffering from the legacy of feudalism and colonialism. The Philippines hasn't been revolutionary enough. Vietnam has been too revolutionary.
ADVERTISEMENT - CONTINUE READING BELOW
If I may add, the whole idea of People Power and peaceful revolution is still important because we see it happening in Algeria, for example. From what I understand about Filipino politics, this revolution has been thwarted because even though Ferdinand Marcos has been deposed, the aristocracy remains in place. The structures of inequalities still remain in place. All popular peaceful revolutions have the same problem. You can depose a dictator but can you change the fundamental structures of inequality. You can do that, but how?
Which literary works inspired your novel? 
For the novel, I was deeply inspired by satirical work about war and politics—Catch-22, Journey to the End of the Night. I was also inspired by the tradition of minority literature in the United States, especially Asian-American and African-American literature, writers like Maxine Hong Kingston, Carlos Bulosan, Jessica Hagedorn, [and] Toni Morrison. Ralph Ellison in particular with The Invisible Man. He's a very important inspiration. Finally, European traditions of modernism and existentialist literature: Dostoevsky, who was a big influence on Ellison, and Antonio Lobo Antunes of Portugal. His novel The Land at the End of the World was an enormous influence on the style of this book.
ADVERTISEMENT - CONTINUE READING BELOW
I think that The Sympathizer is different from all the other books that preceded it, including my short story collection The Refugees, which was written before but published after. After The Sympathizer, I wrote Nothing Ever Dies, which is a nonfiction book about Vietnamese refugees and the war. Those two books are the critical and fictional bookends of the same project, which is an investigation of war and memory. W. G. Sebald is a writer who wrote both fiction and nonfiction about war and memory, especially about World War II. What was interesting about him is that you can't tell the difference between his fiction and nonfiction. I aspire to get to that point. I haven't gotten there yet.
When I was 12, I read all sorts of books about war—some of which were fine, like All Quiet on the Western Front. Some of which was not, which were very traumatizing, like American novels on the Vietnam War, which depicted racism. They weren't necessarily racist, but they depicted racism and sexism via sexual violence. Those were very damaging to me when I was young—I was too young to be reading those books. But I became a better reader and a better writer because of those books, for having confronted those horrible things in literature. Likewise, I hope my children will confront those things through the power of literature, which is probably what will make them adults.
ADVERTISEMENT - CONTINUE READING BELOW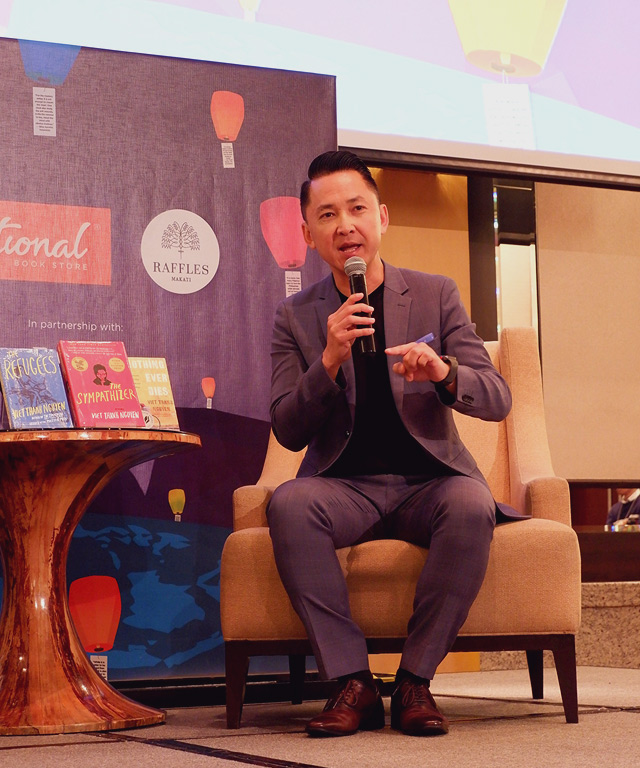 Why do you think Filipino readers should pick up your books? What do you think will resonate with them in your work?
At one level, I wrote The Sympathizer with a very specific history in mind. But all books are about a specific history. Everything's specific. The challenge for every writer is to not get hung up on the specificity, but to realize that out of specificity comes the universal aspect that every reader can relate to. I hope that Filipino readers in one sense are not so different from any other reader; that they are compelled by an entertaining story and that they will be compelled by what I see as the universal, moral dilemmas of the book, which involve the nature of tragedy. Our spy discovers that the tragedy is not right versus wrong; the choice is clear. The tragedy is about right versus right. In any country, any history, we are always confronted with dilemmas of right versus right. That's his problem. He sympathizes with everybody, he believes everyone is trying to do the right thing, but he still has to make a choice. The history of the Philippines, like Vietnam, is replete with these choices, these conflicts, these moral tragedies.
ADVERTISEMENT - CONTINUE READING BELOW
What literary works can we expect from you in the future?
My next book is co-written by my son. It's a children's book and will be published in November. It's about chickens who become pirates—which is his idea, not mine. He's five. I just wrote a book about it and we sold it.
I sure hope to finish the sequel to The Sympathizer by the end of the year. It's a major preoccupation right now. I gotta finish this thing by December because I have a new baby on the way. I finished The Sympathizer two days before my eldest child was born. I only hope to be as lucky.
Share this story with your friends!
---
Help us make Spot.ph better!
Take the short survey
More Videos You Can Watch
Load More Stories