"Best Pig" Now Roasting at Mactan Newtown's Live Lechon Pit
Watch "The Best Pork in the World" roast slowly to perfection over hot coals!

(SPOT.ph) The foodie paradise that is Cebu just got even more exciting with the opening of the Live Lechon Roasting Pit at The Mactan Newtown Alfresco dining area. Every Saturday and Sunday, from 3 pm onwards, guests can watch how Time Magazine's "Best Pork in The World" is roasted over red-hot charcoal bricks to achieve that crackling skin, while retaining the savory seasoned flavors of the meat within.

Cebu lechon is unique, without any need to rely on a thick, liver-based sauce for added flavor. The local verison of this favorite fiesta fare is stuffed with an assortment of ingredients prior to roasting. Lemongrass, a local variety of banana or taro plant, green onions, onion slices, whole garlic cloves, cracked peppercorns, and salt are packed into the pork before it goes onto a rotating pole over the hot coals. It is periodically wiped with a banana leaf brush that is drenched in water and pig fat to help give the skin a crispiness that spells disaster for diets, but heaven for the taste buds.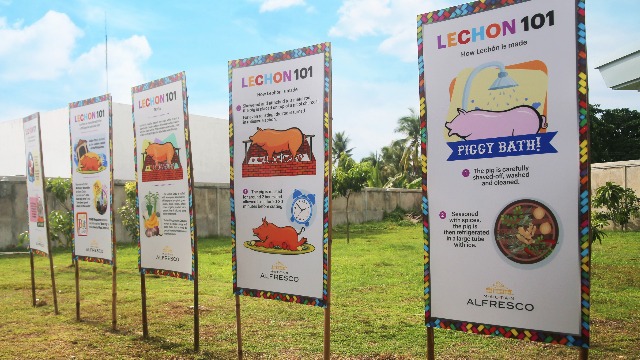 Lechon 101 made fun! 

The hawker stall-style Mactan Alfresco features three top lechon picks: Ayer's Lechon, Cebu Lechon Belly, and Ana's Lechon. They will be preparing and roasting their products at the pit, which can accommodate up to 12 whole lechons at a time.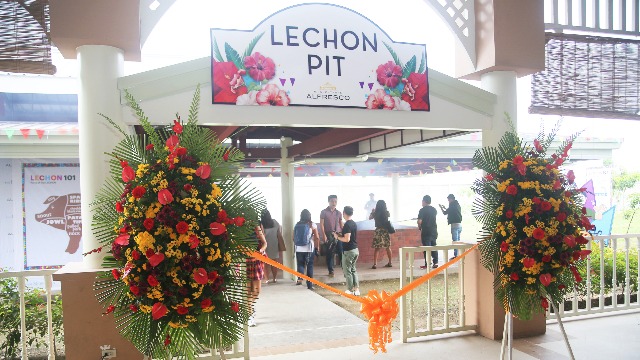 Great eats await at Mactan Alfresco! 

"What better way to showcase Cebu's Pride, the lechon, than giving tourists an immersive experience, where they can see up close what goes on in preparing the world's best pork dish. More than exciting their palates, we hope that through this, more tourists can have a newfound appreciation of our noational dish and hopefully help us to promote it to their fellow tourists," says Megaworld Senior Vice President and Head of Megaworld Lifestyle Malls Kevin Tan.

Aside from the lechon stalls, Mactan Alfresco offers other dining selections to suit Filipino food cravings that range from the sinugba (grilled fish and meats) to fresh seafood cooked the Cebuano way. These choices include Choobi Choobi, Mama Linda Inato, Conching's Native Chiocken, Orange Karenderia, and Meximama Cocina Latina.  Diners can catch performances of Filipino folk dances every Friday, Saturday and Sunday from 6:30 to 8:30 pm.

Tourists can also enjoy the best of Cebuano gastronomy at Mactan Alfresco. Foodies and diners will have their hands full choosing from 11 of Cebu's finest dining establishments, which showcase Cebu's well-loved cuisine, from the famous sinugba (grilled foods) to fresh seafood cooked Cebuano-style. To make their visit even more enjoyable, Mactan Alfresco is also offering meal packages for tourists, allowing them to get a taste of the famed Cebu cuisine all in one go. For inquiries on the meal packages, interested parties may send an email to anabear@megaworld-lifestyle.com.


Mactan Alfresco is located near the main entrance of Mactan Newtown in Lapu-Lapu City, Cebu. For more information, visit click here, like Mactan Alfresco on Facebook, or follow @mactannewtown_ on Instagram or Twitter.