10 Sawi Lines You'll Have No Problem Relating To
Ang headache, madaling gamutin. Eh ang heartache?
CREATED WITH WHITE FLOWER

Despite the many leaps and bounds we've made in the world of medicine in the last century, there are still some things we can't quite figure out how to solve. Like curing cancer. And how to grow taller when it's just not in your genes. Oh, and getting over heartbreak. Yes, we went there.

Seriously though: unlike other aches and pains, there's no surefire way of getting over heartache. We're looking forward to a future where our friendly neighbourhood cardiologist can prescribe something for figuratively broken hearts, but right now, there's no escaping the tedious process of moving on. Don't worry, Spotters: we're right here with you every step of the way. We even prepared these hugot-filled lines for your moving on inspiration: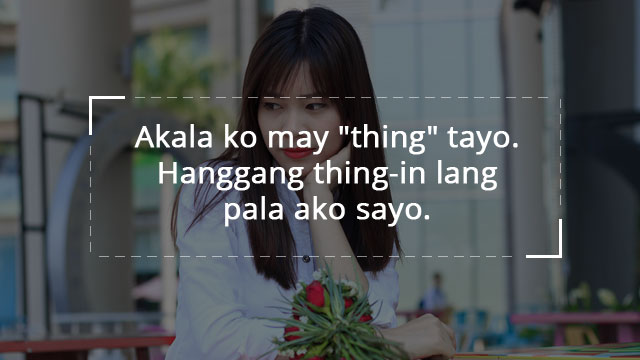 Things are complicated.
Move on na!
Pinaglaruan ka lang pala.
There's also Parañaque's BF...
So that's why you keep traveling!
Canned this be love?
I'll still be here for you "weather" you like it or not.
I'll siomai love for you and hopia love me too!
Make up your mind, girl.
Confidently beautiful with a broken heart!

We'll let you know once we hear about a fail-safe cure for heartbreak, but for now, we'll just be the shoulder you can lean on while you're moving on. As for your other bodily aches and stress-related pains, there's always White Flower Embrocation!


Its blend of essential oils, camphor and menthol make it the perfect stress-reliever for those days when you just can't deal with your aching back or stiff neck, on top of your broken heart. Simply massage two to three drops of White Flower to affected areas, and say goodbye to headaches, dizziness, muscle pain, and other body aches. Its portable size also makes it the perfect anti-stress companion, letting you stash it easily in your work satchel, party clutch, or travel bag.

With White Flower, moving on just got a lot less painful!

White Flower is available at all leading drugstores nationwide.