10 Genius Ways to Stay Cool in the Summer
Tips to beat the heat during this scorching season!


(SPOT.ph) Is it just us or haring araw is extra hot this year? While there's nothing much we can do about the rising temperatures you can still cope with it in more ways than one. Here are some of them:

1. Bring a fan.
If you have to sweat it out, you might as well do it the donya way--by bringing along an abaniko or one of those portable electric fans to keep yourself cool throughout your ordeal.

2. Indulge in cold food.
Summer's the perfect time to fill up on shakes, ice cream, halo-halo, and other cold treats. Just don't worry about your diet, okay?

3. Wear a great hat.
Protect your scalp from the sun's wrath by topping off your OOTD with cool headgear. Practical and stylish, just the way we like it.

4. Unfollow toxic people.
With the election drawing near, more and more people are expressing their opinions on social media. While there's nothing wrong with that, it can get kinda annoying. Rid your Facebook timeline of nega vibes by unfollowing your nega friends and let your feed be filled with nothing but positivity!

5. Do some breathing exercises.
Feeling overwhelmed by all those emails and deliverables? Cool down by taking a few deep breaths to calm your nerves. If you can, take a quick nap as well so you'll feel refreshed.

6. Wear cool clothing.
If it wasn't for that office dress code, you'd probably be in a tank top and shorts by now. Make a compromise by choosing stylish pieces that allow your skin to breathe. Think loose pants, lace-up sandals, linen shirts, and breezy dresses.

7. Go easy on the coffee.
Make it a point to stay away from coffee or any alcoholic beverage during the summer, since caffeine and alcohol tend to promote dehydration.

8. Go outside.
Stay cool, calm, and collected by going outside and experiencing the real world during lags. Enjoy the sunshine, play with your dog, and admire the flowers growing in your yard.

9. Crank up the radio.
Getting stuck in traffic jams is a fact of life for most city dwellers. Our suggestion: turn that traffic jam into a karaoke cruise of a lifetime by cranking up the radio and singing along to the hottest tunes.

10. Hog the aircon.
Of course, nothing beats the summer heat quite like cozying up in an air-conditioned room. Luckily, Carrier is giving away a Carrier Optima Green air conditioner to help you keep cool, calm, and confidently beautiful in the heat, and it's so easy to bring home your very own aircon! All you have to do is do the following:

a. Follow Carrier Philippines on Facebook.

b. Set your account on public mode, and look for the #StayCoolWithCarrier promo GIF on Carrier's page. You know, the one that looks like this: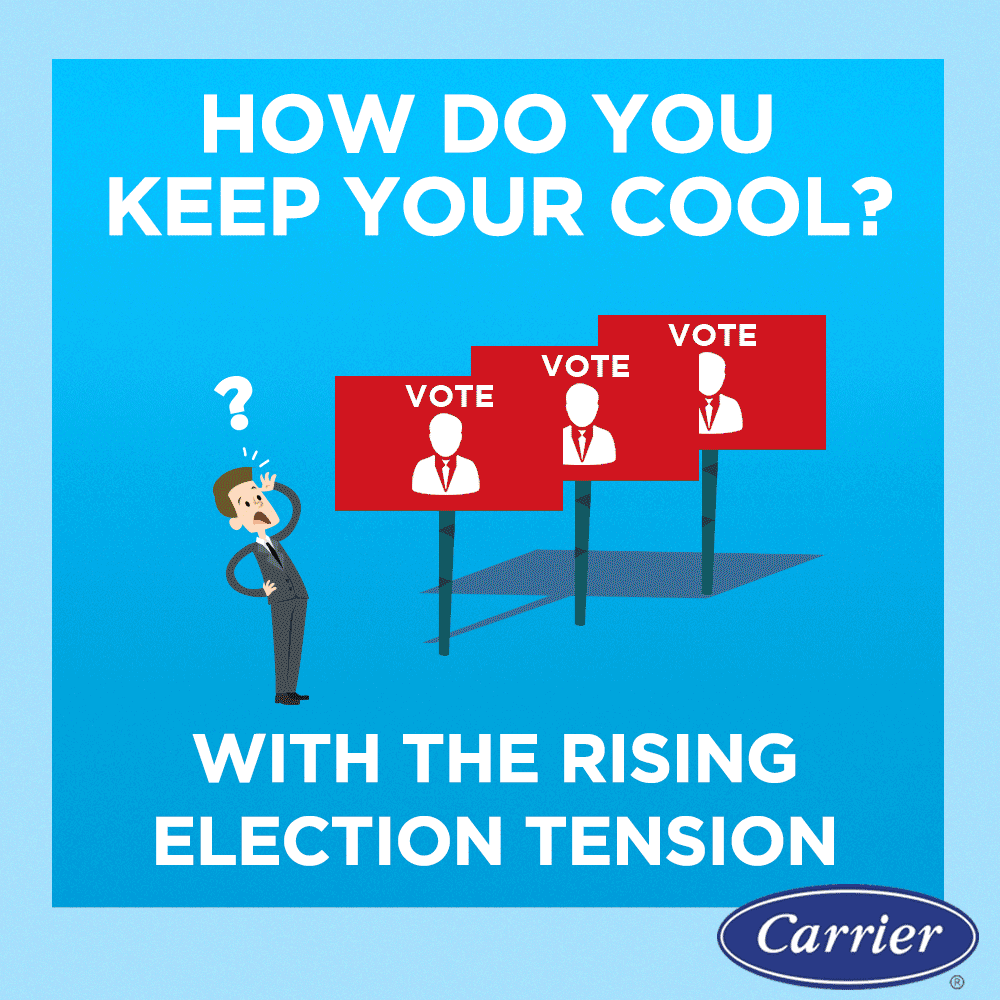 c. Take a screen cap of a scenario you can relate to the most, and attach it in the comment section, and explain how you intend to keep your cool.

d. Like Carrier's post and share it on your Facebook timeline with the status #StayCoolWithCarrier. For the full mechanics, click here.

Carrier will also be giving P1,000 Sodexo gift certificates to 15 consolation prize winners, so you really don't have anything to lose. Hurry, because the contest only runs until May 31! 

Thinking of buying or upgrading your air conditioners? Follow Carrier Philippines on Facebook to know more.