10 Most-Attended Funerals in Philippine History
Look back in time to when sadness and bereavement took over the country-and who the people were grieving for.
Funerals are always a reflection of, and a tribute to how a person lived. They say the number of people who come to pay you their last respects is an indication of the kind of human being you were.
SPOT.ph lists down ten most-attended funerals in the Philippines, where collective mourning and sorrow take on a whole new meaning.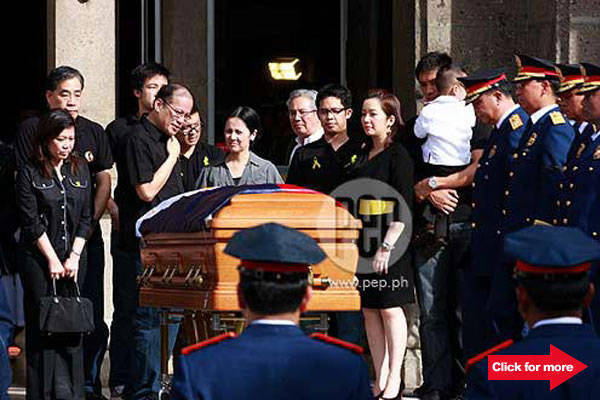 ADVERTISEMENT - CONTINUE READING BELOW
1. Corazon "Cory" Aquino
An ABS-CBN news report says police estimated close to 300,000 people took to the streets for the funeral cortege for former President Corazon "Cory" Aquino yesterday, in what was one of the most well-attended funerals in Philippine history. Declared a special non-working holiday, more than 1,000 government officials, diplomats, priests, family members and friends gathered for her funeral mass. Aquino, who lost her battle with colon cancer at 76, was offered a state funeral but her family turned the offer down, opting for a private funeral.
Reminiscent of the anti-Marcos protests that Aquino led, the cortege left the Manila Cathedral at around 11:30 a.m. and continued for eight hours, amidst rain and throngs of people, and was laid to rest beside her husband's grave at 8:20 p.m.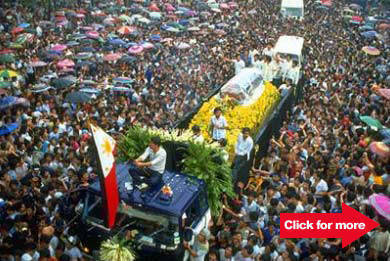 ADVERTISEMENT - CONTINUE READING BELOW
2. Benigno "Ninoy" Aquino Jr.
Former Tarlac governor and Philippine Senator Ninoy Aquino's funeral following his assassination upon returning home from exile in the United States, was held on August 31, 1983, ten days after his death. The funeral procession lasted from 9 a.m. to 9 p.m., with a funeral mass celebrated by Archbishop Jaime Cardinal Sin held at the Santo Domingo Church.
Two million people were reported to have lined the streets to join the procession to Manila Memorial Park, where the opposition leader was laid to rest.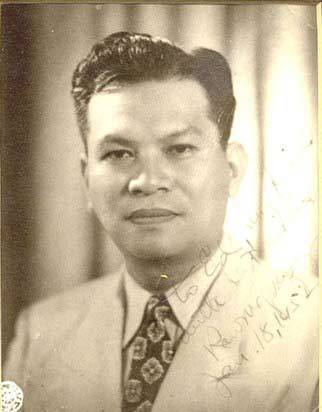 ADVERTISEMENT - CONTINUE READING BELOW
3.   Ramon Magsaysay
Former President Ramon Magsaysay, who died in a plane crash en route to Cebu on March 15, 1957, was given a funeral with over two million people in attendance. The March 22 funeral was a great outpouring of love for an exemplary chief executive who advocated for the poor and pushed land reform.
During his funeral, former President Sergio Osmeña eulogized: "Ramon Magsaysay burst into public life like a fresh wind after a long suffocating day. He died in the night while his people, once more enjoying security and once more full of hope, peacefully slept. They woke up in the morning to discover with a shock and to grieve with a broken heart over their sudden misfortune."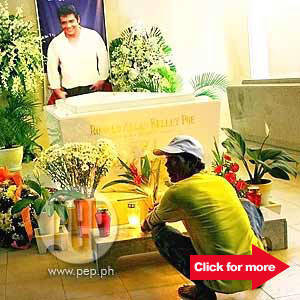 ADVERTISEMENT - CONTINUE READING BELOW
4.       Fernando Poe Jr.
Undoubtedly one of the country's most popular and influential actors, Ronald Allan Kelley Poe, or   Fernando Poe, Jr., always played the hero for the common man in his films. Touted as the "Da King",   FPJ was a cultural icon whose death at the age of 65 due to a stroke and organ failure, drew hundreds of thousands from the streets of Quezon City to the North Cemetery in Manila.   In an article from pep.ph, police estimated the crowd at 300,000, but FPJ followers claimed there were at least three million people.
The necrological service for FPJ included fellow actor and friend Dolphy, giving a eulogy-stand-up comedy act and people in the church broke into loud applause when former President Joseph Estrada broke out in tears.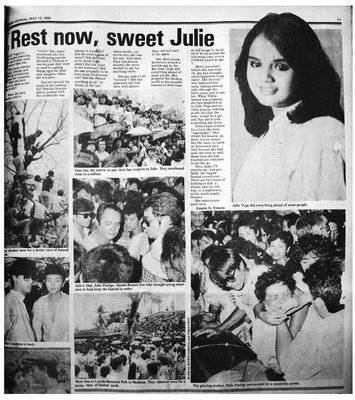 An article from the The Times Journal dated May 7, 1985.
ADVERTISEMENT - CONTINUE READING BELOW
5.   Julie Vega
Matinee idol Julie Vega was a popular TV actress whose sudden death at the age of 16 had showbiz fans showing their love for the angelic 'Anna Liza.'   She died peacefully on May 16, 1985 due to suspected multiple sclerosis and complications while at the hospital and was laid to rest beside her brother's grave in Loyola Memorial Park in Marikina City.
Thousands grieved for the young actress, whose tear-jerker roles made her a TV darling in the early 1980s.
6.   Rico Yan
Neither president nor superstar, Rico Yan's untimely demise in April 4, 2002, was given a fond farewell by fans, friends and family.   The funeral coverage pre-empted six hours of regular programming on ABS-CBN, where he was a talent.   Coverage on TV spanned the vigil and the funeral rites at La Salle Greenhills to the burial in Manila Memorial Park in Paranaque.   Thousands went to bid him goodbye at the public viewing and fans arrived from provinces to give their idol a proper send-off.
ADVERTISEMENT - CONTINUE READING BELOW
His mother, Teresita Castro-Yan said at the end of the funeral mass, "I could not believe that he will leave us sad, distraught or grief-stricken. But with all of you who came here today, I am convinced that he was chosen by God for such a time as this."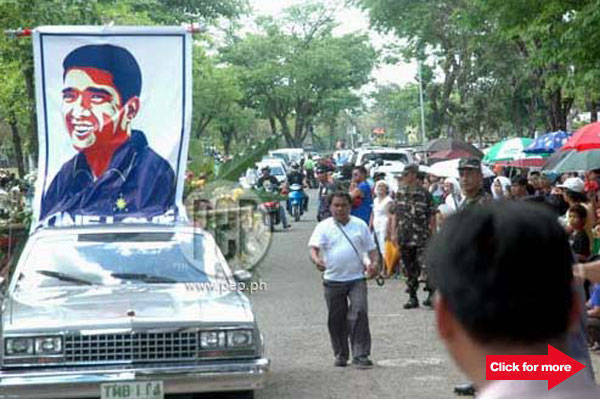 ADVERTISEMENT - CONTINUE READING BELOW
7.   Francis Magalona
"Master Rapper" Francis Magalona succumbed to leukemia at 12 noon on March 6, 2009.     He documented his "happy battle" through a blog, and the 43-year old artist asked for prayers in his last Multiply entry, dated January 14, 2009.
Best known for urging the youth to be proud of their heritage, the "Man from Manila" was honored in a mid-day funeral on March 11, 2009 at the Loyola Memorial Park, and thousands of fans lined up the route from Green Meadows to Brgy. Libis Extension to Riverbanks, Marikina City.
Francis M was given military honors and his widow, Pia Magalona, also received a folded Philippine flag from First Lieutenant David Marquez, because Francis M was a reservist.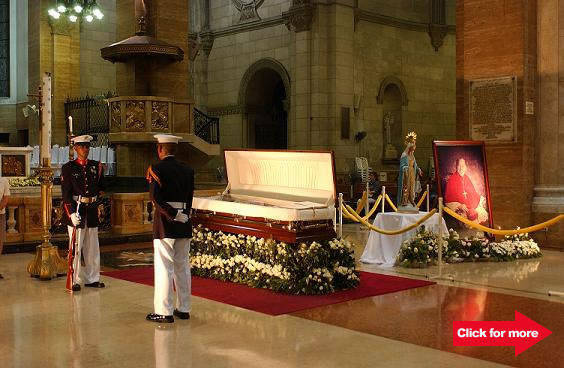 ADVERTISEMENT - CONTINUE READING BELOW
8. Cardinal Sin
Former Archbishop Cardinal Jaime Sin passed away at the age of 76 due to kidney failure and failing health.   The Cardinal, who played an instrumental role during the years of the dictatorship and overthrow of Ferdinand Marcos' regime in 1986, served as a bishop for 36 years.
Cardinal Sin's funeral was a fitting honor to a man who was known for being the   "divine commander-in-chief." He lay in state at the Manila Cathedral for one full week, where thousands waited in long queues to pay their last respects.   The funeral crowd was estimated at about 20,000 on June 28, 2005.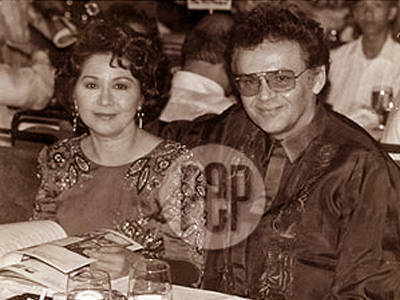 A younger Nida Blanca and Rod Strunk.
9. Nida Blanca
ADVERTISEMENT - CONTINUE READING BELOW
Actress Nida Blanca, or Dorothy Jones was laid to rest last November 14, 2001.   Friends in and out of showbiz and fans bid the actress farewell, and her funeral drew 20,000 people in attendance at Garden of Love of the Loyola Memorial Park.   Blanca, was found murdered by hired killers said to have been contracted by Blanca's husband, Rod Strunk, on November 7, 2001, in San Juan.   Strunk was later reported to have committed suicide in 2007.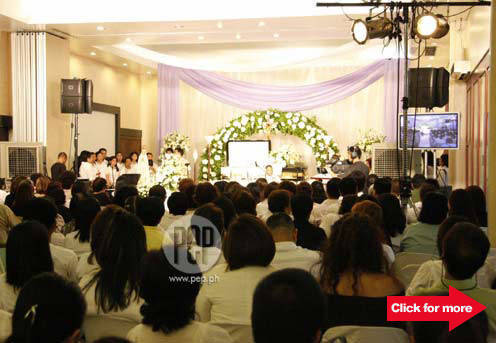 ADVERTISEMENT - CONTINUE READING BELOW
10.   Rudy Fernandez
Action star Rudy Fernandez, who was also know as "Da boy", succumbed to cancer on June 7, 2008.   The actor was laid to rest at the age of 56 at the Heritage Memorial Park and Crematorium at The Fort in Taguig.   The well-attended wake was open to the public and the necrological service was held exclusively for family members and friends.
Photo credits: pep.ph. findagrave.com, ninoyaquino.50webs.com, Simon Santos of video48.blogspot.com and www.rcam.org.

CONTINUE READING BELOW
Recommended Videos
Share this story with your friends!
---
Help us make Spot.ph better!
Take the short survey
Load More Stories