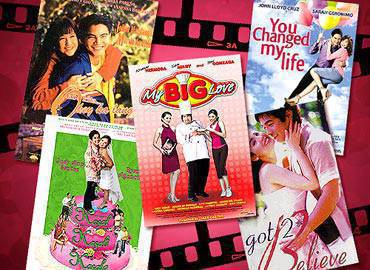 Which one are you watching on Valentine's Day?
(SPOT.ph) Moonlit walks and  candlelight dinners not doing anything for you anymore? If you really want to feel sparks tingling down your spine this Valentine's Day, we know one foolproof method. It may seem corny, and it's definitely cheesy, but it's tried and tested, 100-percent effective. Hankies out, popcorn ready, we're spreading the kilig this month with our top 10 Filipino rom-coms. By the way, if you're looking for some Nida-and-Nestor, Guy-and-Pip action or even some Sheryl and Romnick tear-jearkers, sorry, we narrowed it down to just our fave flicks in the last 20 years.
10. Catch Me... I'm in Love (2011)
Director: Mae Cruz
Starring: Sarah Geronimo, Gerald Anderson
Cheese line: "Ang love kasi para sa inyo ay parang status lang sa Facebook, madaling palitan."
A kid from an influential family falls for someone with a so-so background? We've seen that story only about a thousand times. So unfortunately, despite raking in over a hundred million in the box office last year, we had to relegate this Sarah Geronimo-Gerald Anderson flick to the 10th spot.
ADVERTISEMENT - CONTINUE READING BELOW
First Son Erick (Anderson) is as rebellious as could be. In hopes of straightening him out, the president (Christopher de Leon) employs the help of social worker Roan (Geronimo) to take him on a social immersion to deflate his head a bit. We all know what happens next: They fall in love despite the odds. Cliché? Definitely. But hey, it works. We still found ourselves gasping, squealing, sobbing, and giggling.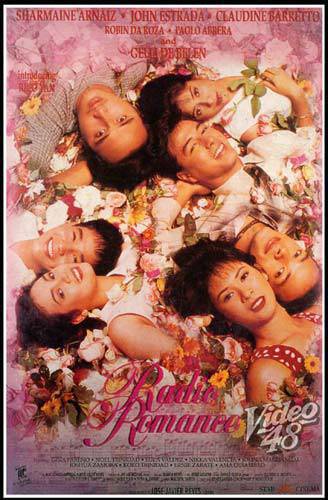 Photo from Video 48
9. Radio Romance (1996)
Director: Jose Javier Reyes
Starring: Gelli de Belen, Paolo Abrera, Rico Yan, Claudine Barretto, Jolina Magdangal
Cheese line: Nothing stands out but Paolo Abrera on the big screen? We like.
One of the most successful local attempts at an ensemble film, Radio Romance is based on the popular real-life program where callers ring in to ask for love advice. Gelli de Belen plays Roni, the radio host and ironically very single love guru who gives romance tips for a living. Her show weaves different aspects of love-battered wife, wallflower, sawi-into one story. Busy fixing other people's dilemmas, she forgets her own. Lucky someone else solves hers.
Wait for Gelli's sexy and subdued radio voice, Claudine pre-tweezers, and one incredibly boyish Rico Yan (this was his first film, by the way).
8. Videoke King (2002)
Director: Jerry Lopez Sineneng
Starring: Robin Padilla, Pops Fernandez
Cheese line: "Isang malaking maling pagkakamali sa buong buhay ko kapag hindi ko sinabi sayo ikaw ang kaligayahan ko."
ADVERTISEMENT - CONTINUE READING BELOW
Surprised? We're not about to overlook Binoy's contribution to the rom-com world just because he's primarily an action star. Certain that his childhood sweetheart, Ningning, is "the one," King (Padilla) starts building a home for them with literally his own two hands. Ningning, who is based in Thailand, appoints her saleslady and closet interior-decorator cousin Lally (Fernandez) to tame King's rather flamboyant tastes. The two develop a close friendship, which eventually grows into something deeper. Determined not to hurt Ningning, they promise to keep their feelings a secret. Unknown to the two, however, Ningning has already met someone else. Upon her return, she acts like a diva to turn King off and make her fall in love with Lally instead.
If you're wondering where the whole videoke theme fits in the story, mechanical engineer King moonlights as an undefeated karaoke champion in a bar. In one scene, he duels with Lally's boyfriend (Victor Neri) through song.
ADVERTISEMENT - CONTINUE READING BELOW
7. Narinig Mo Na Ba Ang L8est? (2001)
Director: Jose Javier Reyes
Starring: Aga Muhlach, Joyce Jimenez
Cheese line: "If I've ever slept with someone it's because I've always had feelings for that person."
These two actors may have been an unlikely tandem but the pair-up made for good comedy, anyway. Gina (Jimenez) is a happy-go-lucky art director whose carefree ways, not to mention, ample assets, earned her the label of office tease. Popoy (Muhlach), on the other hand, is an intense writer much too focused on his goals to pursue women, thereby spawning questions about his sexuality.
It's hate at first sight (for Popoy, anyway). And, when they are lumped together in a major advertising campaign for work, tempers flare-igniting a few sparks along the way.
6. Kasal Kasali Kasalo (2006)
Director: Jose Javier Reyes
Starring: Judy Ann Santos, Ryan Agoncillo
Cheese line: "Ipraktis natin yang human rights mo!" (Okay, so it's not cheesy, but it made the movie).
ADVERTISEMENT - CONTINUE READING BELOW
After a whirlwind romance, Angie (Santos) and Jed (Agoncillo) decide to get married, but when both their parents intervene in the wedding plans, the two opt to elope instead. End of story? One might think so. Most love stories end at the wedding but this quirky couple takes it further by showing that "happily ever after" is, usually, just "ever after."
The film tries to present marriage as it is in real life, albeit in a comedic fashion. From shameless farting, trouble in bed, and dealing with mistresses, Jed and Angie adjust to married life. They would have easily succeeded had it not been for their meddlesome parents. The film, directed by Jose Javier Reyes, was so successful that a sequel Sakal, Sakali, Saklolo was released a year later.
5. My Amnesia Girl (2010)
Director: Cathy Garcia Molina
Starring: John Lloyd Cruz, Toni Gonzaga
Cheese line: "Partida na 'to ah... May amnesia na ako, ang sakit pa rin."
ADVERTISEMENT - CONTINUE READING BELOW
They say that after a break-up, you forget your ex and move on. That advice is literally true in this case.
Amid friends who are slowly settling down, Apollo (Cruz) is faced with the pressure of finding "the one." After much contemplation, he remembers Irene (Gonzaga), his one true love whom he left at the altar a few years earlier. As if by fate, they meet again, but Apollo is shocked to learn that Irene suffered from amnesia shortly after they separated. Using that to his advantage, he tries to woo her again.
Think The Vow sans Channing Tatum's abs and lots of comedy and pick-up lines in between.  Can a bout of memory loss be enough to forgive and forget the sins of the past? If it's John Lloyd, we think so!
4. Labs Kita... Okey Ka Lang (1998)
Starring: Marvin Agustin, Jolina Magdangal
Cheese line: "Oh yes, kaibigan mo lang ako... and I'm so stupid for falling in love with my best friend."
ADVERTISEMENT - CONTINUE READING BELOW
That's a line nearly as classic as the best friends-falling-for-each-other plot. Already insecure with her looks and talent, Budjoy (Magdangal) becomes more emotionally unstable when her BFF (and secret paramour) Ned becomes infatuated with her gorgeous cousin (Vanessa del Bianco).
After an emotional confession from Budjoy, Ned comprehends that his feelings for her were far from platonic. His realization, however, came a second too late: Budjoy had moved on with a different guy, prompting Ned to move away. Discover how they cross paths once again in a medley of humorous antics, friendship, and a severely LSS-inducing theme song.
3. My Big Love (2008)
Director: Jade Castro
Starring: Sam Milby, Toni Gonzaga, Kristine Hermosa
Cheese line: "How can I be with Niña when all I can think about is you?"
When a gorgeous socialite learns that her supposed Mr. Right (someone she met online, FYI) weighs an unhealthy 300 pounds, it is definitely not love at first sight. After making a fool of himself in front of Niña (Hermosa) and the entire world (the disastrous first date was documented and posted on YouTube), pastry chef Macky (Milby) falls into depression and goes on an eating binge. In an attempt to give back some of his self-respect, Aira (Gonzaga) offers to help him lose weight. During the course of her five-step fitness program, they develop feelings for one another, but it's cut short when Aira leaves to work in Japan.
ADVERTISEMENT - CONTINUE READING BELOW
Fast-forward to two years later, Aira returns to the Philippines and finds that Macky has transformed from heavyweight chef to sexy restaurateur, who, to Aira's dismay, has gotten back together with Niña. We're not about to give away the ending but watch for hilariously random musical numbers, a 300-pound chef doing cartwheels, and well-timed close-ups of Sam Milby's famous physique.
2. A Very Special Love (2008)
Director: Cathy Garcia Molina
Starring: John Lloyd Cruz, Sarah Geronimo
Cheese line: "Pag mahal mo, mahal mo! Walang kasi kasi, walang pero pero. Kasi mahal mo eh!"
Laida (Geronimo) has had a long-time crush on the son of a wealthy Filipino magnate. When she is hired to work at the magazine that Miguel (Cruz) handles, she finds herself closer to him but discovers that he is far from the man of her dreams. Miguel is angry, obnoxious, and even mean-an attitude caused mainly by the pressure of his family's expectations.
ADVERTISEMENT - CONTINUE READING BELOW
A little turned off but unperturbed by her boss' actions, Laida slowly (and hilariously) peels off the layers and discovers the real Miguel-the one who would willingly perform the ridiculous "sun dance" when the situation calls for it. This modern-day Cinderella deals with love, social status, and family.
Watch its sequel: You Changed My Life (2009)
1. Got 2 Believe (2002)
Director: Olivia Lamasan
Starring: Rico Yan, Claudine Barretto
Cheese line: "I didn't even believe in forever, Toni ... but I think I found forever in you."
Apart from being Rico Yan's final film, this one made box-office waves because of its winning storyline. Toni (Barretto) is a desperate-for-love eccentric wedding designer who, at 25, considers herself an old maid. Lorenz (Yan), meanwhile, is a photographer who, to get promoted, is tasked to chronicle Toni's loveless and luckless ways. Lorenz promises to help Toni find her one true love in exchange for her agreeing to the feature.
ADVERTISEMENT - CONTINUE READING BELOW
Follow Toni fall flat in her face, trip in her heels, and pull her hair out in her search for her prince charming-and how she finds out that he was right under her nose the entire time. We miss Rico, sigh.
Share this story with your friends!
---
Help us make Spot.ph better!
Take the short survey
More Videos You Can Watch
Load More Stories