Hot on Spot: Social Media Etiquette for Mistresses
This is how wired queridas should roll.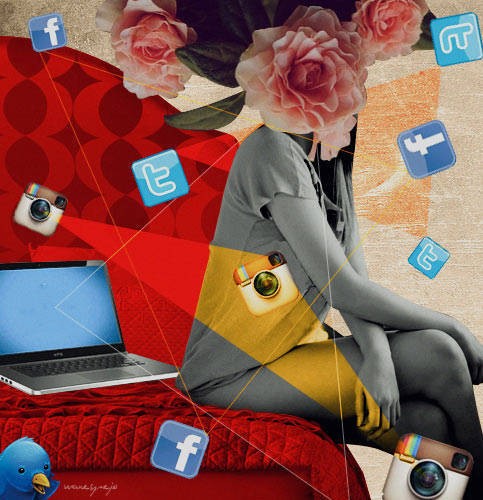 (SPOT.ph) When Jullie Yap Daza's bestselling Etiquette for Mistresses...and What Wives Can Learn From Them came out in 1992, social media as we know it today didn't exist yet. If it did, she would have listed the rules to cover mistress behavior in that particular area.
In the age of tweets, Facebook status updates, YouTube videos, and Instagram collages-so many mistresses commit digital gaffes that lead to disastrous confrontations. If the mistress is lucky, the legal wife will choose to just spew her rage online. In the old days, the reckoning was done through the classic sugod-sigaw-sampal-sabunot technique. Now, some wives are smart enough not to give a damn and just use social media for slut-shaming. That, of course, is easily prevented.
While it may be argued that keeping one's kabit status under wraps only involves common sense, there are many modern-day inamoratas who want to have their stolen cake and eat it, too. Believe it or not, many of them want to tell the world that they've hooked up with a married man. Why they would want to publicize that is beyond us. However, in the spirit of satire and irony, we've come up with a list of rules for paramours so they can continue to live as other women for however long they can stand it. 

1. Don't use your real name on YouTube. If you want to post videos of yourself trying on skimpy outfits or reciting a sweet poem to the married man of your dreams, for God's sake use a pseudonym. Just because you're shameless, it doesn't mean your relatives are, too. Plus, do you really want to make it easy for his wife to track you down? And don't you dare think of posting a sex video! Have mercy on the guy's children at least. Besides, no matter how harmless a video may seem, it will always be labeled as dirty if you and your married man are associated with it.
ADVERTISEMENT - CONTINUE READING BELOW
2. Don't let it all hang out on Facebook. Even if you're dying to "check in" each time you and your married man are out on a date, resist the urge to do so. Respect the effort he has put into lying to his family so he could be with you. And you really don't have to post a whole album of you and him on a date. News flash: You're not on a date, you're on a tryst. No matter what he tells you, it's just a wham-bam-"I have to go home to my wife and kids" encounter. Live with it. Tagging? You must be joking.
CONTINUE READING BELOW
Recommended Videos
It ain't pretty. Old-school wife wrath caught on camera and spread online.

3. Don't present the evidence. So what if he gave you gadgets and sweets, a house...or a love child? Just take it, keep it, and shut the hell up. There's no need to show it off unless you really want to start something that will spell the end for your so-called relationship.
4. Don't react to anything. No matter how people bash you and no matter if the legal wife calls you names, you have no right to react even if it's through a passive aggressive tweet or Facebook post. Wake up and smell the coffee: you'll still be tagged as a homewrecker even if you quote Paulo Coehlo or Mahatma Gandhi.
Instagram karma. Hell hath no fury like a social media-savvy wife.
ADVERTISEMENT - CONTINUE READING BELOW
5. Don't get connected. Don't be friends with your married man on Facebook. Got mutual friends? "Un-friend" them all. Heck, you shouldn't even "Like" the same things. That's the price of having an affair. You could also do some preventive measures and block off your married man's relatives from accessing your social media accounts. Don't wait until the proverbial shit has hit the fan.
If you can stick to these rules, you may live happily as a mistress for longer than you expect. You could be a mistress for years! Isn't that grand?
Share this story with your friends!
---
Help us make Spot.ph better!
Take the short survey
Load More Stories