TRENDING: Joey Ayala's (Illegal) Rendition of Lupang Hinirang
10 awesome moments in under 7 minutes!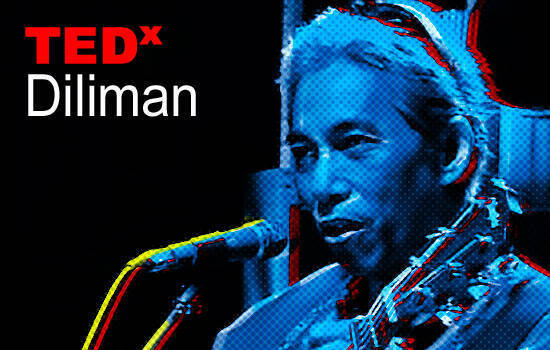 (SPOT.ph) In under seven minutes, Joey Ayala delivers several powerful messages and left most of us in awe. We will give the floor to him immediately and tell you the 10 most awesome things that happened from 0:00 to 6:20 of this YouTube video, in no particular order. There's just no way to rank everything in it.
1. The best use of the phrase "Mga bading tayong lahat."
At the 1:46 mark, Ayala boldly states "mga bading tayong lahat" and he gets away with it because it's not pejorative. He explains that the "Lupang Hinirang" is a marching song and we're not a marching country. We like to sway, we are "weak" but not in the sense that we aren't courageous or strong. We are soft and kind. Saying that "mga bading tayong lahat" to mean that we are accommodating and non-confrontational (even in our martial art!)  is a step towards reappropriating the word "bading" to mean something good. How cool is that?
ADVERTISEMENT - CONTINUE READING BELOW
2. "I tampered with the National Anthem. This is an illegal act."
At the onset, Ayala disclaims that what he is doing is against the law. People fancy themselves as rebels, especially when they vandalize things or when they proudly light a cigarette under a "no smoking sign". Forgive us if we think that's silly, especially when we see Joey Ayala breaking the law with purpose. What people forget about revolutions, no matter what size or form it comes, is that it is motivated by something grander than the act. Ayala makes a case for why he is breaking the law. It's not simply to raise a figurative middle finger to the man or the establishment, it's to examine the foundation upon which the law stands. Singing the anthem has become ritualized and we forget that it is supposed to rouse positive feelings towards the land of our birth.
ADVERTISEMENT - CONTINUE READING BELOW
3. "New sky, new birds, new life...tapos mamamatay ka. Palagay ko may grave psychological damage na ginagawa yang kantang yan sa atin."
Once more, forgive us for our literary geeking over this. New sky, new birds, new life. Always, the Filipino spirit soars through tragedy-a gift and a curse all at once. But he's right. We get to the end and we die for our country (and sometimes, because of the country-rather, because of the people who run the country) and that's just sad. We complain a lot and for good reason. There's a lot to complain about and Ayala jests that people who complete their education make a beeline to the airport, leaving everything behind. However, Ayala doesn't leave us hanging on a depressed note. He moves along.
4. The mispronunciations: sa dagatat, sa simuyat, may dilagangtula, et cetera.
Ah, the Filipino language. The poor thing's not even being used in this article, but in our defense, we are a multilingual nation-not everyone speaks Tagalog (on which Filipino is based) and we don't want to alienate them. That aside, Ayala points out that enunciation is not a bad thing. The words are there for a reason, and when you say them carelessly, it just defeats the purpose of the song. We've seen funny clips of people singing "Lupang Hinirang" the wrong way and we're not trying to take that away from anyone (nor is Ayala, we assume) but this song was crafted as part of an art. And there is beauty in it that we should see. Magiliw ang bayang ito, as the opening lines go (we're paraphrasing).
ADVERTISEMENT - CONTINUE READING BELOW
5. Ending on a good note, "Ang dami namang pwedeng positibong gawin!"
He's right! Dying for the country sounds noble but so is living. The line prior to "Ang mamatay ng dahil sa iyo" is "Aming ligaya na 'pag may mang-aapi." It sounds nice in theory, but are we really that kind of nation? Are we the sort who pick up guns or bomb other places? Aren't we the citizens of a country celebrated decades ago for the most peaceful revolution ever conducted? The people of this nation stood and sang a dictator away because they saw Ninoy Aquino die-and we didn't want that anymore. Ayala wisely states that there's a lot of other things you can do for your country in the face of, uh, pang-aapi. You can sing, you can dance, and the best thing to do: magmahal. We're getting to the cheesy bit!
ADVERTISEMENT - CONTINUE READING BELOW
6. HUGS!
We don't know if you know but Japan has been having some problems with intimacy because touching has become this weird thing for them. While we don't think that we have sex-related problems (not counting the on going debate about the implementation of the RH Law), it won't hurt to encourage people to exchange hugs in a less assaulting and more reassuring way. Ayala's group hug suggestion might make some introverts cringe but in the age of Internet when the interaction we have with people is reduced to a thumbs-up button or a heart icon, this could be good for days when you need a comforting pat on the back.
7. The magic that starts at the 4:20 mark.
Ayala gives us a sample of his version at the 4:20 mark. Just close your eyes and let it wash over you. Yes, this is cheesy, but our nation has just been battered by several tragedies: the Zamboanga Crisis, a leptospirosis outbreak in Olongapo, an earthquake, and a super typhoon-not even mentioning the damn Pork Barrel Scam. You're a part of something bigger than yourself and that's why you donated what you can. Don't let that feeling of love for your country die. Like, ever.
ADVERTISEMENT - CONTINUE READING BELOW
Awesome moments after watching it:
8. What this reminds us of: Filipino humor.
We're a shamelessly happy nation, but not in an empty way. If the Philippines was a graphic novel character, we'd be the Comedian from Alan Moore's Watchmen. We've seen things and we get the joke...so we laugh. We're not apathetic to our problems, we just really need to laugh. We'd go nuts without it. The government stole billions from you. If we were any other kind of nation, a lot more people would be a lot more dead.
9. What we think of now: OPM is not dead and it won't die.
A while back, someone said OPM is dead. It can't die. It won't. The music is there-good and bad. People make new things. The support wanes and sometimes we're just baffled with what they come up with, but no, OPM is defnitely never going to die. Have you heard of Pasta Groove's "Una Sa Lahat?" That's just an absolutely amazing rendition of Hotdog's song. Music has a life of its own. Nobody has the power to kill it, man.
ADVERTISEMENT - CONTINUE READING BELOW
10. What we feel: we love the Philippines!
There's misplaced hate and we get it. Some people want to leave because the grass is greener on the other side. We don't even have grass in some parts of our country. But because of this video (coupled with Andres Bonifacio's upcoming birth anniversary) we feel like it's not a good idea to leave home just because it's in shambles. We may feel powerless but (we don't know if it's because we're high on that pencil-plus-Crayola combo) we're not. We need to be vigilant about issues. We need to keep talking about things and what we can do now. Have you heard of R.A. 6735 a.k.a. The People's Initiative yet?
CONTINUE READING BELOW
Recommended Videos
Share this story with your friends!
---
Help us make Spot.ph better!
Take the short survey
Load More Stories