The Quezon City ordinance limiting the number of pets per household may have been repealed
PAWS Philippines shares an update on Ordinance 2386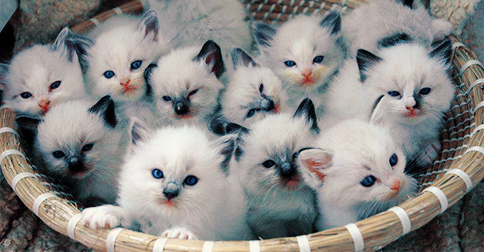 Photo from www.pinterest.com
(SPOT.ph) On April 13, news of Ordinance 2386 was met with criticism, with pet owners slamming the approved petition to limit the number of "space-consuming animals" they can keep to four. A day later, the Philippine Animal Welfare Society (PAWS) released a statement opposing the Quezon City government's decision. The stance was echoed by Heart Evangelista, a PAWS spokesperson and known advocate for animal rights, who said that the new ordinance may lead to pet abandonment. She further admonished the people behind the new rule for punishing kind-hearted people who are taking care of strays.
ADVERTISEMENT - CONTINUE READING BELOW
On the evening of April 14, PAWS updated their post and revealed that Ordinance 2386 has been "effectively repealed" and will be "superseded" by a new one: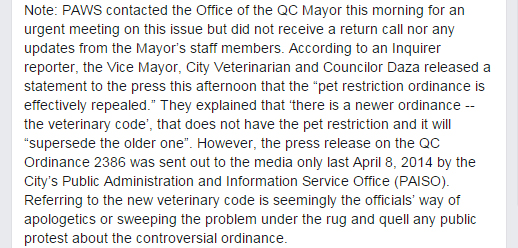 A Philippine Daily Inquirer report published early Wednesday morning confirms this update, but with a fair warning that the restrictions could still sneak into the Implementing Rules and Regulations for Ordinance No. 2389, which adopts the Quezon City Veterinary Code.
ADVERTISEMENT - CONTINUE READING BELOW
Keep an eye out for that, because things could get baffling. PAWS Executive Director Anna Cabrera sums up all of our feelings about this with, "They approved it, then within days, approved an ordinance repealing it? What kind of system is that?"
Also read: Cat ladies of Quezon City, heads up! A new ordinance limits the number of furry babies you can keep
Load More Stories