Heroes on the Run: DC Comics All-Star Fun Run 2015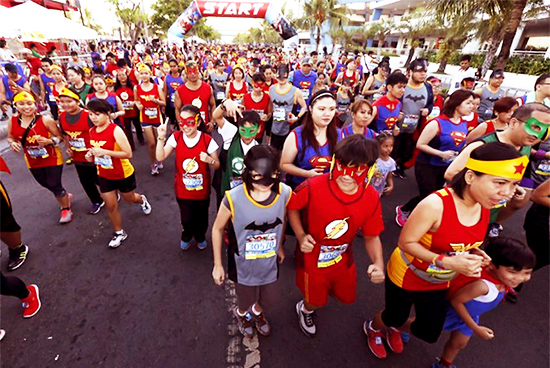 (SPOT.ph) Get up close, sweaty, and personal with an insider's view of the World of DC Comics All-Star Fun Run, held at SM by the Bay, Mall of Asia on April 18. How does it feel to run the 3K with fellow costumed superheroes? Read our timeline to find out.
ADVERTISEMENT - CONTINUE READING BELOW
CONTINUE READING BELOW
Recommended Videos
4 a.m. A bunch of peeps in superhero singlets gather at a few of the establishments that are open this early. Everyone is abuzz with excitement. And can you really blame them? Where else can you dress up in costume, run like a maniac, and not get arrested? Dream come true, to be honest.
4:30 a.m. Gunstart for the hardcore 10K runners. Definitely more pressure if you're wearing a Flash singlet.
5:30 a.m. 5K participants have already left in a blur while us 3K runners are just chilling like Mr. Freeze by the starting line.
6 a.m. One of the hosts unleashes a barrage of comedy stand-up routines to entertain the 3K participants.
6:05 a.m. A toy drone helicopter with a camera flies overhead and the host tells us to wave at it.
6:08 a.m. SM Youth models are showing off the Superhero singlets (Your choices were: Wonder Woman, Batman, Superman, The Flash, and Green Lantern
ADVERTISEMENT - CONTINUE READING BELOW
6:10 a.m. Justice League PH onstage in full, non-running, superhero costumes. They will eventually wander about so you can have a photo op with them.
6:15 a.m. It's time to stretch before the big run. Shoulder rolls? Hip wiggles? Marching in place? That's some Zumba realness! And since there was such a big turnout, we could hardly hear the fitness instructor, well, instructing us in our stretching. We resort to following the equally confused people in front of us. Yeah, let's just freestyle this.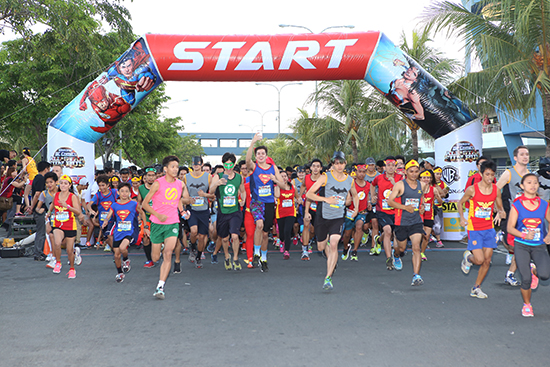 ADVERTISEMENT - CONTINUE READING BELOW
6:30 a.m. Aaand gunstart! But first—selfie muna. For posterity, of course.
6:32 a.m. One has to be careful not to bump into groups of people taking superhero selfies. Lots of overtaking needs to be done, just like in the bumper-to-bumper streets of EDSA. We even saw a runner with a selfie stick. That's a safety hazard right there.
6:35 a.m. "Holding hands while wearing matching singlets and running" seems to be trending with the power couples here. Isn't that sweet?
6:40 a.m. At the turning point, most of the runners have slowed down which prompts the event marshals to shout at us to pick up the pace. The struggle is real.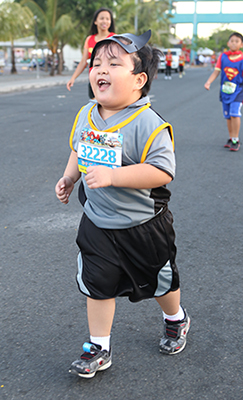 ADVERTISEMENT - CONTINUE READING BELOW
6:50 a.m. Spotted some geeky parents making their toddler's Batman dreams come true by swinging him up. Awww! #ParentingGoals
7 a.m. Upon observation, there are different tactics of traversing this scorching-hot trail: The serious hardcore running, the walk-then-run interval, the "I'm gonna walk the whole way except near the finish line" type, and the model runway walk.
7:10 a.m. One super dad decked out in Superman gear lost his son in the throngs of running/walking people. Clearly, not even Supes' X-Ray Vision could help him pinpoint his child. Luckily, a supersonic shout of "Anak ng tokwa! Nasan ka na, [Insert child's name]?!" can easily pick out the child from the crowd.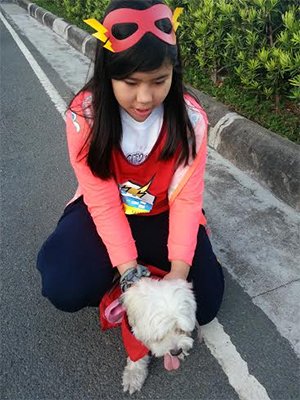 ADVERTISEMENT - CONTINUE READING BELOW
7:15 a.m. It's a bird, it's a plane, nope, it's an adorable doggy dressed up as Superman. Super dog! Puppy power! And he's running a lot faster than most of us at this point.
7:20 a.m. Obviously, we'd all be very bad at concealing our secret identities if the heat has now caused us to unmask at will.
7:28 a.m. "Hey, we're almost at the finish line. Quick—act like you've been running the entire duration of the marathon so that the photographers can take a good pic of us," said all the runners.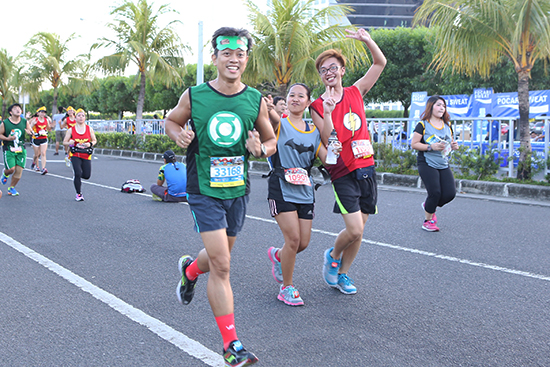 ADVERTISEMENT - CONTINUE READING BELOW
7:30 a.m. SUCCESS! Achievement unlocked! Runners take a victory selfie post-run.
7:31 a.m. Spotted model Brent Javier with our hazy exhausted vision.
7:35 a.m. Well, now that the we've crawled and gasped our way towards the finish line, it's time for most of the 3K runners to claim their medal. However, it doesn't matter whether you finish first or last because guess what? Everybody gets a medal. Just like Oprah's favorite things—you get a medal, you get a medal, and you get a medaaal! #Winning
Main photo by Romeo Ranoco. Article photos by Deneb Villanueva. Superdog photo by Karen Mae de Vera
Load More Stories