This girl submerged her cheating boyfriend's Apple gadgets in a tub + more things you might have missed today
Fifty Shades of Grey sequel news, Grace Poe is top choice for VP, and more.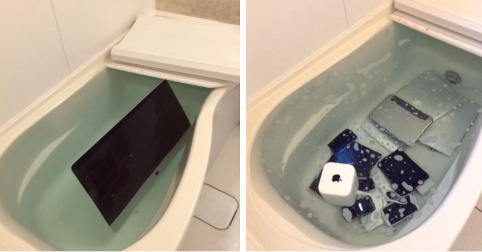 Photo via Twitter

(SPOT.ph) Busy day, Spotters? We quickly recap 10 things you might have missed while you were off the radar.
1. This girl submerged her cheating boyfriend's Apple gadgets in a tub
Here is a girl you definitely don't want to piss off. After discovering her boyfriend's alleged infidelity, a Japanese woman took all his pricey Apple gadgets and submerged them in a tub full of soapy water. What gadgets exactly, you ask? The pile includes an iPhone, two iPads, and a MacBook.
2. Sandra Bullock named People's Most Beautiful Woman
It's official! Actress Sandra Bullock is People magazine's Most Beautiful Woman for 2015. She reportedly laughed when she heard of the news and said, "I just said, 'That's ridiculous.'" On beauty, this is what the Oscar-winning actress had to say: "The people I find most beautiful are the ones who aren't trying."
3. An animated Spider-Man is coming
Reports say that Sony will be bringing an animated Spider-Man to the silver screen in 2018, and the movie will be directed by the duo behind The Lego Movie. Meanwhile, the live-action Spider-Man from Marvel and Sony is still happening, and is slated for release in 2017.
4. Another Pinay to replace Rachelle Ann in Miss Saigon
Another Filipina will take on the role of Gigi in the West End production of Miss Saigon. Stage actress Natalie Mendoza will be stepping in to replace Rachelle Ann Go in the musical. Mendoza has previously performed in the Sydney production of Miss Saigon, and the critically acclaimed Here Lies Love as Imelda Marcos.
5. E.L. James' husband will pen the Fifty Shades of Grey sequel
Fifty Shades of Grey author E.L. James may have lost both her director and screenwriter for the first film, but she's found a solution. She has enlisted her husband, Niall Leonard, to write the script for the sequel. Leonard reportedly worked as a screenwriter for the first film, but was not credited.
6. SWS says Grace Poe is top choice for VP
According to the Social Weather Stations (SWS), Senator Grace Poe has emerged as the top choice for vice president in the 2016 elections. The survey, conducted from March 20 to 23, showed that 26% of respondents preferred Poe as VP. Interior Secretary Mar Roxas ranked second with 12%.
7. Pacquiao-Mayweather tickets to finally go on sale
ADVERTISEMENT - CONTINUE READING BELOW
It's really happening. Ticket prices for the Manny Pacquiao and Floyd Mayweather bout have been released, with prices (in U.S. dollars) as follows: $10,000, $7,500, $5,000, $3,500, $2,500 and $1,500. Tickets go on sale Thursday (Friday in the Philippines).
8. Customs chief Sevilla quits post
Bureau of Customs (BOC) Commissioner John "Sunny" Sevilla has resigned from his post, just over a year since he first started the job. Sevilla admitted having difficulties in implementing reforms, saying, "Kapag gawin mo ang tama sa Customs, may risk kang kahaharapin." He also hoped that the official replacing him will continue the reforms he enacted at the BOC.
9. PHOTOS: 10 Manila Universities, Then and Now
Aside from churches, schools are some of the oldest standing structures in the country. We give you 10 universities that are rich in history, culture, and even ghost stories.
10. 10 YA Books We Used to Read
Before the age of Kindles and iPads, there was glorious paperback. From Nancy Drew to Sweet Valley, here are 10 young adult books we hungrily devoured from cover to cover.
Load More Stories