PHOTOS: Scenes From Free Comic Book Day Manila 2015
Christmas in May for comic book fans!
(SPOT.ph) On Saturday, May 2, Free Comic Book Day (FCBD) was celebrated around the world. In the Philippines, it was celebrated at several venues and SPOT.ph swung by Fully Booked at Bonifacio High Street in BGC to get our swag on.
There was already a long line outside Fully Booked way before the doors opened at 8 o'clock in the morning. Thankfully, the weather was more favorable this year and it even rained in the afternoon. Once inside, each person chose three free comic books from the wide range of 50 titles by 40 foreign publishers. They also received the locally published FCBD Komiks, which features Filipino creators.
"I left around 9:30 to get more books kasi naubusan kami early," said Sandy Sansolis of Comic Odyssey, "I looked at the line, I felt like it wasn't moving so I went home to get more books. I got a couple thousand more to add to the batch."
ADVERTISEMENT - CONTINUE READING BELOW
"It's the eighth year of FCBD here in the Philippines and the fourth year here at Fully Booked. It feels like I gave more this year. And a lot of the books are geared towards a younger audience." Gave more, he did. At the end of the day, Sandy reckoned they gave away an amazing 8,000 (eight thousand!) free comic books at this branch, and 1,000 at each of the other three branches.
Comic Odyssey also gave away assorted merchandise like prints, magazines, baller bands, posters, and gift certificates.
But that wasn't even the best part. We made our way up to the top floor where the aforementioned Filipino creators were. Their comic books were for sale and for free, as well as prints and postcards. Fans got their swag signed, commissioned on-the-spot sketches, and of course took selfies with their favorite artists and writers for the complete FCBD experience.
ADVERTISEMENT - CONTINUE READING BELOW
Check out highlights from the event: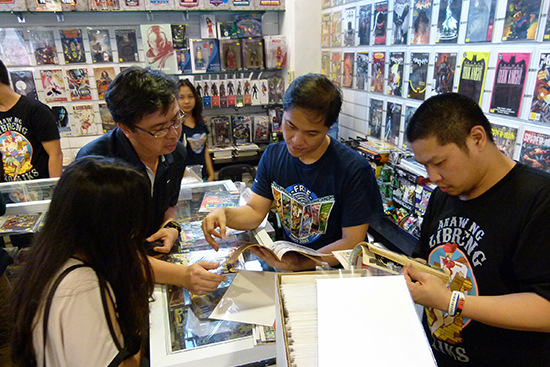 "This isn't work! This is fun!" Sandy Sansolis of Comic Odyssey (second from right), assisted by David, attending to father and daughter comic book fans, Ronnie and Celine.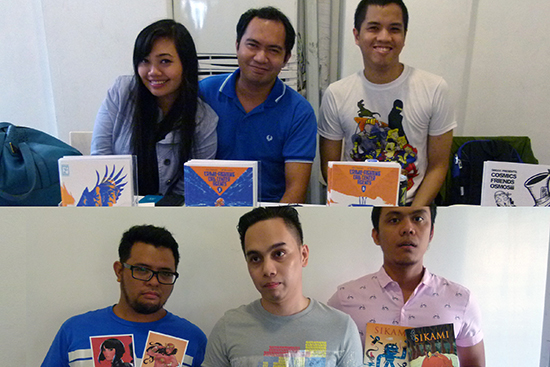 ADVERTISEMENT - CONTINUE READING BELOW
(Top, from right) Crime-Fighting Call Center Agents artist AJ Bernardo, writer Noel Pascual, and Vonn.
(Bottom, from right) Frances Luna III Illustration Firm members Mel Casipit (Sikami), Kai Castillo (Patintero), and Redg Vicente.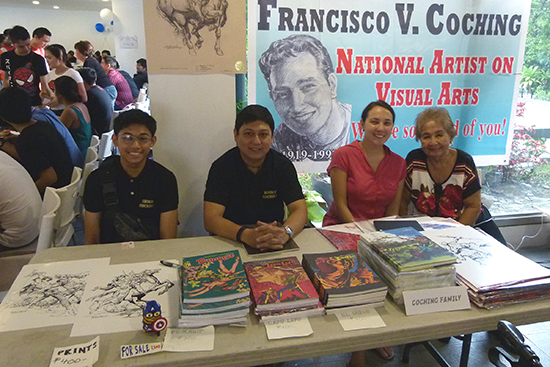 The family of Francisco V. Coching, National Artist for the Visual Arts: (From right) Mrs. Filomena Coching, Yeli, Kooky, and Chiko.
ADVERTISEMENT - CONTINUE READING BELOW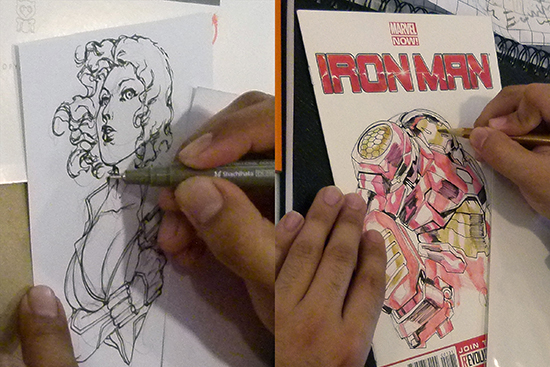 Let the work speak for itself. Sketches by Marvel artists Harvey Tolibao and Jay David Ramos.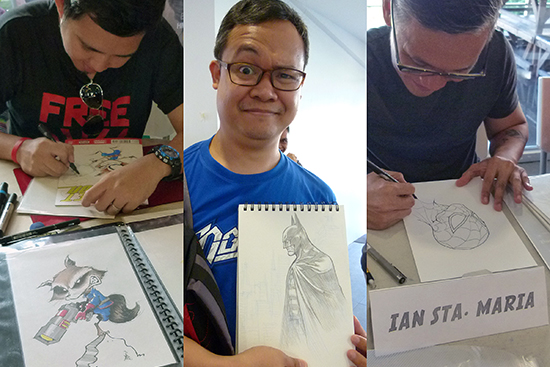 ADVERTISEMENT - CONTINUE READING BELOW
Freely Abrigo (Kapitan Tog), Elmer Damaso (Cat's Trail), and Ian Sta. Maria (Sixty Six)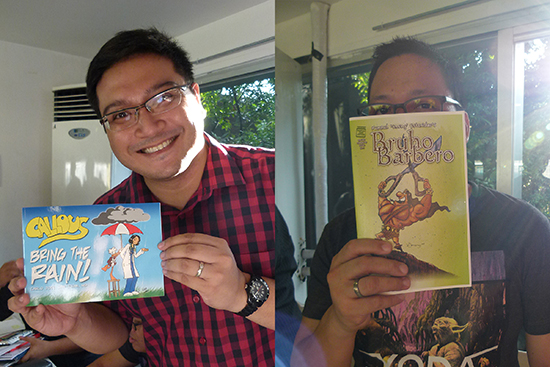 Dr. Carlo Jose San Juan (Callous) and Omeng Estanislao (Bruho Barbero)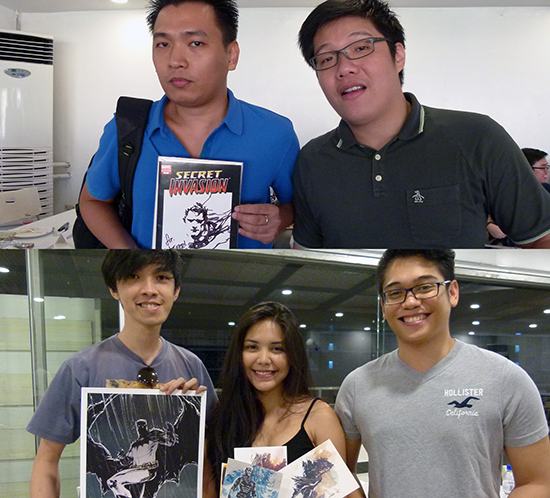 ADVERTISEMENT - CONTINUE READING BELOW
(Top, from right) Marvel artist Leinil Yu and Jester.
(Bottom, from left) Aaron Felizmenio (Gwapoman), Nisa and Jobim.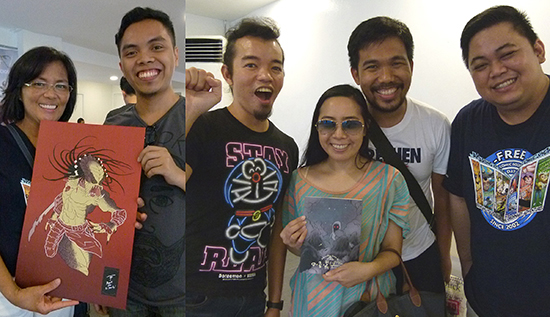 Rowena of Comic Odyssey and JP Palabon (Puso Negro); Manix Abrera (Kikomachine), Marge, Jayvic and Jam.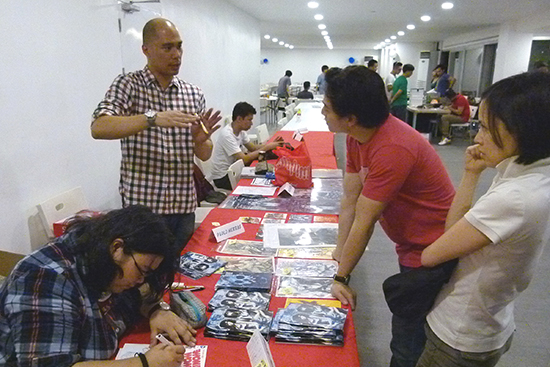 ADVERTISEMENT - CONTINUE READING BELOW
Meganon Comics' Tepai Pascual (Maktan 1521) does the sketching while Paolo Herras (Buhay Habangbuhay) does the sales talking.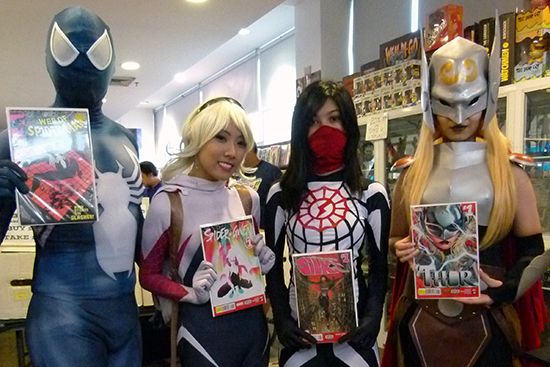 Can't have a Free Comic Book Day without cosplayers. Symbiote Costume Spider-Man, Spider-Gwen, Silk, and Lady Thor by the ladies and gentlemen of Justice Ph with a little help from their super friends.
ADVERTISEMENT - CONTINUE READING BELOW
Recommended Videos
Load More Stories