Remember Mary Jane? She's still in jail
And there are about 40 other people who are facing similar circumstances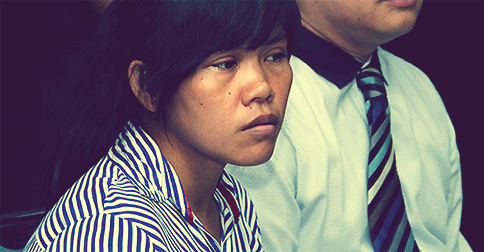 (SPOT.ph) We regret to inform you that when it was reported that Mary Jane Veloso was "spared" from execution, the fact that it's temporary was overshadowed by the joy we all felt when she was given the reprieve. What happened was far from a miracle and even the Indonesian government had to clarify that the execution is merely postponed...but, you know, people were really happy. For a few hours.
ADVERTISEMENT - CONTINUE READING BELOW
Soon enough, accusations of credit-grabbing were thrown by militants and #ingrata trended in social media when Celia Veloso claimed that they're going to come to collect what the government owes them. On May 2, Gabriela Director of International Affairs Monique Wilson came to the older Veloso's defense and wrote on her Facebook page, "I urge netizens not just to know the full story first (and the story does not merely begin in the hour leading up to her suspended execution), but to look at the entire CONTEXT of the case, [and] more important[ly], to also IMAGINE if this happened to you and to your loved one."
On May 3, the Official Gazette published "For the Record: A timeline of the case of Mary Jane Veloso." There is a noticeable breviloquence from 2010 to 2014, with the timeline not indicating why six human rights lawyers (who were not appointed by the Department of Foreign Affairs) are representing Veloso or why there wasn't an investigation to look for the people mentioned in her testimony. It is indicated in the timeline that the surrender of Maria Kristina P. Sergio, Veloso's recruiter, was instrumental in getting the reprieve—which is, as we've mentioned, temporary.
ADVERTISEMENT - CONTINUE READING BELOW
It's great that #SaveMaryJane turned into #MaryJaneLives, but there's also #MaryJaneisinPrison. Her fate is still in the hands of people who'd chalked her up as collateral damage by saying, "All hope is gone." Veloso is still in Indonesia and there's a burden on the Philippine Government to prove that we are capable of presenting the real criminals, i.e., the people who turn unwitting people into drug mules.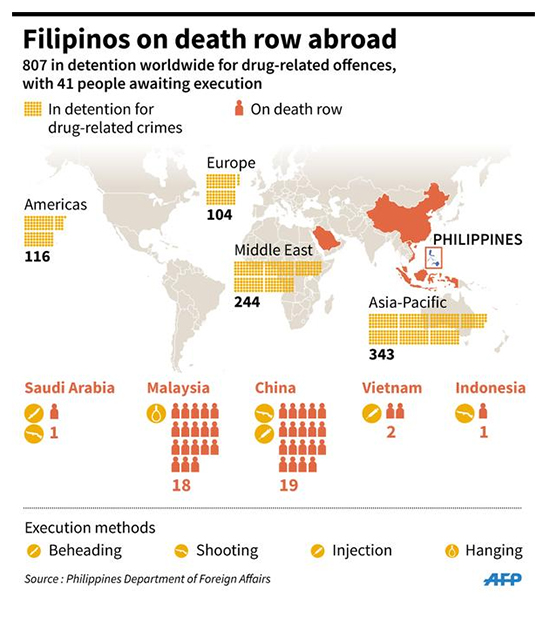 ADVERTISEMENT - CONTINUE READING BELOW
Infographic via @AFP
There are 40 (or 88, according to DFA) other Mary Janes right now, including Rose Dacanay Policarpio, who was tried for the murder of her Lebanese employer. According to Policarpio, three men broke into her employer's house. These men tried to rape her and killed her employer, but by the time the Saudi Police came, they had fled the scene. The DFA assures the public that they are "monitoring" these cases and their spokesperson Charles Jose further noted that, "Most of these were already given two-year reprieve, or on appeal, so walang imminent for execution." Call us paranoid, but it would be ideal if they could do everything they can long before any scheduled executions rather than wait until the last minute. Again. (Or, more likely, leave it to the next administration.)
Recommended Videos
Load More Stories