Taylor Swift, Sam Smith top 2015 Billboard Music Awards + more things you might have missed today
Nora Aunor wins international acting award, MMDA launches a carpooling app, and more.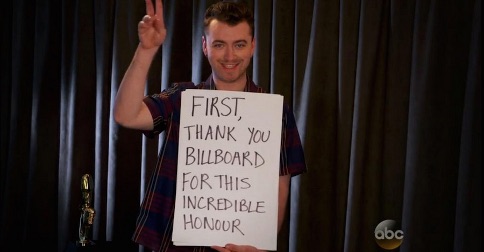 He accepted his award with written cue cards!
(SPOT.ph) Busy day, Spotters? We quickly recap 10 things you might have missed while you were off the radar.
1. Taylor Swift, Sam Smith top 2015 Billboard Awards
It was a huge night for Taylor Swift and Sam Smith, who both took home multiple awards during Monday's 2015 Billboard Music Awards. Swift bagged eight awards, including Top Female Artist and Top Billboard 200 Artist. Meanwhile, Smith was honored with the Top Male Artist and New Artist awards. Other winners include One Direction, Pharrell, and Iggy Azalea.
ADVERTISEMENT - CONTINUE READING BELOW
2. John Prats and Isabel Oli tie the knot
After a highly publicized engagement late last year, John Prats and Isabel Oli tied the knot in Batangas on Saturday (May 16). Isabel wore a gown by Vera Wang, while Prats donned a suit by Filipino designer Bang Pineda. A few celebrities were in attendance during the event, including Sam Milby who was Best Man, and Angelica Panganiban, who was the Maid of Honor.
3. Nora Aunor wins Best Foreign Actress award in France for Dementia
Nora Aunor bagged the award for Best Actress in a Foreign Film at the recently concluded St. Tropez International Film Festival in France. She was recognized for her work in the film Dementia where she portrayed a woman suffering from a mental illness. The movie was also nominated for Best Foreign Language Film (which it won), Best Director of a Foreign Language Film, and Best Original Screenplay in a Foreign Language Film.
ADVERTISEMENT - CONTINUE READING BELOW
4. Kris explains why she agreed to do a movie with Herbert
When Kris Aquino earlier announced that she was slated to do a movie with Mayor Herbert Bautista, she was met with mixed reactions. She took to Instagram on Sunday to explain why she agreed to do the movie, saying, "...It's just a movie, but we are being given that rarest of opportunities to answer all our what ifs through the eyes [and] expressed by the words of 'hugot queen, Direk Tonet Jadaone.'"
She also said that story is "realistic, family centered, funny, yet still uplifting and inspiring" and added that she "deserves a happy ending" with Herbert...at least in the movies.
5. Watch this video of a young couple who ages 7o years
Here's a bit of heartwarming news for you. A newly engaged couple wanted to look into the very distant future, just one month before they are set to marry. Thanks to a couple of cool people on the Internet, they were transformed from young 20-somethings into 90-year-olds. Their reactions? Press "play" above.
ADVERTISEMENT - CONTINUE READING BELOW
6. MMDA launches "Friend Trip" car pooling app
The Metropolitan Manila Development Authority (MMDA) has launched a car pooling app called "Friend Trip." Users can sign up via Facebook and enter their phone numbers. The app then searches for friends who are also using the app, and they can then choose between being a driver or a rider. The app is now available for free on Google Play, and will soon be available on the Apple Store.
7. Identification of Valenzuela fire victims to take a month, says PNP Crime Lab
According to officials from the PNP Criminal Laboratory, it may take a month before victims of the Valenzuela warehouse fire are identified with DNA testing. Specimen collection from blood relatives is currently ongoing, and will then be compared to cadavers recovered from the factory. Of the 72 victims that died in the fire, 69 bodies were reportedly "burned beyond recognition."
8. Fourteen resource persons face Senate arrest
ADVERTISEMENT - CONTINUE READING BELOW
Fourteen resource persons, including Vice President Jejomar Binay's alleged dummy, Gerry Limlingan, are now facing Senate arrest after being cited for contempt. The Senate Blue Ribbon Committee (headed by Senator Teofisto Guingona III) upheld its subcommittee's recommendation to cite them for contempt for their "refusal to attend" the investigation of VP Binay's alleged corruption.
9. PHOTOS: Scenes from Closeup Forever Summer 2015
The annual Closeup Forever Summer returned to the metro on Saturday with a bigger venue and hot headliners. If you missed the epic indie-slash-EDM party, check out photos from the music-filled event.
10. 10 Brilliant Words of Wisdom From TV and Movie Moms
Mother's Day may be over, but mom's words of wisdom are forever. Take it from these 10 TV and movie moms who prove that just because they're fictional doesn't mean we can't learn a thing or two from them.
Load More Stories