Mar Roxas is P-Noy's top presidential choice for 2016 + more things you might have missed today
A quake hits Tokyo, Robert De Niro tells graduates students they're "f*cked," and more.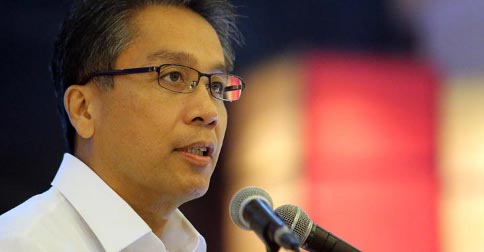 Photo via Manila Bulletin
(SPOT.ph) Busy day, Spotters? We quickly recap 10 things you might have missed while you were off the radar.
1. Mar Roxas is P-Noy's top presidential choice for 2016
Although the Liberal Party (LP) has yet to formally announce their presidential bet for 2016, President Aquino told reporters on Monday that Interior Secretary Mar Roxas is "at the top of the list." P-Noy explained, "[Roxas] has demonstrated quite a wide range of expertise in so many different assignments." He earlier said that he is planning to announce LP's choice by the end of June.
ADVERTISEMENT - CONTINUE READING BELOW
2. Robert De Niro to NYU graduates: "You're f*cked"
Fresh graduates of New York University's Tisch School of the Arts were in for a surprise when Robert De Niro began his speech saying, "Tisch graduates, you made it. And, you're f*cked." It wasn't all that bad, though. He added that it "isn't a bad place to start" and continued, "You discovered a talent, developed an ambition, and recognized your passion. When you feel that you can't fight it, you just go for it. When it comes to the arts, passion should always trump common sense."
3. Heart hints at parents meeting Chiz
In an Instagram post, Heart Evangelista hinted that her parents, Reynaldo and Cecile Ongpauco, visited her and husband Chiz Escudero in their home on Sunday. This is reportedly the first time her parents visited her home since she married in February this year. She confirmed the visit to an Instagram commenter late Sunday night, saying it was a "dream come true."
ADVERTISEMENT - CONTINUE READING BELOW
4. Brillante Mendoza's Taklub receives special mention at Cannes
Director Brillante Mendoza's Taklub, which stars Nora Aunor and tells the story of Typhoon Yolanda survivors, received a special mention from Cannes Film Festival's Ecumenical Jury. The Ecumenical Jury is an independent jury that sits at various film festivals, including Cannes (where it is one of three juries). The film competed in the festival's Un Certain Regard category.
5. Vice Ganda jokes about Vhong Navarro's rape case

Vice Ganda resurrected the issue on Vhong Navarro's rape case during the former's concert on May 22. In a segment where they tried to outshine each other, Vhong's joke outshined Vice's, causing the latter to jokingly bring up how he once testified for Vhong during the rape investigation. He also teased Vhong, "Mahilig ka sa foods!" (Referring to a text message the latter allegedly received from Deniece Cornejo.)
An earthquake with a 5.6 magnitude hit the Japanese capital of Tokyo and its suburbs on Monday, according to the Japanese Meteorological Agency. There were no immediate reports of damages or casualties, but reports said the strong quake shook buildings in Tokyo, setting off alarms and bringing the city's subway system to a halt.
ADVERTISEMENT - CONTINUE READING BELOW
7. Unified MRT-LRT ticket system delayed
The unified ticketing system for the LRT and MRT was set to be implemented this month, but has reportedly been pushed back to a later date until testing has been completed. The MRT-LRT single ticket doubles as a stored-value train ticket and a "debit card" that can supposedly be used for other modes of transportation such as buses, paying toll, and even shopping.
8. Rainy season likely to arrive in second half of June
You'd have to weather the hot temperature a little longer. According to PAGASA, the rainy season will likely hit during the second half of June and that it will "start gradually."
9. 10 Cute Charms We Want on Our Bracelets
When you want to commemorate a memory or milestone, a charm bracelet is the perfect way to do it. We rounded up 10 cute charms that you'll love dangling from your wrist...or necklace.
1o. 10 Underrated Pinoy Action Movies
ADVERTISEMENT - CONTINUE READING BELOW
Who says the genre is (supposedly) dead? From the '70s to this day, we listed 10 underrated Pinoy action flicks that you should definitely check out.
Load More Stories