A lesbian mom writes an open letter to Eat Bulaga, in response to a "Problem Solving" segment aired last week
Ahead of Pride Month, Cha Roque talks about the problems of the "dabarkads na beki, may asawa at tatlong anak."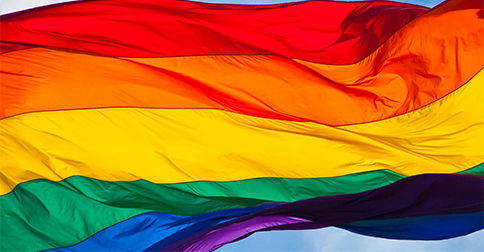 (SPOT.ph) On Friday (May 22), the video with the title "Dabarkads na beki, may asawa at tatlong anak" was uploaded on the official GMA Network YouTube channel, documenting the "Problem Solving" segment from the noontime show Eat Bulaga. The video garnered around 40,000+ views on YouTube, but has since been removed from the official channel.
ADVERTISEMENT - CONTINUE READING BELOW
The segment featured the Eat Bulaga hosts giving advice to a "beki dabarkads" named Diamond, who was having a hard time protecting himself and his family from teasing and some judgments from people about his living situation. Diamond has a family—wife and kids—and he recounted the taunting his children suffered when he would drop them off at school. Here is a copy of the video:
Strong sentiments were shared by the hosts, who adviced Diamond to "go back to the closet" and questioned his decision to marry despite his sexuality. The hosts also jokingly threatened to get physical with Diamond, in an attempt to make him fight back and revert to "being a man." The hosts warned him that it's "scary" that his influence might make his children gay as well.
Little or virtually no fuss was made about the video when it was initially posted, but after Cha Roque of Dakila wrote an open letter to the show, it was taken down even from the GMA website. Roque is a lesbian, a single mom, and she's been active in the campaign for people to #ComeOutforLove. Here are excerpts from her open letter:
ADVERTISEMENT - CONTINUE READING BELOW
Dear Eat Bulaga,

I am Cha, a single lesbian mom to an eleven year old daughter. I've seen the video of your segment (Dabarkads na beki, may asawa at tatlong anak) and I was appalled at how you handled the situation: how you suggested that this guy should go back to the closet so his kids won't be discriminated is like saying that homosexuality is a sin. You made it appear like homosexuality is a disease and that he should keep it from his kids so as not to "infect" them with it. I feel sad for the guy for trusting you with what he is going through only to be treated that way.

I am a lesbian mom and I chose not to hide in the closet, because I love my kid. I don't think she deserves to be lied to and lying to her about who I am is the biggest betrayal. You don't hide secrets from the people you love—more so your identity. It is shows like yours and opinions like those that was expressed in your show that encourages the bullying of LGBT people and their families.

It is unfair that people will judge her not for who she is, not for how she excels in school, not for her craft but for who her mom is. This is why I chose to come out of the closet and fight for our rights.

We (LGBT people) do not want to hide. We want to be accepted, and acceptance is different from being tolerated. It is not okay that you are only okay with us if we keep quiet. It is not okay that you coexist with us just as long as we don't complain about how we are treated.

We have the right to our choices. We know who we are and you don't have the right to tell us to be otherwise.
The full letter, which has been shared over 1,000 times as of writing, is on Roque's Facebook page. The Eat Bulaga hosts have yet to respond to the letter.
Recommended Videos
Load More Stories