Watch this Mario Kart and Mad Max Mash-Up + more things you might have missed today
A building that looks exactly like Star Trek's Enterprise, restorations for the Metropolitan Theater, and more.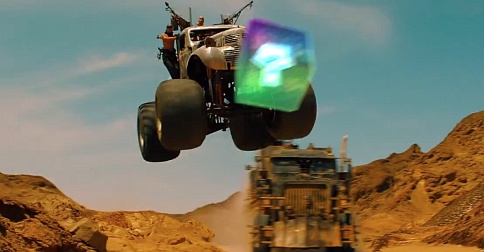 (SPOT.ph) Busy day, Spotters? We quickly recap 10 things you might have missed while you were off the radar.
1. Watch this Mario Kart and Mad Max: Fury Road mash-up
Whether you're a gamer or a fan of action movies, you're bound to get a kick from this wild mash-up. The video imagines what would happen if the characters of Mario Kart meet the crazy world of Mad Max: Fury Road. You'd be surprised at how well they go together.
ADVERTISEMENT - CONTINUE READING BELOW
2. A massive US $100-million building looks exactly like the starship Enterprise from Star Trek
A Chinese executive has built a massive office that pays homage to Star Trek's USS Enterprise. The building cost about US $100-million to construct, and currently serves as a really cool office space for Chinese video game developer, Baidu.
3. B.B. King's daughters claim that their father's death was a homicide
Just weeks after music legend B.B. King passed away, two of his daughters are now claiming that he was murdered, saying, "I believe my father was poisoned and that he was administered foreign substances." The pair believe that King's business manager, LaVerne Toney, committed the alleged crime. Torney has brushed off the allegations.
4. Channing Tatum says Gambit movie will be an origin story
In case you missed the news, Channing Tatum is currently slated to play the X-Men mutant Gambit in a solo movie due October 2016. In an interview, the actor said that the script is now complete and that the film will be an origin story. The character is also rumored to make a cameo in the upcoming movie X-Men: Apocalypse, slated for release in May 2016.
ADVERTISEMENT - CONTINUE READING BELOW
5. Jake Cuenca admits to walking out of Gandang Gabi Vice taping
Jake Cuenca has confirmed reports that he walked out during a recent taping of Gandang Gabi Vice, but clarified that it was because he saw his ex, Chanel Olive Thomas (a candidate for this year's Miss Earth). "I just didn't want to put my ex-girlfriend in that situation," he explained. "Naging gentleman lang ako na ayaw ko ilagay sa alanganin yung tao, lalo na moment niya ngayon na mag-Miss Earth." He added that he had already apologized to Vice Ganda for the incident.
6. Restoration of Metropolitan Theater gets an OK
Here's a bit of good news for you today. The National Government has released P270 million to restore the dilapidated Metropolitan Theater in Lawton, Manila. The amount will be used by the National Commission for Culture and the Arts (NCCA) to buy the neglected theater from the Government Service Insurance System (GSIS).
ADVERTISEMENT - CONTINUE READING BELOW
7. DepEd to demolish school buildings standing on the West Valley Fault
On Tuesday, the Department of Education (DepEd) announced plans to demolish public-school buildings located directly on the West Valley Fault System, as part of its preparations for a possible massive earthquake. It is part of DepEd's policy to immediately vacate buildings at the fault line.
8. NAIA to undergo security assessment
The United States Transportation Security Administration (TSA) is scheduled to conduct a security assessment at the Ninoy Aquino International Airport (NAIA) from May 27 to May 29. The TSA is a US government agency that performs regular security assessments of airports worldwide that host airlines with flights to the U.S. These are done to check if airports meet the safety standards set by the International Civil Aviation Organization (ICAO).
9. 10 Brow Products For Every Budget
Looking to up your brow game? We show you 10 must-have products, perfect for any girl's needs...and budget!
ADVERTISEMENT - CONTINUE READING BELOW
10. 10 Adult Moments No One Can Avoid
You finally reached that mystical "freedom" land called adulthood and you're quickly realizing that it's not quite as awesome as you once thought it was. Cheer up! There are some downsides, but there are plenty of good parts, too. (Like buying new appliances.)
Recommended Videos
Load More Stories