Watch Adam Levine bare it all in Maroon 5's new music video + more things you might have missed today
A new Miss Philippines Earth, MMDA updates on the quake, and more.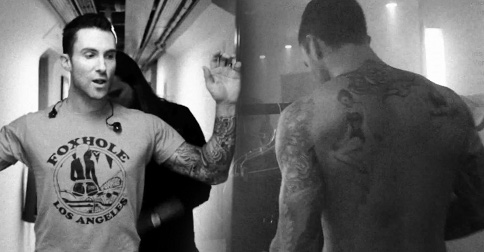 (SPOT.ph) Busy day, Spotters? We quickly recap 10 things you might have missed while you were off the radar.
1. Watch Adam Levine bare it all in Maroon 5's new music video
Got the Monday blues? We've got just the thing. Maroon 5 has released a new music video for their latest track, "This Summer is Gonna Hurt Like a Motherf*cker." (Yes, that's the actual title, and ain't that the truth temperature-wise in Manila.) The video takes fans behind the scenes and into the band's dressing room where viewers are given a glimpse at Adam Levine's goods.
ADVERTISEMENT - CONTINUE READING BELOW
2. Here are the top four finalists of Your Face Sounds Familiar
Weekend variety show Your Face Sounds Familiar has announced their top four celebrity finalists, namely: Jay R, Melai Cantiveros, Nyoy Volante, and Edgar Allan Guzman. The top four contenders were determined based on their tallied weekly scores since the show started airing. The grand finals will take place on June 7.
3. Angelia Gabrena Ong is crowned Miss Philippines Earth 2015
There's a new Miss Philippines Earth. Angelia Gabrena Ong, who hails from Manila, bested 37 Miss Philippines Earth hopefuls from all over the country. She impressed the judges with her answer to Zsa Zsa Padilla's question on same sex marriage, saying, "If the person feels he or she needs to be married to show his or her love, then I don't mind having [same] sex marriage. If you feel that that is love, then so be it."
4. Kanye West and Kim Kardashian are expecting their second child
ADVERTISEMENT - CONTINUE READING BELOW
Congratulations are in order for KimYe. It was revealed at the end of the mid-season finale of Keeping Up With the Kardashians that Kim is pregnant with her second child. The couple have previously struggled with fertility issues.
5. A new "demonic" game is taking over the Internet
The "Charlie Charlie Challenge" is a new game that has gone viral. The game supposedly calls on a "Mexican demon" using pencils. It's pretty simple: draw a grid on a piece of paper with "yes" and "no" in the boxes, balance one pencil on top of another in the shape of a cross, and ask a question to Charlie. Although players say it's some demon controlling the pencil, reports credit the phenomenon to gravity and "the awkward positioning of pencils.'
6. Comelec says there are over five million unclaimed voter's IDs
According to the Comelec, there are still over five million voter's IDs unclaimed by registered voters since March 2015. Most of the unclaimed IDs are in the Calabarzon area with 1,018,693, followed by Metro Manila with 878,192. Some 2.7 million IDs, meanwhile, have been withheld due to deactivation, cancellation, transfer of registration, and correction of entries.
ADVERTISEMENT - CONTINUE READING BELOW
7. Only seven MRT trains running on first day of school
It's back to school for students on June 1, but reports say that only seven MRT trains were running. Normally, 20 MRT trains run along the EDSA route to serve about half a million passengers a day, but authorities said that some trains were removed due to "busted air-conditioning. "
8. MMDA looks for volunteers via new quake website
The MMDA has launched a new website providing information on earthquake preparedness and disaster response. The website offers a sign-up option for the Metro Manila Rescue Volunteer Corps (MMRVC), and the MMDA hopes to sign up at least 8,000 volunteers which will be activated in the event of earthquakes. Volunteers must be 18 years old or above, male or female, and willing to undergo a three-day earthquake response and rescue training to be conducted by the agency for free. Interested partipants may sign up online.
9. 10 Under-The-Radar Ramen Places You Shouldn't Miss
ADVERTISEMENT - CONTINUE READING BELOW
Who cares if we're in the midst of sweltering weather? The rainy season is just around the corner, and we couldn't resist a piping-hot, comforting bowl of ramen. We've found 10 under-the-radar ramen places you should check out.
10. PHOTOS: 20 Attention-Grabbing Preview Covers That Had People Talking
It's the 20th anniversary of Preview magazine! To celebrate, we look back on all the drama, skin, weddings, makeovers, and surprise cover girls from the magazine's past decade.
Load More Stories