Japanese "underwear" for soda bottles actually exist + more things you might have missed today
Ariana Grande calls out the media for sexist double standards, a thunderstorm hits Manila, and more.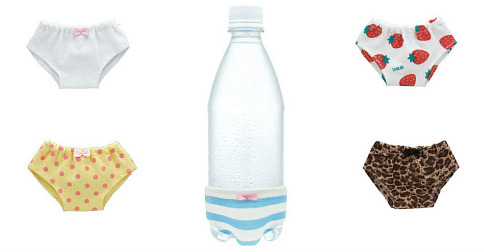 Photo via Kitan Club
(SPOT.ph) Busy day, Spotters? We quickly recap 10 things you might have missed while you were off the radar.
1. Japanese "underwear" for soda bottles actually exist
We don't actually know why these exist, but the point is that they actually do. Never let your water and soda bottles go around naked ever again with these Japanese-invented underwear. According to reports, the novelty item is sold via vending machines and come in a variety of designs. So far, they only seem to fit 500 ml bottles...in case you were curious.
ADVERTISEMENT - CONTINUE READING BELOW
CONTINUE READING BELOW
Recommended Videos
2. Here's how KC Concepcion and Piolo Pascual are doing
To describe the breakup of Piolo Pascual and KC Concepcion as "awkward" is putting it mildly. The latter, however, told fans on Twitter that she and Papa P are "pretty civil." This was pretty much what Piolo said in a February interview ("More than civil") but that's all either of the two were willing to divulge.
3. Melai wins Your Face Sounds Familiar
Comedienne Melai Cantiveros was crowned the grand winner of Your Face Sounds Familiar on Sunday. She earned 51.93% of viewers' votes for her impersonation of Miley Cyrus' "Wrecking Ball" (actual wrecking ball included). She took home the P2 million prize, half of which will be donated to her chosen charity. Meanwhile, Nyoy Volante won second place for his impersonation of Whitney Houston.
4. Ariana Grande calls out the media for "sexist double standards"
After constantly receiving questions about her ex Big Sean, and whether or not she was dating again, Ariana Grande took to Twitter to post an essay on "sexist double standards." She partly wrote, "What I meant [when] I said about not being Sean's ex is that I am tired of living in a world where women are mostly referred to as a man's past, present, or future property or possession. I do not belong to anyone but myself, and neither do you [...] I have come to the realization that I have so much more to talk about."
ADVERTISEMENT - CONTINUE READING BELOW
She added, "I can't wait to live in a world where people are not valued by who they're dating, married to, attached to, having sex with (or not), [and] seen with, but by their value as an individual."
5. Watch porn stars, er, watch their own movies with regular people
You probably know how awkward it can get sometimes when you see unflattering photos of yourself online. Imagine how it would it feel for these veteran porn stars who watched their own videos alongside regular people. It's actually much funnier than you think.
6. A sea turtle crashes a beach wedding
Remember that time a turtle was a master of photobombing? It turns out it isn't alone. A leatherback sea turtle (the largest species of sea turtle) came ashore during a beach wedding to lay her eggs...to the delight of the wedding guests. Once the surprise guest did the deed and covered up her eggs for safe keeping, she casually made her way back into the ocean. By the way, leatherback sea turtles are endangered so the whole thing was pretty special.
ADVERTISEMENT - CONTINUE READING BELOW
7. Thunderstorm hits Metro Manila, nearby provinces
Metro Manila and nearby provinces were in for a surprise on Monday when a sudden thunderstorm hit, causing floods in some areas. According to the MMDA, floods were recorded in areas like the EDSA-Aurora Boulevard tunnel, España Boulevard, and V. Luna in Quezon City.
8. Duterte says own family rejects presidential bid
Davao City Mayor Rodrigo Duterte continues to deny rumors of him running for President in 2016, saying, "Wala na. This is for the first time. Sinabi ko na din ito kay Pastor [Apollo] Quiboloy. Pati si Inday (Sara Duterte), anak ko, ayaw talaga." He added that his family didn't want him to run for higher office and denied that he was behind the recently airing political ads. "Hindi akin 'yan, kasi hindi ako g*go na magpa drama-drama pa," he said.
9. 10 Things We Collected When We Were Kids
Stickers, stationery, and...kisses? Life truly was simpler back in the day. Here are the 10 things we collected that gave us so much joy.
ADVERTISEMENT - CONTINUE READING BELOW
10. 10 Sucky Things That Happen When You're in a Relationship
Yes, relationships are generally awesome and it feels great to be with someone who finally gets you and all your little quirks. Still, there are some downsides to being taken. We round up 10 of them.
Load More Stories