Watch the painful springboard dive of Pinoy athletes at the 2015 SEA Games + more things you might have missed today
George R.R. Martin has a few words to say to Thrones fans, Senator Chiz Escudero may run for higher office, and more.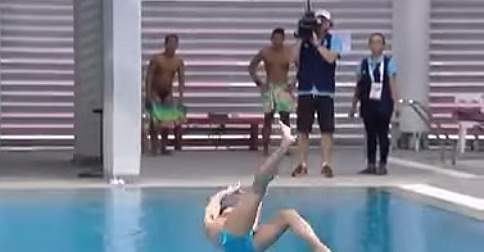 (SPOT.ph) Busy day, Spotters? We quickly recap 10 things you might have missed while you were off the radar.
1. Watch the painful springboard dive of Pinoy athletes at the 2015 SEA Games
We can sum up this video in one word: Ouch. Don't worry, though. John David Pahoyo and John Elmerson Fabriga, who were competing at the 2015 SEA Games, took their flop in stride. "This was not the first time I failed a dive, and I was not the first one who did so. And I am still proud because not all of us has the privilege to represent our own country [in a] big sporting event like this," said Pahoyo.
2. Homer and Marge Simpson are "legally separating"
Not even cartoons are safe from #WalangForever. Reports say that Homer and Marge Simpson of the long-running The Simpsons are legally separating in the upcoming season. "...Homer has narcolepsy and it's an incredible strain on the marriage. Homer and Marge legally separate, and Homer falls in love with his pharmacist, who's voiced by Lena Dunham," explained executive producer Al Jean.
3. Iya Villania is the new "Chika Minute" host
It's official! Actress-slash-host Iya Villania is taking over the "Chika Minute" segment on GMA Network's 24 Oras program starting Monday next week (June 15). She will be joining 24 Oras anchors Mike Enriquez, Mel Tiangco, and Vicky Morales.
4. New Fifty Shades of Grey manuscript stolen
Someone must've been really excited for E.L. James' new book. According to her publisher Random House, a copy of her latest novel, Grey, has been stolen just a week before publication. The new book is essentially Fifty Shades told from the point of view of Christian Grey.
ADVERTISEMENT - CONTINUE READING BELOW
5. George R.R. Martin asks fans to "stop pestering" him about Game of Thrones
If you've read the A Song of Ice and Fire saga, then you probably already know how far Game of Thrones has veered from the source material, especially with the last few episodes. Martin took to his blog to respond to supposed fan comments, saying, "It is not my intention to get involved in those, nor to allow them to take over my blog and website, so please stop e-mailing me about them, or posting off-topic comments here."
He continued, "I cannot control what anyone else says or does, or make them stop saying or doing it, be it on the fannish or professional fronts. What I can control is what happens in my books, so I am going to return to that chapter I've been writing on The Winds of Winter now, thank you very much."
CONTINUE READING BELOW
Recommended Videos
6. Senator Grace Poe meets with P-Noy a second time
Senator Grace Poe confirmed that she once again met with President Aquino regarding the 2016 polls. She divulged that there was no mention of Mar Roxas or her possibly running for Vice President under the Liberal Party. She said, however, that Aquino has not ruled out Senator Francis Escudero to possibly run for higher office.
7. Metropolitan Theater now owned by NCCA
The National Commission for Culture and the Arts (NCCA) now officially owns the Manila Metropolitan Theater, the derelict-looking building located at Plaza Lawton in Manila. Last month, the government released P270 million to kick-start its restoration, which includes additional exhibition galleries and improved performance halls to be used by artists, students, and the general public.
ADVERTISEMENT - CONTINUE READING BELOW
8. 6 Fashion Picks Every Commuter Girl Needs
It's hard to stay completely cool and comfy while commuting in the metro. Cosmo.ph shows you 6 must-have fashion picks to help your commuting be as comfortable as possible.
9. 10 Snappy Movie Comebacks for Lame Pickup Lines
The next time someone drops a lame pickup line on you (and you're just not in the mood to be polite), here are 10 movie comebacks that will do the trick. Trust us, they can be very creative.
10. 10 High Heels That Won't Hurt Your Feet
Gearing up for a night out but dreading the pain of your feet after hours of wearing heels? We show you 10 high heels that you can rock all night without the extra pain in your soles.
---
Help us make Spot.ph better!
Take the short survey
Load More Stories