TRENDING: Non-Campaigning Campaigns for the 2016 Elections
Face here, face there, face everywhere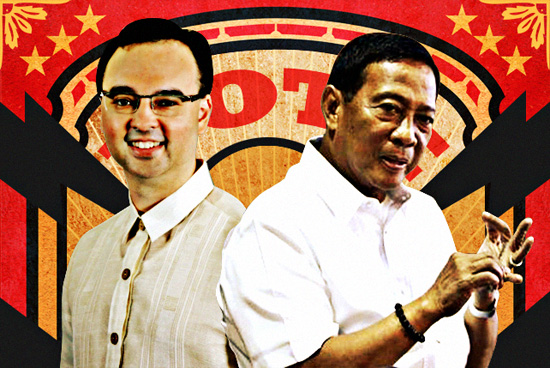 (SPOT.ph) They're not campaigning, because they are not telling you to vote for them. Heck, these videos and posters are not about the elections. It's about the city they love and the people they serve. Technically, they're not even violating any rules. Comelec Chair Andres Bautista admits that, "If you look at our laws today, there is no such animal as premature campaigning." So all that...er, "kahayupan" is permitted. Sorry, Eleksyon 2016 Pampams.
In any case, consider this a trip to the zoo. Remember the rule: Don't feed the animals!
"I Love Taguig...Invest in Taguig"
It's a commercial for Taguig, because Taguig is cool. Senator Alan Peter Cayetano and wife, Mayor Lani Cayetano, smile throughout the video, because Taguig is cool. Why is a senator in this video? Say it with us: because Taguig is cool. Who paid for this? Baka libre rin. Pwede pala! That's how cool Taguig is.
ADVERTISEMENT - CONTINUE READING BELOW
"Duterte"
The formula for Davao's success is definitely not a secret (the Davao Death Squad has been under scrutiny ever since Mayor Rody Duterte announced that he will not run), but what is a mystery is the source of this video. The Mayor denies that this is a campaign ad (as the rest of the items on this list are not campaign ads) and he also continues to reject the "burden" of running for president. So...wala lang. He just decided to ride a motorcycle and a crew with pretty decent equipment decided to tag along. When they saw the footage, they thought, "Shame to put it to waste. Let's make a nothing out of it."
CONTINUE READING BELOW
Recommended Videos
Sa Makati, bawal mamatay ang mahirap dahil sa kakulangan ng pera na pambayad sa ospital o sa pagbili ng gamot.

Posted by Jojo Binay on Sunday, May 31, 2015
"Maginhawa Ang Buhay Kay VP Binay"
Unlike everyone else whose name appears on the presidential surveys, Vice President Jejomar Binay has made his intentions known to all since the dawn of time. Clearly, this isn't a campaign video because campaign season is roughly a year away still. The veep just wants to remind you what he did in Makati and what his son will continue to do in Makati and what, presumably, his son's son will do in Makati. So on and so forth, amen.
ADVERTISEMENT - CONTINUE READING BELOW
Mukhang Medal
They're so proud of these hardworking kids that they want to give the best gift of all: their smiling mugs. They're rather in your face with this, but right now, you have to be absolutely creative if you want to show your "love for public service." Plastering your face all over tarps and billboards is so yesterday. PhilHealth would know.
"TSeKap Na 'Yan!"
But where is the alampay?
Coffin-ated
The mayor's going to take care of you from cradle to grave. He wants you to know that...or not. According to Mayor TJ Rodriguez, the markings are there to prevent funeral parlors from charging the families of the deceased for coffins for which the LGU of Capas, Tarlac already paid. His loving contingent initially used his name to stamp the coffins, but he had instructed them to put a sticker over it...which his enemies then peeled off. Can you feel Occam's Razor slicing through this?
ADVERTISEMENT - CONTINUE READING BELOW
Share this story with your friends!
---
Help us make Spot.ph better!
Take the short survey
Load More Stories