Timeline: Transgender Community Calls Out Valkyrie for "Dehumanizing" Policy
Several members of the community have been denied entry to the club because of "cross-dressing."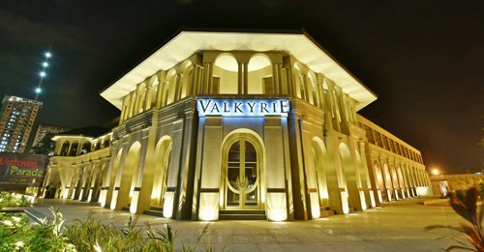 (SPOT.ph) On Sunday night, designer Veejay Floresca posted on Facebook about an incident in Valkyrie that snowballed into something as huge as a call for a boycott. Floresca detailed her "dehumanizing" experience at the club in BGC, where a bouncer denied her entry for "cross-dressing."
What's more shocking is that this isn't the first time this happened. We'll walk you through the then-and-now of the situation that has the LGBT Community rallying online, and quite possibly, on the streets during Pride March on June 27.
ADVERTISEMENT - CONTINUE READING BELOW
CONTINUE READING BELOW
Recommended Videos
[infographic:/images/articles/infographics/2015/06/22/269774_1434938815.jpg]
February 28, 2015
Mico Lloren posted a lengthy rant on Facebook when a transgender friend was denied entry at Valkyrie. Lloren shares that the bouncer wanted his friend to put pants on, instead of a yellow dress that showed her cleavage. The scene concluded with Lloren and company leaving Valkyrie for Raven.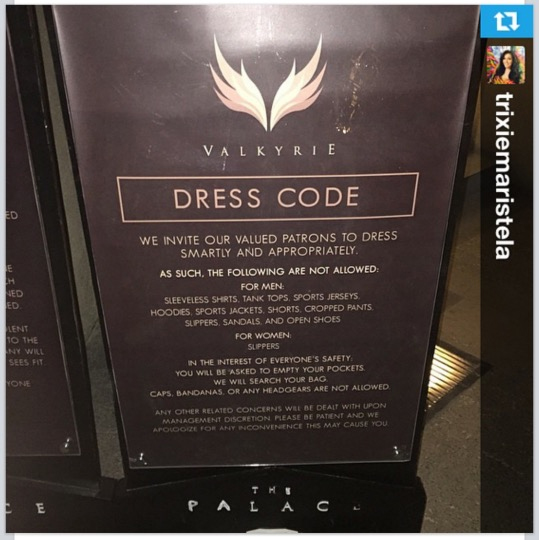 ADVERTISEMENT - CONTINUE READING BELOW
March 4, 2015
The Philippine Star picked up Lloren's story and got in touch with Valkyrie management. The management confirmed that they do have a No Cross-dresser Policy, but pressed again, they also said that transgenders are allowed to enter the club if they follow the dress code. "We allow crossdressers basta huwag lang po daring na iyong tipong mababastos sila," was the exact quote. It's important to note the distinctions between cross-dressing and trans identity, and it's also interesting to study Valkyrie's opinion on clothing that invites rude behaviour. Ho-hum. What year is it again?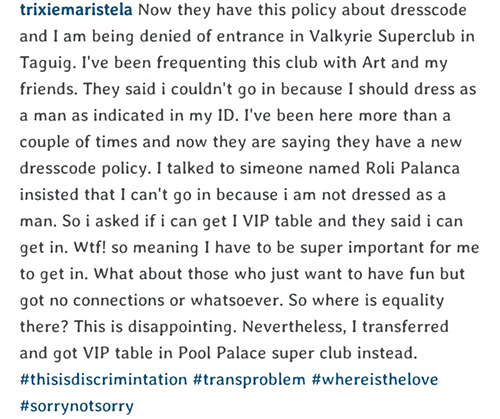 ADVERTISEMENT - CONTINUE READING BELOW
June 13, 2015
Another transgender, Trixie Maristela, spoke to SPOT.ph about a similar incident at Valkyrie. Maristela and her friends went through the routine inspection of bags and ID, but this time, the bouncer told her that she was "not dressed appropriately."
"I didn't give in, I insisted my right because for one, I am dressed accordingly and second because I've been frequenting the club many times and that was the first time na haharangin nila ako sa entrance to tell me and impose what I should be wearing," shared Maristela. However, to avoid any conflics, she volunteered to purchase a VIP table, but was told that the tables were all reserved. Despite wanting to shout, they chose to go to Pool Palace instead, "It is absurd that they don't allow trans individuals due to their problematic and stringent dress code policy, but with money they can actually disregard that rule."
ADVERTISEMENT - CONTINUE READING BELOW
June 14, 2015
Valkyrie's part-owner Tim Yap messaged Geena Rocero saying he will call, but it didn't push through. They arranged to meet in person on June 20th, but Tim eventually said he will be out of the country by then. The meeting was rescheduled to June 29.
According to Geena, Tim "acknowledges" this is urgent and he will "do [his] best" to talk to Valkyrie managers and owners about the possibility of a temporary suspension of the rule.
"What is [making] us furious is the fact that they acknowledge that this problematic No Cross Dresser Policy is URGENT but [they] didn't do anything about it," Geena told SPOT.ph, "It's like we were not being heard."
June 20, 2015
Veejay Floresca went to Valkyrie to celebrate a friend's birthday party. She was barred from entering and told "no crossdressers allowed." When she showed her California I.D. with her female name and gender marker, the man at the door insisted, "Lalaki pa rin 'yan."
ADVERTISEMENT - CONTINUE READING BELOW
In a Facebook post, Veejay said, "What happened to me last night was very sad. I still can't believe that some people still think [of] transgenders as cross-dressers. We should not dehumanize people because of their decisions to be themselves. I want this to change. Let's hope that the meeting next week will give a positive outcome for everyone."
June 21, 2015
According to a Facebook post by Sass Rogando Sanot, Vice Ganda reportedly invested in Valkyrie Club but has not spoken about the issue.
When asked whether they have reached out to Vice or not, Geena replied, "Margaux [Medina] said that they will reach out but never heard back from them about what Vice Ganda says. He is well aware of what's happening. Divine [Lee] said that Valkyrie owners and Vice called her about this...But NOTHING is being done!"
This story will be updated as it develops.
Load More Stories