Black cats are the stars of the new PAWS campaign
Oh, and Joey Mead King, too!
(SPOT.ph) It seems that of late, anachronisms abound. There are clubs with policies that don't feel like they belong in this century and people are still not that keen on cats, especially the black ones.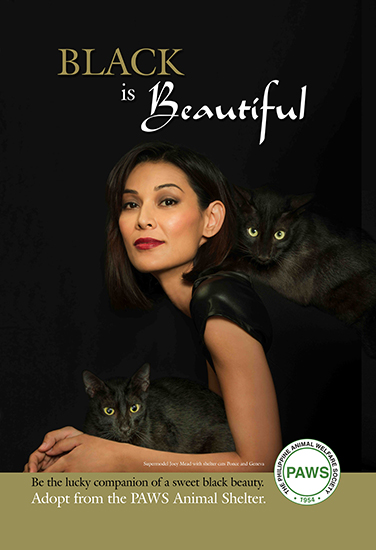 They're the mascot of the online world, yet offline, the felines are still fighting stigma. It doesn't help that they look like they don't care what you think...or that they also behave like they're fine on their own...or that they really are quite independent. Hmm. This seems like an uphill battle and even PAWS Executive Director Anna Cabrera admits that love for cats is scarce here (despite the fact that Cat Cafés are trending).
Obviously, there's charm in their looks, but cats are a bit aloof and more than a little temperamental. If they were movies, they'd be French New Wave sans subtitles. Still, the genre has a sincere and loyal following and so do cats.
ADVERTISEMENT - CONTINUE READING BELOW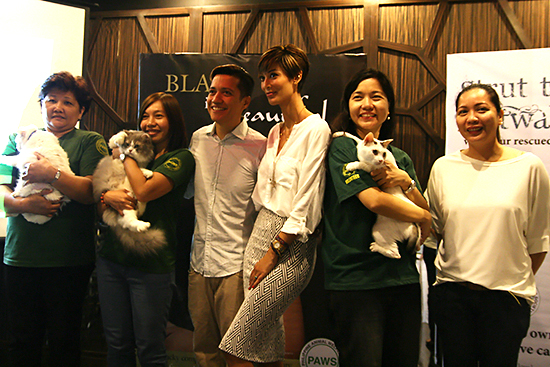 CONTINUE READING BELOW
Recommended Videos
Radio personality Chico Garcia, Joey Mead King, and PAWS Volunteers during the launch of the new campaign
"I love how cats are so independent. They're low maintenance and I think, mostly, I love that cats come to you when they want—you actually feel more special!" shared Joey Mead King, who shares the latest PAWS ads with beautiful black cats, "Dogs are more 'I love you! I love you! I love you!' Cats are more 'I love you right now' and I think it's that type of personality that makes me so aliw with them."
Cabrera tells us that the Top Model Coach was the perfect ambassador for their new campaign, sharing stories about the shoot. It wasn't easy, but Joey handled it like a pro and her sincerity won the organization over (and over). Genuine support for the cause is the main requirement to wear the "PAWS Ambassador" badge and Joey truly lives her advocacy. She adopts and she rescues and she's proud of her babies.
ADVERTISEMENT - CONTINUE READING BELOW
"Unfortunately there are stereotypes about everything in this world. There are old stereotypes about black cats and it should be just that—old. I'm an owner of a black cat and I really think that they're such elegant looking animals," she told us when we asked about disappointing stereotypes about cats, "My cat, Shadow, always looks like he's in a photo shoot. He's like a little panther. To me, this is very attractive and I think he's beautiful. So the stereotype that they're malas flabbergasts me."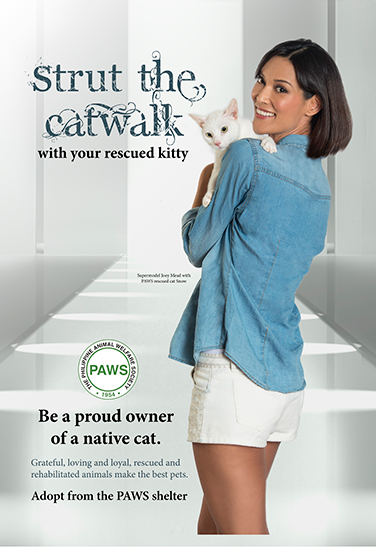 ADVERTISEMENT - CONTINUE READING BELOW
As an adoption advocate, Joey Mead King also wishes that the "crazy cat lady" label would go away, saying, "More cats just means more love!"
She mused further, "What is it about coloring that makes you think they're bad luck? I'm glad we have a generation that is more open to breaking barriers, because it's just a color. What matters is the relationship you have with the animal—the relationship you have with human beings."
Surprisingly, this is the first cat-centric PAWS Campaign and it's not because cats are getting too much love. So few really look past the cute and see them as fiercely (in more ways than one) loyal companions. Time to change that.
For more information, log on to the PAWS Philippines website.
---
Help us make Spot.ph better!
Take the short survey
Load More Stories