Coolest Offices in Manila: Migo
Cool details (and even cooler perks) make this office a creative's playground.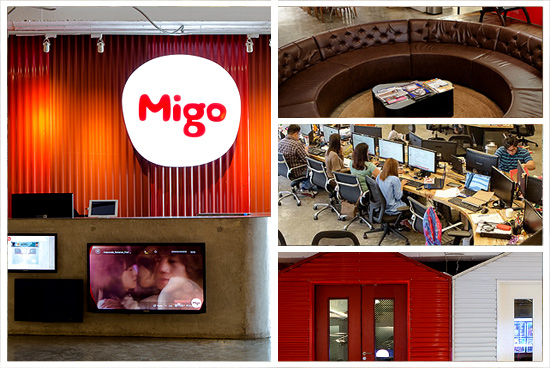 (SPOT.ph) Migo develops digital content and services to bring entertainment to everyone. Like most companies in the creative field, this growing media start-up had to transform a typical, bland office space into a workplace that reflects its culture.
For its first office outside of its headquarters in Taiwan, Migo wanted a space that would inspire its staff (all called Imagineers) and remind them of the people they want to reach with their work. Enter Utwentysix Design Studios. The architecture and interior design firm created a workplace that perfectly complements Migo's creative and collaborative DNA.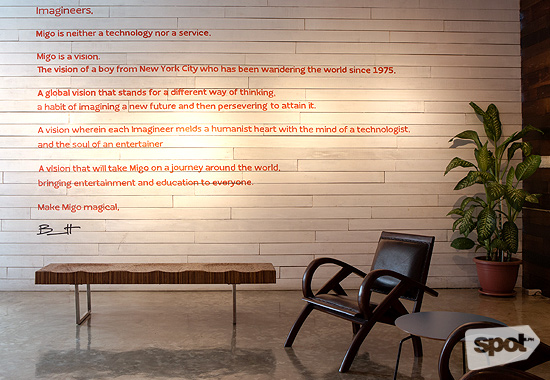 The first thing you'll notice as soon as you step inside this office in Bonifacio Global City is the "Welcome Wall" by the lobby. It bears the company's vision of creating world-changing solutions—a battle cry that's meant to inspire its staff.
As you make your way inside, you'll be greeted by an open layout, anchored by shared workspaces and various common areas. "The space is designed to house and reflect our flat, merit-based organization where everyone treats each other equally, regardless of background, schooling, gender, and age. After all, we only have one title: Imagineer," says Francesca Alberto, one of Migo's Imagineers. "Walls mean divisions. We have neither departments nor divisions, operating instead in dynamic teams and squads," she adds.
ADVERTISEMENT - CONTINUE READING BELOW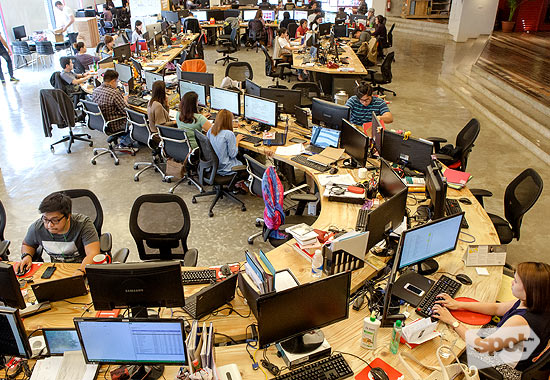 CONTINUE READING BELOW
Recommended Videos
An integral feature of the open layout is what the Migo staff calls an "office-less space." It's meant to reflect how fluid the teams and their ideas are. Two S-shaped tables dominate the floor space and serve as the workstation of every employee. "When our CEO says that you're welcome to his 'corner office,' he's referring to his desk space on the long, winding table he shares with the rest of the Imagineers," says Fran.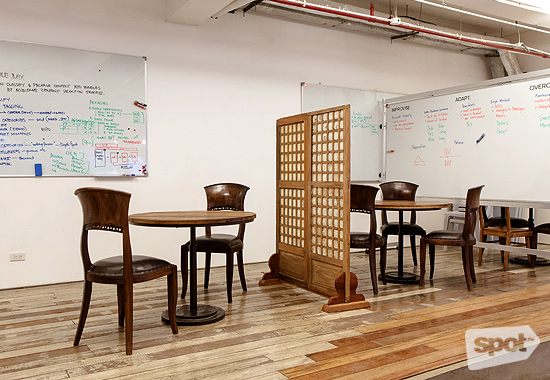 ADVERTISEMENT - CONTINUE READING BELOW
To encourage teamwork and interaction, huddle spaces were created instead of meeting rooms. Aside from comfy seating, these casual areas all have white boards—a ubiquitous feature placed everywhere in the office to promote spontaneous ideation. "They're like blank canvasses on which we can easily paint our thoughts," explains Fran.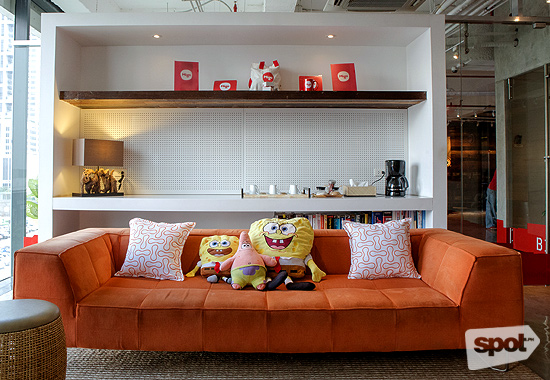 Arguably the most well-loved (and often used) huddle space here is called "Bikini Bottom." This lounge area is dedicated to brainstorming, and Imagineers say a number of Migo's most compelling ideas are born here. And yes, a stuffed SpongeBob toy sits comfortably on the couch here in Bikini Bottom.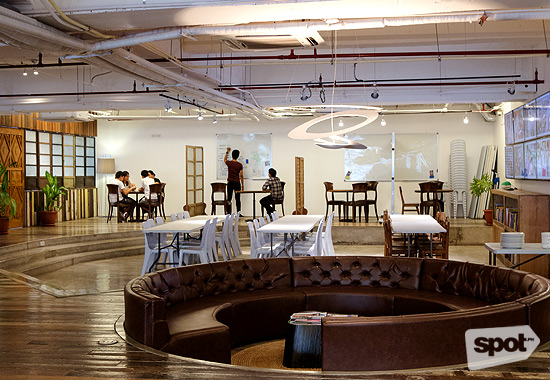 ADVERTISEMENT - CONTINUE READING BELOW
Migo believes that an informal office setting—one that emphasizes comfort and fun—motivates better performance and increased creativity. That's also the reason a big part of this 935-square meter office is dedicated to homey spaces. The "tub lounge" resembles, well, a hot tub, and is basically the most inviting couch you'll ever see. There's also an open kitchen where an in-house chef whips up free breakfast, lunch, and merienda for the staff every day! A dining area, complete with long tables, is right smack in the middle of the office, and lets employees share meals together, family-style.
An elevated area with an "amphitheater" serves as additional seating space for various office activities—from lunches to company-wide meetings. "This is where we gather every Friday for 'Beer Thirty.' It's a celebration of the week's big and small wins over drinks and music," shares Fran.
The closed spaces, on the other hand, were included because of the functions they serve. These are limited to three conference rooms (enclosed by glass walls—again, to reflect the company's transparent, collaborative culture), two studios for editing and dubbing, and two video conferencing houses.
ADVERTISEMENT - CONTINUE READING BELOW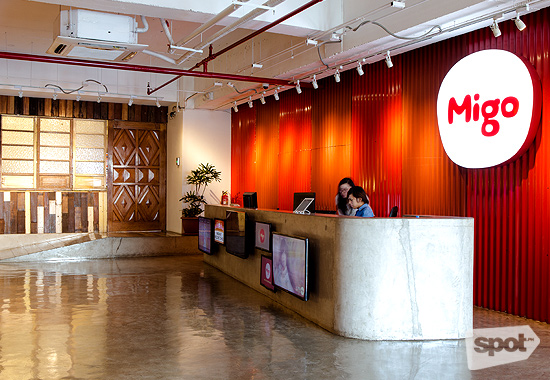 The design principle that adds even more character to the Migo office? "Bring the barangay to The Fort." By bringing in elements commonly seen in rural areas and traditional Filipino communities, the Imagineers are reminded of the people they serve, while the company is able to celebrate its first office in an emerging market.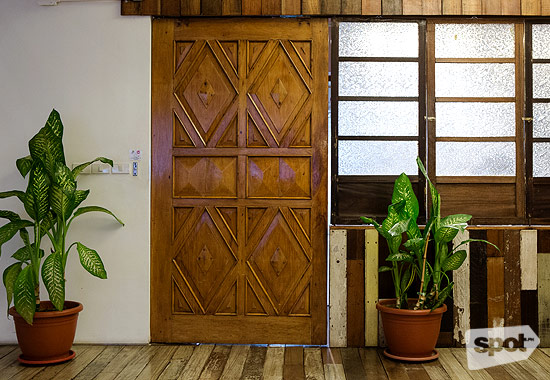 ADVERTISEMENT - CONTINUE READING BELOW
Upcycled and repurposed materials are given new life here. Prime examples: mismatched refurbished wooden furniture, yero for the video conferencing houses, salvaged wood for the amphitheater's floor, and capiz windows turned into sliding doors that beautifully hide the storage space. "Our choice of materials reflects the company's IAO culture: Improvise, Adapt, and Overcome," says Fran. "Imagineers do more with less, re-imagine the world, and work to achieve their vision for tomorrow."
Check out the gallery for more awesome details of the Migo office:
Photos by Dairy Darilag
Also read:
Coolest Offices in Manila: Avida Land
Coolest Offices in Manila: Happy Skin
Coolest Offices in Manila: BBDO Guerrero
Coolest Offices in Manila: Revolver Studios
Share this story with your friends!
---
Help us make Spot.ph better!
Take the short survey
Load More Stories