Coolest Offices in Manila: Avida Land
This two-storey workspace adds an element of fun to efficiency and sustainability.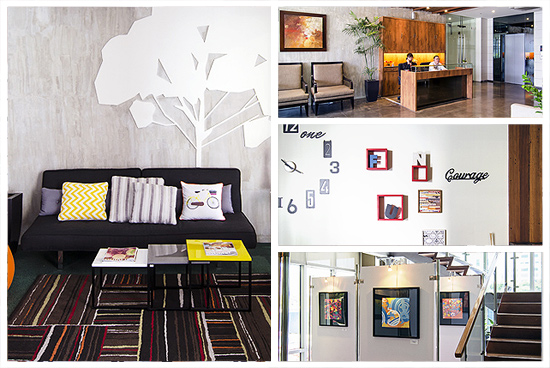 (SPOT.ph) Before Avida Land moved into its new home at North Triangle BGC, the office was spread out over several floors at the old Mondragon building in Makati. "We had to keep taking elevators and stairs—we wasted so much time traveling, waiting for the lifts, and walking from one place to the next," recalls Avida Innovation and Design Group Head, Jojo Fabricante.
The move to a new space meant a chance to rework floor plans, for one, and keep department communication easy with a 45-second distance between one point to the next. Aside from space programming, it was also a chance to get their space to fit a part of the brand that has become relevant and important over the last five to 10 years—sustainability.
"Pride in the green initiative is part of our DNA, as part of the Ayala group," adds Jojo. And what becomes noticeable from the minute you walk into the ground floor lobby, then head up the stairs into the main offices and meeting rooms, is that there's a wealth of reused, repurposed materials and beautifully unfinished surfaces to go with wide, breathable spaces that allow natural light to filter through.
ADVERTISEMENT - CONTINUE READING BELOW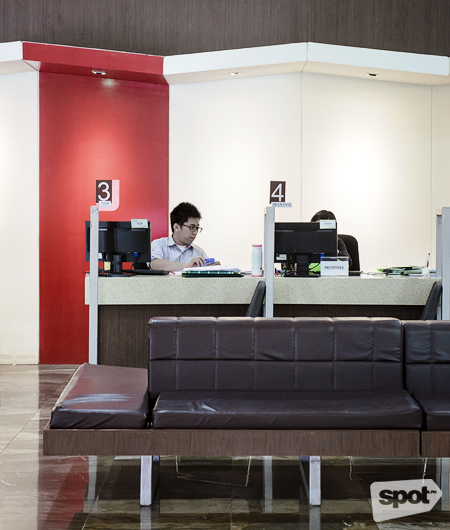 CONTINUE READING BELOW
Recommended Videos
The main lobby maximizes the sun exposure on the east side of the building, allowing light to permeate through the waiting area, lounge, and customer care center. Polished cement floors and even unfinished walls deck the space, complemented by a color palette that creates a friendly and inviting atmosphere all around. A row of customer care representatives is located under a mezzanine floor that shows a smart use of space.
ADVERTISEMENT - CONTINUE READING BELOW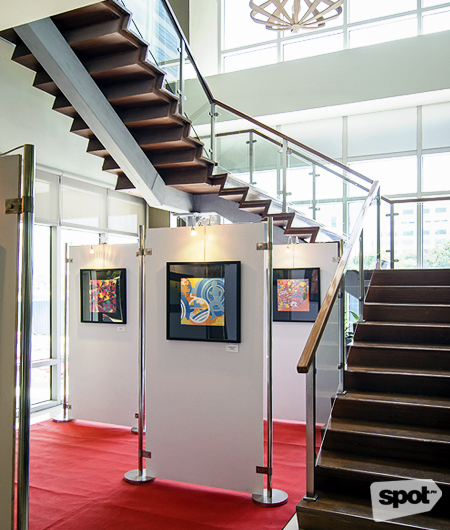 The two-storey office is a pleasant departure from their old system, and the staircase is one spatial feature that Avida Land has become known for. Made completely of repurposed wood from one of their old sites, the steps cascade against a glass window and are accompanied by contemporary drop lamps.
ADVERTISEMENT - CONTINUE READING BELOW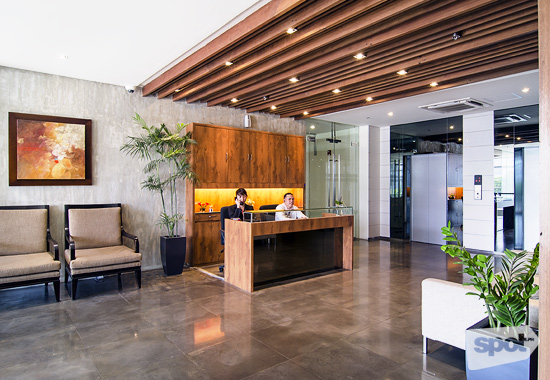 The wood theme continues all throughout the office, easily preventing the concrete finish from appearing cold or too industrial. A closer look at the material shows that even old nail marks are left the way they are, without any attempt to disguise them. Not only does it bring a sense of history to the space, it also makes things interesting for those who work in it.
ADVERTISEMENT - CONTINUE READING BELOW
Keeping things welcoming is an important key in Avida's office design, where the bottom line is employees work in an environment that keeps them happy. "Efficiency in any office is a given, [so] what we wanted to consider [was] the impact of a space on someone's aura or psychology," explains Jojo. "We didn't want the office to have an 'isolating' effect on anyone so we completely avoided high partitions and kept things light."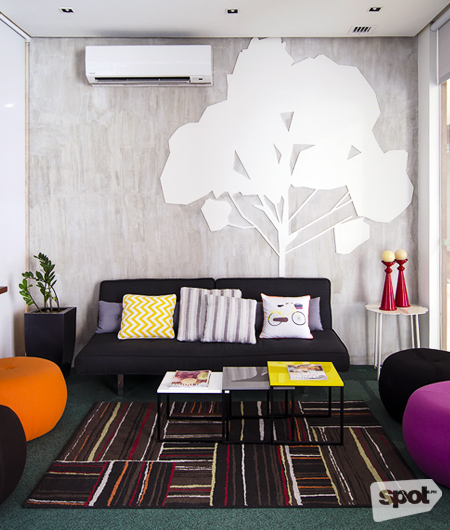 ADVERTISEMENT - CONTINUE READING BELOW
One distinct feature that Avida Land carries is its family room. A temporary shelter for employees' kids who are waiting around after school for their parents to finish work, it helps prevent children from getting bored at their parents' office cubicles or just hanging around in the lobby. "Our president, Chris Maglanoc, thought it would be good to have a place where they can be entertained," says Jojo. "There's an Xbox, Kinect, some board games, and magazines for those who are waiting along with the kids." The cozy room has a faux grass feel with its green carpet, along with fun accessories and a pretty tree mural on the wall.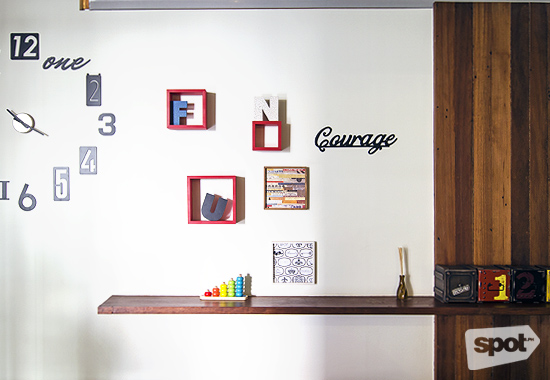 ADVERTISEMENT - CONTINUE READING BELOW
Employees are also encouraged to make use of the space to help detox from work, do some out-of-cubicle bonding, or simply to step out of the norm. Again, the space carries out the same open, warm, and inviting feel it extends to its customers.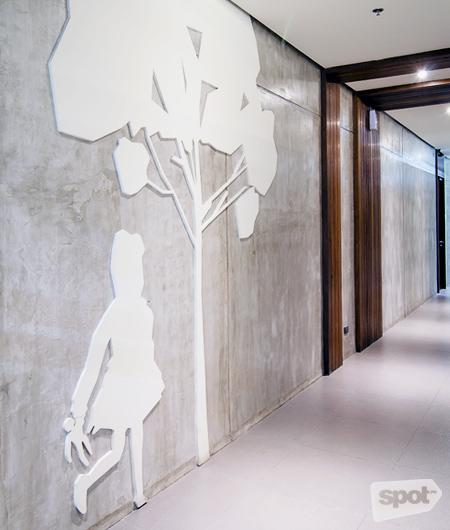 A theme carried out in many spaces is the tree, a reminder of Avida's commitment to sustainability. An interesting take on what most other offices would do as wordy mission statements scribbled on walls, it is vastly open for interpretation and is becoming iconic in and of itself.
ADVERTISEMENT - CONTINUE READING BELOW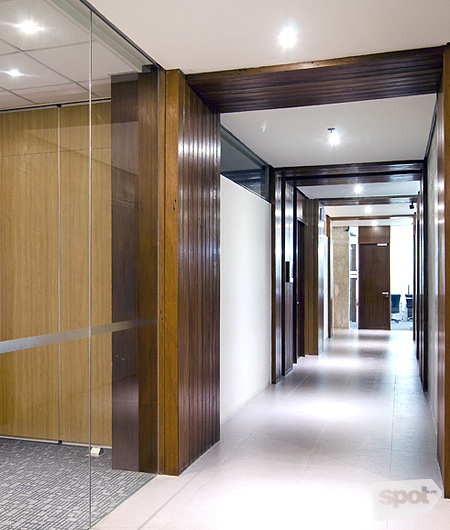 One unforeseen detail in the design and construction of Avida Land's new office was the sudden influx of manpower midway through. While the original plan could have probably housed a gym and locker room, adjustments had to be made to accommodate 300 people in a 2,500-square meter space. Space planning is key, and the corridors, without losing the aesthetic of the repurposed wood against the unfinished concrete, help link departments to one another. "We did walkthroughs and tests throughout the building to make sure everything was laid out in the most efficient way possible," says Jojo.
ADVERTISEMENT - CONTINUE READING BELOW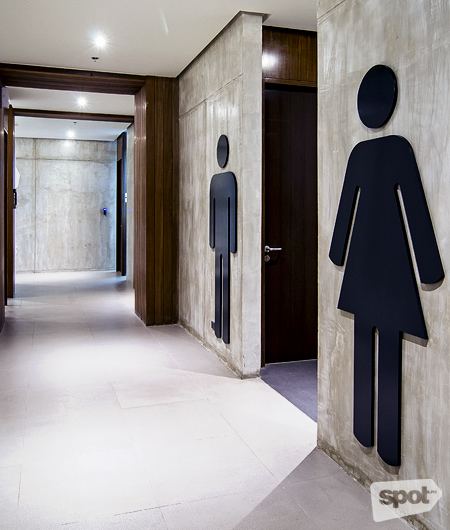 There is a distinctly contemporary feel throughout the Avida Land space, and its use of signage in the restrooms was a fun way of carrying out their modern aesthetic. Large male and female icons deck the walls, making it clear to everyone (especially customers waiting around in the lounge and lobby) where to go when they need to freshen up. Demonstrating how even the most ubiquitous of spaces doesn't need to be boring, this office clearly gets what it takes to keep people within its four walls happy, at least for the time being.
ADVERTISEMENT - CONTINUE READING BELOW
Photos by Toto Labrador
Also read:
Coolest Offices in Manila: Happy Skin
Coolest Offices in Manila: BBDO Guerrero
Coolest Offices in Manila: Revolver Studios
Coolest Offices in Manila: A SPACE Manila
Share this story with your friends!
---
Help us make Spot.ph better!
Take the short survey
Load More Stories