Top Gun 2 may be in the works + more things you might have missed today
Makati Vice Mayor sworn in as acting mayor, a dancing cop has slick moves, and more.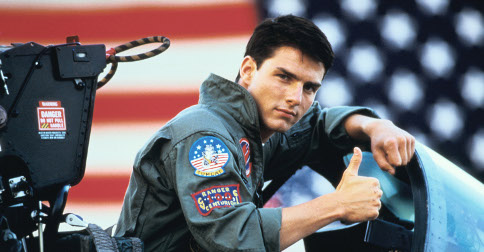 (SPOT.ph) Busy day, Spotters? We quickly recap 10 things you might have missed while you were off the radar.
1. Top Gun 2 may be in the works
It looks like the sequel to Jerry Bruckheimer's Top Gun is happening. Producer David Ellison shared that Justin Marks will pen the script and that it will put Tom Cruise's character "front and center." He added, "There is no Top Gun without Maverick, and it is going to be Maverick playing Maverick." The plot will reportedly involve drone technology and the "end of an era of dogfighting and fighter pilots."
ADVERTISEMENT - CONTINUE READING BELOW
CONTINUE READING BELOW
Recommended Videos
2. Gerphil Flores to work with David Foster
Asia's Got Talent runner-up Gerphil Flores is set to work on a project with international composer and producer David Foster. In an interview with ABS-CBN News, she said that they were in touch but could not divulge any details just yet. Foster earlier promised her "global fame" after she came in third place in the reality show.
3. Claudine Barretto and Raymart Santiago are friends again
Estranged couple Claudine Barretto and Raymart Santiago seem to have called a truce...for now. In an interview with PEP.ph, Claudine said that they weren't just "civil" anymore, and instead have rekindled a friendship. She also gave credit to Marikina Regional Trial Court judge Geraldine Macaraeg, who advised that their strained relationship was not doing anyone any favors, particularly their children.
4. You have to see this dancing cop's moves at NYC Pride
Manila is no stranger to dancing traffic enforcers, but this New York City cop took it to another level. During the Pride festivities, a player from the Big Apple Softball League named Aaron Santis was captured on camera dancing alongside a police officer. The cop was stoic at first until he finally joined in, impressing the crowd and Internet alike with his moves.
ADVERTISEMENT - CONTINUE READING BELOW
5. NBC Universal cuts ties with Donald Trump
It looks like Donald Trump was on the receiving end of his usual "You're fired" spiel. NBC Universal has ended its relationship with Trump and his Miss USA and Miss Universe pageants, after the latter made derogatory comments towards Mexicans. The network clarified that The Apprentice would continue without Trump.
6. Manny Pacquiao is world's second highest-paid celebrity
Forbes magazine has ranked Manny Pacquiao as the second highest-paid celebrity in the world, with a total of U.S. $148 million (P6.7 billion) in earnings from his boxing career. He also earned an additional U.S. $12 million (over P500 million) from endorsement deals. Floyd Mayweather ranked first place with U.S. $300 million, while Katy Perry came in third with U.S. $135 million.
Other names in the Top 10 include Robert Downey Jr., Taylor Swift, and Cristiano Ronaldo.
7. Vice Mayor Romulo "Kid" Peña sworn in as Makati's acting mayor
ADVERTISEMENT - CONTINUE READING BELOW
It's two times the charm for Makati's Vice Mayor, who was once again sworn in after another suspension order was served to Mayor Junjun Binay. According to reports, Peña took the oath despite his lawyer advising him to defer the rites. Meanwhile, Binay said he would defy the order (again) and take legal action to reverse the Ombudsman's decision.
8. DOJ threatens to file more raps vs. Binay
Speaking of Mayor Binay, he may be in more trouble. According to Justice Secretary Leila de Lima, he may face additional administrative and criminal charges for "defying the preventive suspension order." Binay already filed his petition at the Court of Appeals Tuesday morning, around the same time Peña was sworn in.
9. The 10 Kinds of People You Encounter During Group Work
There are two types of people in this world: those who hate working in groups, and those who enjoy it. No matter which category you fall under, you would have met at least one of these people on our list.
ADVERTISEMENT - CONTINUE READING BELOW
10. Top 10 Most Unforgettable Shampoo Jingles From Pinoy TV
The only thing more infectious than a tagline is the jingle that sometimes comes with it. In the case of shampoo commercials, it even has dance moves. We've ranked the 10 most unforgettable shampoo jingles from TV.
Load More Stories