A mayor marries a crocodile + more things you might have missed today
Chiz Escudero thinks PH Internet speed is "pathetic," more NAIA trouble, and more.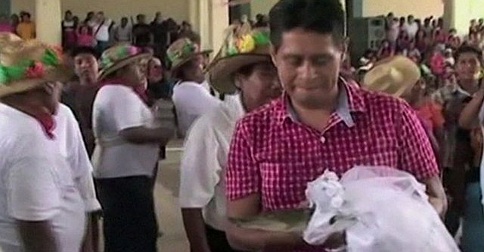 Screencap via BBC.com
(SPOT.ph) Busy day, Spotters? We quickly recap 10 things you might have missed while you were off the radar.
1. A mayor has married a crocodile
It's not as strange as it sounds! Residents from a southern Mexican village perform a symbolic "crocodile wedding" ceremony every year. Townspeople reportedly ask the crocodile for her gifts, such as abundance of rain and plentiful seas for fishing. The crocodile, associated with water and rain since it lives in coastal lagoons, is later released into the wild.
2. Rihanna is the best-selling digital singles artist of all time
It's official! According to the Recording Industry Association of America, Rihanna has surpassed the 100 million gold and platinum song certifications, and is also the first artist to sell over 100 million digital singles. She has released a total of seven albums in 10 years, six of which are certified platinum.
ADVERTISEMENT - CONTINUE READING BELOW
We all know Channing Tatum can dance (hello, Step Up and Magic Mike). Vanity Fair magazine put his skills to the test by making him do seven classic dance moves in 30 seconds. He gamely does the Robot, kills it at the Vogue, and more.
4. Google apologizes for Photos app's racist blunder
Google has just released a new app called Photos that uses artificial intelligence software to automatically tag uploaded photos. However, the product has come under fire after the app mislabeled a black couple as "gorillas." A spokesperson told the BBC, "We're appalled and genuinely sorry that this happened. We are taking immediate action to prevent this type of result from appearing. There is still clearly a lot of work to do with automatic image labelling, and we're looking at how we can prevent these types of mistakes from happening in the future."
CONTINUE READING BELOW
Recommended Videos
5. Barack Obama doesn't like peas in his guacamole
ADVERTISEMENT - CONTINUE READING BELOW
President Barack Obama has joined the online outcry after the New York Times Twitter account recommended a recipe for "Green Pea Guacamole." Some told the Times to delete its account, while others criticized the publication for giving "possibly the worst food idea ever." When asked about the issue, Obama said he respected the Times but preferred his guac the classic way...but with peppers.
6. Chiz vows to look into 'pathetic' Internet speed in the Philippines
Senator Chiz Escudero has vowed to look into the country's lagging Internet speed, calling it "unacceptable" and "pathetic." He called the Department of Transportation and Communications (DOTC) and the National Telecommunications Commission (NTC) to give the situation urgent attention, saying, "These telcos have been going to town in the past few years telling their shareholders that they have been earning billions of pesos. But they conveniently forget the millions of subscribers and users who put those billions in their coffers but continue to suffer from poor service."
ADVERTISEMENT - CONTINUE READING BELOW
7. 748 new HIV cases recorded in May
The department of Health has recorded 748 new HIV cases in May, bringing the 2015 numbers up to a total of 3,157 cases. According to the DOH, this is the highest number of new cases reported since 1984, and 51% higher compared to last year (495). Of the 748 cases, 41 were full-blown AIDS and 717 patients were male.
8. Passengers miss flights due to long immigration queue
Departing passengers reportedly missed their flights Thursday due to a long immigration line at NAIA 3. Some said they waited over an hour before reaching the immigration counter, then lined up again for the final security screening. It was discovered that there were only eight immigration officers on duty, with some counters only having one officer. There are supposed to be two immigration officers per counter.
9. 10 Cool Single Parents in Pinoy Movies
ADVERTISEMENT - CONTINUE READING BELOW
Single parents are awesome, juggling careers and taking on roles traditionally meant for two people. We pay tribute to 10 cinematic parents who have gone to great lengths for their kids.
10. The 10 Kinds of Drunks You Will Meet in Life
Whether you personally identify as The Sober Drunk or see yourself in The Weepy Drunk (we're so sorry), chances are, you've met at least one of these 10 kinds of drunks in life.
Share this story with your friends!
---
Help us make Spot.ph better!
Take the short survey
Load More Stories