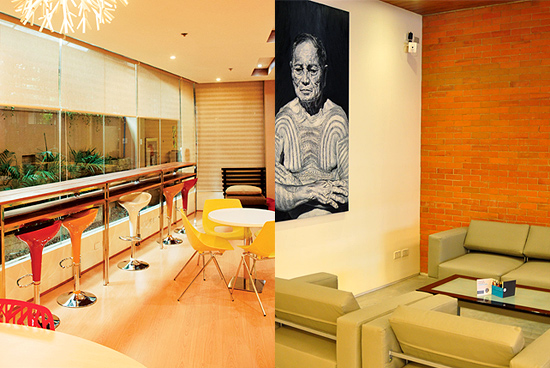 (SPOT.ph) As the age of the Yuccie begins to take over the business scene, more creative ways to situate yourself in a work environment are cropping up. Coworking has been around the city for a number of years, but has recently experienced a boom, accommodating start-ups, small business, and freelance creatives.
Coworking encompasses collaboration, openness, community, accessibility, and sustainability in the workplace. Basically, the buzzword means working together easily in a way and place that's flexible and easy to maintain. We've listed some of Manila's coworking spaces to give you a chance to get out of your cubicle and to experience this new age of building your business.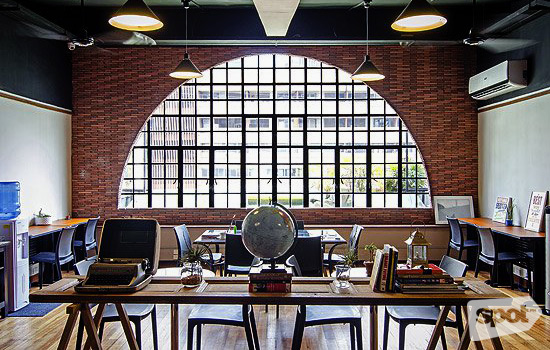 ADVERTISEMENT - CONTINUE READING BELOW
O2 Space
Address: Unit 330 Milelong Building, Amorsolo Street, Barangay Pio del Pilar, Makati City
Contact: 317-6677 or 0977-174-5799
Website: o2space.ph
FB: www.facebook.com/o2spacesolutions
All types of offices included.
O2's vast office in a more quiet, older area of Makati accommodates everyone—whether you're working with just a laptop, need a meeting room for a teleconference, are looking for a serviced office for your start-up, or just need a virtual office with a concierge, a Makati address, phone number, and basically everything you need to run your business online. The wide range of businesses that O2 Space can support makes it attractive for those who are starting with just a seed of an idea, and want to see how it evolves and becomes an established biz.
Parking? No problem.
Traffic is always a problem in Manila, and so is parking. What sets O2 apart is its extensive parking space; plus its accessibility via public transport. Food is served in-house, but Makati's collection of low key, less-peopled establishments is right in the area; while Greenbelt's more high-traffic eating places are a short walk away.
Add-ons.
O2 is known for its huge window and brick wall—a beautiful working environment can lead to a better work day, and this coworking space is significantly inspiring. They also stage events and opportunities for clients, tenants, and partners to network and connect.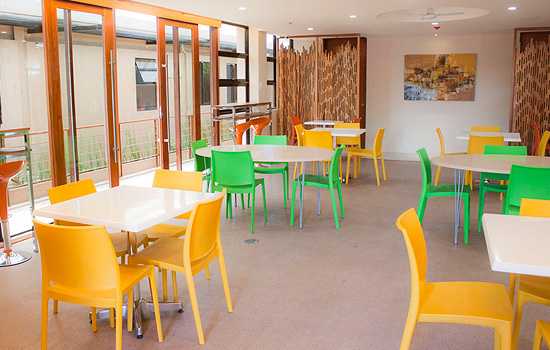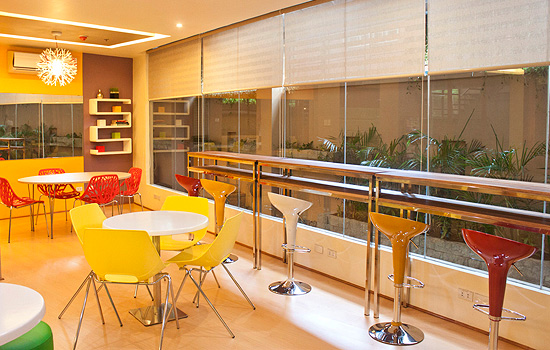 ADVERTISEMENT - CONTINUE READING BELOW
47 East
Address: 47 Esteban Abada Street, Barangay Loyola Heights, Quezon City
Contact: 426-0163 local 300 or 0908-505-3059
Website: 47east.ph
No commitment.
You don't need to be a member to sample the space. Non-member day passes are a good way to check whether coworking works for you, and you can move on to sign up for an individual or group package. They offer a Perks Program too, with discounts and perks to partner establishments, plus extra use of the events space, or the opportunity to pull guests in for meetings.
Get out of the mainstream.
Granted, the city's business hub is Makati, but the QC area is sorely missing out on the action, considering it is home to many universities and creative start-up businesses. Situated just behind Katipunan, you're at a good location that's also near the major schools and eating establishments.
Add-ons.
You can work on your time because 47 East has dorm rooms for transients and tenants on its third floor (Solana Suites). You've probably experienced burning the midnight oil—you can do that easily and comfortably here; plus this means you can work on those sudden flashes of inspiration that come well past regular working hours.
ADVERTISEMENT - CONTINUE READING BELOW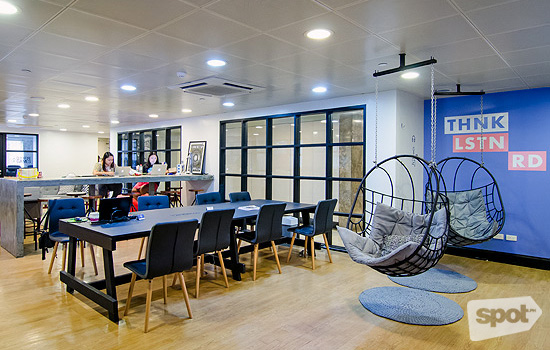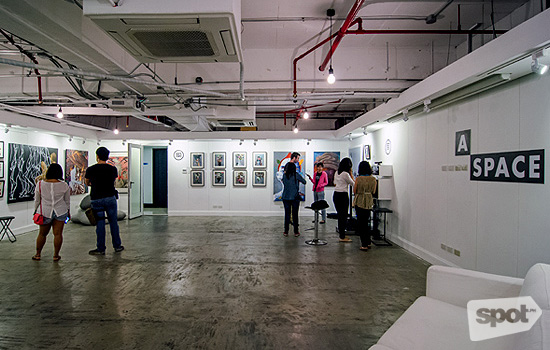 ADVERTISEMENT - CONTINUE READING BELOW
A SPACE Manila
Address: 110 Legazpi Street, Makati City
Contact: 846-0856
Website: aspacemanila.com
FB: www.facebook.com/aspacemanila
Easy breezy.
Nabbing A SPACE for yourself is less of a business transaction and more like walking into a hotel lobby and arranging for a room. It's best to come in with an idea of what you'd like to do so the team can direct you towards a package, room, or desk space that's specific to your needs.
Go big.
A SPACE is one of the city's largest coworking spaces—this means you get a lot of options when it comes to timeframe (a day, week, half a year, or a full annual set-up). Companies can set up their HQs at A SPACE, which they can also decorate to fit their brand. Their desk space is light and breezy, decked with wood and some fun pops of color; while their enclosed offices are decorated on theme and embody specific personalities that you can match to your own brand.
ADVERTISEMENT - CONTINUE READING BELOW
Add-ons.
A SPACE also comes with two rentable spots—a gallery that can accommodate everything from conferences, intimate acoustic sessions, meet-ups and the like; as well as a kitchen that can be a big plus for private dining, cooking workshops, and other creative, food-related events.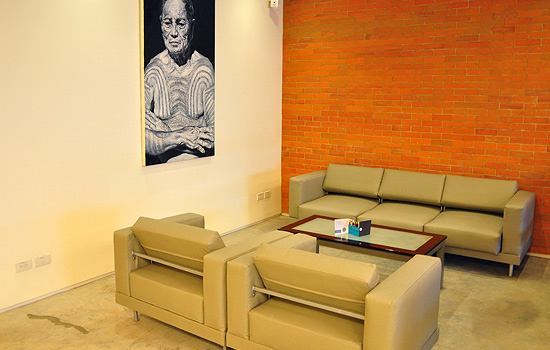 co.lab
Address: Unit 301 (Third Floor) #3 Brixton Street, Barangay Kapitolyo, Pasig City
ADVERTISEMENT - CONTINUE READING BELOW
Contact: 661-7616
Website: colab.ph
Collaboration is key.
Since it began, co.lab has become widely known for its community building efforts. With regular networking nights, they're able to connect start-ups with other entrepreneurs, up-and-comers and people that can support and boost each other in a range of ways. Collaboration is highly encouraged, and mixers are often hosted. Freelancers who miss the socializing aspect of working with others in a regular office will enjoy this aspect of co.lab.
Entrepreneurial support.
Because co.lab believes in an entrepreneurial mindset, they continuously create programs that provide startups with tools and services that elevate their individual endeavors. They're also very supportive of local business, so anything that's geared towards overall national growth is nurtured here.
Add-ons.
Aside from the free coffee that's usually a given among coworking spaces, co.lab offers Bayani Brew, Kate Baked special homemade cookies and baked goods, and is generally open to collaborating with people offering home baked treats.
ADVERTISEMENT - CONTINUE READING BELOW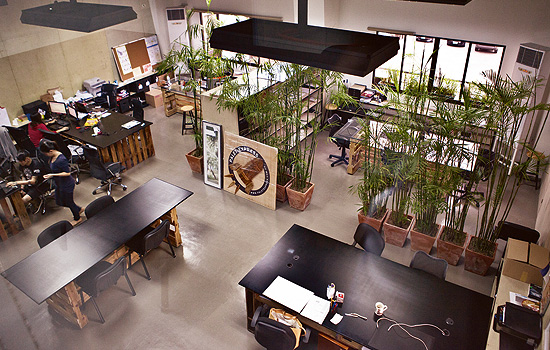 Palet Express
Address: Roof Deck, Molave Building, 2231 Don Chino Roces Avenue, Makati City
Contact: 550-2623 or 0917-630-3395
Website: paletexpress.com.ph
FB: www.facebook.com/paletexpressph
Less paperwork, less hassle.
You only need your company's name and legal documents (TIN, government ID, BIR form 2303) to get a seat or a full office at Palet Express. Billing is pro-rated so you can start anytime, no deposits or advances are required for a per seat set-up, and you can stay for at least a month. Private offices on the other hand require a one-month security deposit and a one month advance. The ease of transaction with Palet Express is indicative of its no-frills, industrial vibe, too.
ADVERTISEMENT - CONTINUE READING BELOW
Start-ups unite.
Palet Express is an offshoot of existing offices in Spain and the U.S., but its presence in the country is that of a start-up too. It caters to a small, all-inclusive community that offers a little more intimacy than the larger coworking spaces around. That means collaboration among clients is encouraged—meeting rooms are free of charge for Palet's residents too.
Add-ons.
The space comes with a gym! No better way to get the creative juices flowing than to get out of your desk and take some time to work on those endorphins.
Photos by Toto Labrador (A SPACE, O2 Space); from the establishments' official websites and Facebook pages; and courtesy of Preview Magazine (Palet Express)
Also read:
Coolest Offices in Manila: A SPACE
Coolest Offices in Manila: O2 Space
Share this story with your friends!
---
Help us make Spot.ph better!
Take the short survey
More Videos You Can Watch
Load More Stories