10 Kickass Statements from Carmen Pedrosa to Vice President Jejomar Binay
"Mr. Vice President, I am afraid you brought these troubles upon yourself."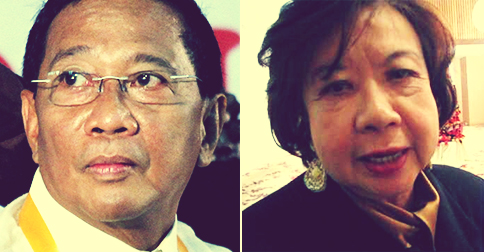 (SPOT.ph) Our dear Vice President continues to mightily hold the pen. This time, he has written a letter to journalist Carmen Pedrosa, who on July 5 shared the lovely words she received from the Veep.
Like any self-respecting writer, Pedrosa composed a reply—riddled with zingers and strong points, delivered in a manner that makes this dreary Monday a little brighter.
On the UNA Party Launch: "How you intend to do this as president is not clear from the program you described when launching UNA the other day. The program falls short of details. As it stands, it is a litany of motherhood statements that most politicians are prone to make."
On the state of the nation: "For too long, the oligarchs and family dynasties in this country have dominated the political system to the exclusion of the marginalized sector. Your own family, sad to say, forms part of the established order that resists change."
ADVERTISEMENT - CONTINUE READING BELOW
On political dynasties: "Nancy has been quoted as saying she favors political dynasties. Why? Are they the only ones out of 100 million Filipinos who can govern the nation?"
On free cakes: "It is not by handing out birthday cakes to the marginalized that we can lift the majority of our people out of poverty and close the widening gap between rich and poor."
On "manning up": "You were given a chance to appear before the Senate to face your accusers and cross-examine them. You were given a chance to provide evidence to refute the accusations like in any court of law. But instead you refused to appear, hiding behind the cloak of the vice-presidency, denying all the allegations because you say so."
CONTINUE READING BELOW
Recommended Videos
On guilt and what silence means: "Anybody watching this drama would have said, 'If he is innocent, why won't he appear? Is he hiding something?'"
ADVERTISEMENT - CONTINUE READING BELOW
On pertinent information: "Why not show proof how you augmented your income? Why not open your bank accounts to public scrutiny? You owe this to the people whom you expect to vote for you as president."
On the burden of proof: "I don't go simply by what the accused says in his defense. The accused has to provide proof to demonstrate his innocence."
On being a journalist: "I criticize those leaders whom I believe deserve to be criticized. If I did not, I would be failing in my duties as a journalist."
And a bit of sass: "Finally, with the PCOS machines, I was wondering why you are still running for president. Isn't it obvious who the next president will be?"
Read the full letter at PhilStar.com
Also read: 10 Kickass Miriam Defensor-Santiago Quotes From the Mamasapano Senate Hearing
Share this story with your friends!
---
Help us make Spot.ph better!
Take the short survey
Load More Stories