Boy Abunda criticizes Rhap Salazar's tweet on lip-syncing artists + more things you might have missed today
Cinemalaya scraps New Breed category, NASA flies by Pluto, and more.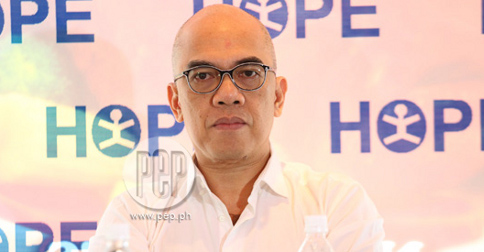 Photo via PEP.ph
(SPOT.ph) Busy day, Spotters? We quickly recap 10 things you might have missed while you were off the radar.
1. Boy Abunda criticizes Rhap Salazar's tweet on lip-syncing artists
It's been over a week since Rhap Salazar tweeted about lip-syncing artists, but celebrities continue to give their reaction. Take Boy Abunda, for instance, who took to Aquino and Abunda Tonight to air his sentiments. He said he disagreed with Rhap, saying, "Even the best artists, even the most brilliant singers have to lip-sync depending on the circumstance. It's technical issue sometimes, mikropono ba ito, venue ba ito, sometimes it's even a health issue [...] Hindi pandaraya ang pag-lip-sync. Kailangan ito sa ilang pagkakataon."
He also decried Rhap's use of the word "hate" and added, "If you have the freedom to hate artists who lip-sync, you also have the freedom not to watch them, switch off, huwag mong panoorin, walang pumipilit sa 'yo." His last advice for the singer? "Review your brand essence, your equity, ano ba ang ginagawa nilang tama na hindi mo ginagawa?"
ADVERTISEMENT - CONTINUE READING BELOW
2. Cinemalaya scraps New Breed category
Cinemalaya 2016 has scrapped the New Breed category, which was typically meant for new and up-and-coming film directors. Instead, said directors will be competing against veterans in one film category. Cinemalaya Foundation President Laurice Guillen told PEP.ph that members of the selection committee will instead base their decisions on the quality of the submitted work. "Kasi yung selection process, we do not select on the basis [of] the old or the new or kung sino ka," she explained. "As a matter of fact, the one selecting does not even know [the identity of the filmmaker]."
CONTINUE READING BELOW
Recommended Videos
She added, "It doesn't have to do anything with the age. It's how you direct it...but you know talent does not necessarily only come to mature [filmmakers]. Talent can come from a complete newbie."
3. Lea Salonga clarifies lip-syncing tweet
Lea Salonga was one of the singers who responded to Rhap Salazar's comments on lip-syncing artists. On Twitter, the former emphasized that she was for lip-syncing on a "case-to-case basis" but said, "Real singers under normal circumstances should not lip-sync."
ADVERTISEMENT - CONTINUE READING BELOW

She also commented on Rhap's frustration about "non-singers" getting album deals, saying, "Should I begrudge a non-singer for releasing an album? I say no. But I sure as hell won't buy it, promote it, recommend it, or listen to it. So perhaps the change to the marketplace needs to come from the consumers, to stop the demand for non-singers' albums."
4. Jesse Eisenberg compares Comic Con experience to "genocide"
Comic Con may be a joyous and exciting experience for most people, but it definitely wasn't for Jesse Eisenberg. The actor was at the event to promote Batman v Superman: Dawn of Justice where he stars as Lex Luthor. In an interview Tuesday, he said, "It is like being screamed at by thousands of people. I don't know what the experience is throughout history, probably some kind of genocide. I can't think of anything that's equivalent."
5. Watch Channing Tatum be a sexy gentleman to Stan Lee
ADVERTISEMENT - CONTINUE READING BELOW
While the cast members of Wolverine, X-Men: Apocalypse, Deadpool, and Fantastic Four were busy chatting and waving to the audience after their massive Comic Con panel, Channing Tatum was being a superhero IRL. A video caught the actor helping 92-year-old Stan Lee off the stage, and it's all kinds of endearing.
6. SC invites 'interested non-parties' to comment on Torre de Manila issue
The Supreme Court (SC) has set July 21 for the oral arguments on the Torre de Manila controversy and for the first time, will allow "interested non-parties" to formally comment on the issue. Said interested non-parties should come from the following fields: real estate, tourism, construction, architecture, engineering, and heritage conservation.
7. NASA spacecraft flies by Pluto after nine-year trip
Nine years and three billion miles later, NASA on Tuesday finally sailed past Pluto, the most distant planet in the solar system. The spacecraft, aptly named New Horizons, will continue to gather data. It will take about 16 months for New Horizons to transmit back all the images and measurements taken during its journey.
ADVERTISEMENT - CONTINUE READING BELOW
8. New PNP chief promises more cops on the streets
New Philippine National Police (PNP) Chief Ricardo Marquez told reporters that he'd like to "see more police officers on the street" to address the "issue [of] criminality." He said the force is 'recovering and moving on from a difficult situation" and will be focusing on their core functions, which include patrolling the streets.
9. 10 Sexy Lingerie Sets for Every Personality
What does your undergament say about you? We rounded up 10 lingerie sets fit for every personality, whether you're a sporty girl or a Tita of Manila.
10. 10 Secret Things We Do in Fitting Rooms
Whoever said the only thing they do in a dressing room is to change is probably lying. Don't worry, there are plenty of people who also do these 10 secret things while they're in there. (Us included.)
Share this story with your friends!
---
Help us make Spot.ph better!
Take the short survey
Load More Stories