COMELEC considers reusing old PCOS machines for the 2016 elections
They're looking to avoid long lines and unnecessary spending.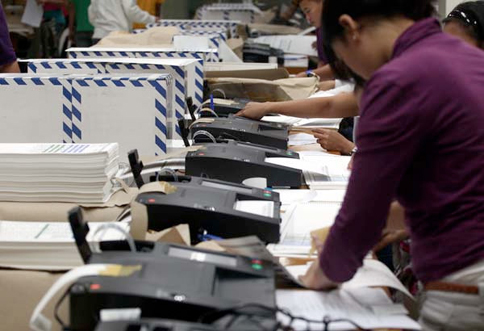 (SPOT.ph) The Commission on Elections (COMELEC) is thinking of reusing old Precinct Count Optical Scan (PCOS) machines to decongest the long queues in polling precincts for May 2016.
In an interview with GMA News, COMELEC Chairman Andres Bautista said that they aim to enhance the voting experience. "Let us eliminate those long lines. And the only way to do just that is to increase the number of PCOS machines per clustered precincts," said Bautista.
ADVERTISEMENT - CONTINUE READING BELOW
For the 2016 elections, COMELEC has leased out nearly 94,000 Optical Mark Reader (OMR) machines, but the number is deemed insufficient to meet their targeted 1:600 machine-voter ratio. This is why they are considering the refurbishment of some of the 82,000 machines that they currently have in storage at a warehouse in Laguna.
According to Bautista, the commission conducted an inventory of their equipment to find out if they can potentially reuse what they currently have to avoid unnecessary spending.
Recommended Videos
Load More Stories