A Timeline of What Happened During the INC Rally...and What the Politicians Said About It
Here's your five-minute guide to what happened over the weekend, plus a look at what our politicians said.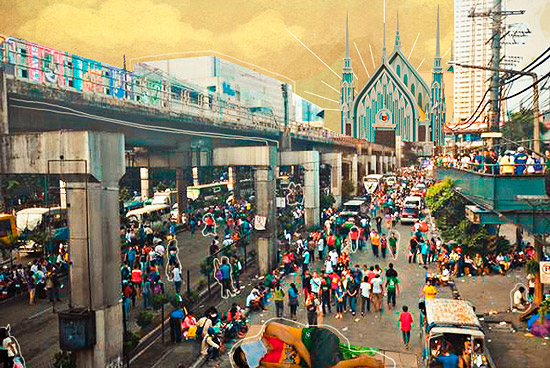 (SPOT.ph) Friday night (and the rest of the long weekend) felt like an endless traffic jam, but the events related to the Iglesia ni Cristo protests actually started on Thursday, August 27. If you're still trying to catch up, here's a brief timeline of what happened over the weekend.
August 27
On Justice Sec. Leila De Lima's birthday, INC members converged in front of the Department of Justice (DOJ) office to question what they alleged was the extraordinary attention being given the case filed by expelled minister Isaias Samson Jr. against INC leaders, charging them with harassment, illegal detention, threats and coercion. The members blocked the gates of DOJ, forcing De Lima to send a decoy and exit through the back gates.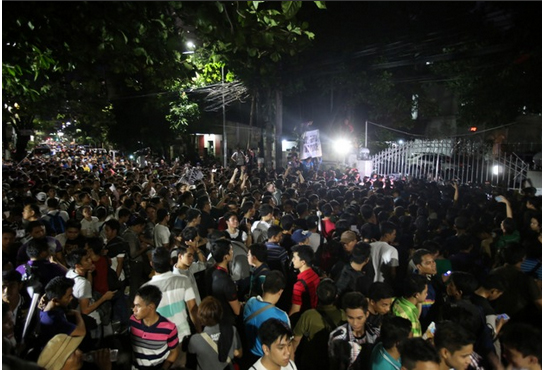 ADVERTISEMENT - CONTINUE READING BELOW
Members stayed outside the DOJ overnight to hold a vigil. They were permitted by the local administration to stay in Manila until September 4.
— Harry Roque (@attyharryroque) August 27, 2015
August 28
By Friday night, the crowd started to flock along EDSA and Shaw Boulevard. Reports say that the convergence started as early as 8 p.m.
— Ruffa Gutierrez (@iloveruffag) August 28, 2015
Motorists were in awe as EDSA traffic remained until an ungodly hour. The MMDA warned the public to expect heavy traffic, citing Megamall's four-day sale.
DILG Sec. Mar Roxas posted his statement in his official Facebook page, saying among others: "While all citizens have the right to be heard and to peaceful assembly, the exercise of these rights cannot impinge on the rights of others or cause inconvenience to anyone."
CONTINUE READING BELOW
Recommended Videos
August 29
Mandaluyong City permitted INC protesters to stay along EDSA-Shaw until Sunday, August 30. The protesters didn't leave at the prescribed time (7 p.m.), which prompted Mayor Benhur Abalos to extend their permit until Monday morning, August 31.
ADVERTISEMENT - CONTINUE READING BELOW
— Allan Gatus (@allangatus) Agosto 28, 2015
Early Friday, TV personality and known INC member Anthony Taberna's coffee shop was rained on with bullets. Taberna later took a leave from his shows until the INC issue subsides, citing conflict of interest.
Meanwhile, an INC member spoke to the Inquirer on condition of anonymity and admitted: "Wala kaming napala. Napagod lang kami."
August 30
An alleged text blast from INC members circulated online.
— Gang Badoy Capati (@gangbadoy) August 30, 2015
EDSA Guadalupe-Santolan remained frozen over the weekend, sparking anger and debates from netizens.
— Karen Davila (@iamkarendavila) August 30, 2015
Randy David pointed out that INC's interpretation of "separation of church and state" is disturbing, adding, "I am aghast that lawyers like Senator Escudero, Vice President Jejomar Binay, and Ferdinand Topacio view this matter as an issue of religious freedom. To say so, I think, is to pander to people's emotions."
August 31
The Philippine Daily Inquirer discussed in an editorial how the official reasons for the rally given by INC officals don't make sense, and stated simply: No one is above the law.
ADVERTISEMENT - CONTINUE READING BELOW
Former Akbayan party-list Rep. Walden Bello expressed disappointment in Sen. Poe, VP Binay, and Sec. Roxas for "conciliating" the INC leadership. "The INC disruption of Metro Manila is simply unacceptable and politicians conciliating these fanatics must be condemned," he said, adding: "When the right to free speech is exercised to deliberately wreck public order and create chaos for the vast majority, then the government must place the welfare of the majority in command."
Bello also pointed out that any allegation of a crime falls within the jurisdiction of the State: "If a Roman Catholic priest is accused of sexual exploitation of minors, he would be subject to secular prosecution by the state and would never be allowed to invoke the separation of Church and State principle to protect him from prosecution. The same in the INC case. No double standards."
Vice President Binay, for his part, defended the INC rally, saying, "Alam niyo naman ako na human rights lawyer ako. Dapat respetuhin natin ang sinasabi ng batas na religious freedom," but wouldn't say if he's aiming to get INC votes for his 2016 presidential campaign.
ADVERTISEMENT - CONTINUE READING BELOW
Finally, the protests were called off by INC leaders on August 31. Their leader, Bienvenido Santiago, mentioned an undisclosed "deal" made with the national government, which the Palace quickly denied.
Before leaving, protesters voluntarily picked up their trash. But John Nery's column highlighted the effects of the rally, wondering if the organizers thought they would show off their clout, and whether they thought that politicians would come rushing to defend them. Nery wrote, "The example of Vice President Jojo Binay and Senators Grace Poe and Chiz Escudero, who received an unprecedented backlash on online and social media for their statements, stopped other politicians from making the same mistake."
Now that things are settling down, here's a look at whether our senators said anything about the issue, since they're usually so vocal.
| | |
| --- | --- |
| Franklin Drilon | No |
| Ralph Recto | No |
| Alan Peter Cayetano | No |
| Juan Ponce Enrile | No |
| Vicente "Tito" Sotto | Yes, in support of INC. Reportedly said in a text message, "I wish the government and us will stop meddling into the internal issues of the INC." |
| Pia S. Cayetano | No |
| Miriam Defensor-Santiago | No |
| Jinggoy Ejercito Estrada | No |
| Teofisto "TG" Guingona III | No |
| Manuel "Lito" Lapid | No |
| Ferdinand "Bongbong" Marcos Jr. | Yes, in support of INC: "The INC certainly has the right to stage a peaceful mass action to express their sentiments in defense of their faith. The DOJ's handling of the case leaves much to be desired." |
| Sergio R. Osmena III | No |
| Aquilino "Kiko" Pimentel III | Yes, in support of the DOJ: "I don't think this is a case against a church but against persons. It's part of the DOJ's job to accept the complaint, conduct a preliminary investigation, look at the basic facts whether this violates the Revised Penal Code or any law, or [if it is] a public crime. So you need a formal investigation." |
| Ramon "Bong" Revilla Jr. | No |
| Juan Edgardo "Sonny" Angara | No |
| Paolo Benigno "Bam" Aquino | No |
| Maria Lourdes Nancy Binay | No |
| Francis "Chiz" Escudero | Yes, in support of INC: He urged Sec. De Lima to "uphold the principle of separation of church and state and said, "It may be prudent to first let the leadership of INC resolve what appears to be a purely internal matter." |
| Gregorio B. Honasan II | No |
| Loren Legarda | No |
| Grace Poe | Yes, in support of INC: "For me, those people are defending their faith. We respect that and they also have to protect their rights." |
| Antonio "Sonny" Trillanes | No |
| Cynthia Villar | No |
Share this story with your friends!
---
Help us make Spot.ph better!
Take the short survey
Load More Stories