Singer Wency Cornejo slams Pilipinas Got Talent winner Jovit Baldivino + more things you might have missed today
First look at Grey's Anatomy Season 12, Bruno Mars for Super Bowl 50 halftime show, and more.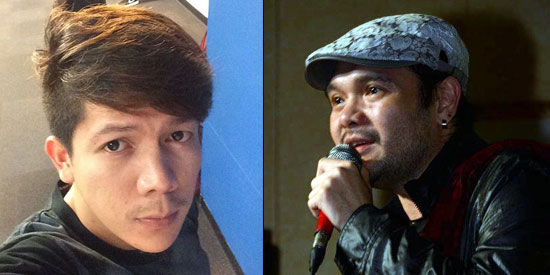 (SPOT.ph) Busy day, Spotters? Here are 10 things you might have missed while you were off the radar.
1. Wency Cornejo slams Jovit Baldivino for lack of respect and class
In a Facebook post, After Image vocalist Wency Cornejo expressed his disappointment about his recent show with Pilipinas Got Talent 2010 winner Jovit Baldivino in General Santos City. According to the post, Cornejo asked Baldivino not to sing a song that the former wrote, but the latter went ahead and performed it anyway.
"It just goes to show, it is very hard to teach humility, respect, and class," said Cornejo.
2. Jolina Magdangal wants to work with Marvin Agustin again
Shout out to all Bujoy and Ned fans! After the love team's afternoon soap Flordeliza ended last month, Jolina admitted she's been experiencing separation anxiety from the staff and the cast and hopes to do another project with them, particularly with Marvin Agustin.
"Hindi man sa soap kundi pati sa movies," she said. "Kumbaga looking forward kami to work again with each other. "
3. Bruno Mars has been offered Super Bowl golden anniversary halftime show spot
The NFL has asked singer Bruno Mars to return for the Super Bowl 50 halftime show. Mars previously fronted the halftime show for Super Bowl 48 and has the second most watched halftime show ever, next to Katy Perry's performance this year.
The Super Bowl 50 will take place on February 7, 2016 in Santa Clara, California.
ADVERTISEMENT - CONTINUE READING BELOW
4. Have a first look at Grey's Anatomy Season 12
Now that McDreamy is dead (sobs), Meredith is set to move back to her mother's old house with half-sister Maggie and sister-in-law Amelia. The McMansion has been dismantled and converted into a cadaver lab and will be a home to a new anatomy class at Grey Sloan.
The new season premieres on September 24 on ABC.
5. An engineering student designed an airplane while drunk
Mark, a Michigan Technological University student, came home drunk one night, designed an aircraft, and completely forgot about it the next day. According to his roommate, Mark designed the airplane at 11:30 p.m. and was finished by 1:30 a.m., complete with complex equations.
CONTINUE READING BELOW
Recommended Videos
His roommate, Keith Fraley, said that Mark is confident about the design and "looks forward to trying to recreate his work into a remote-control model."
6. Anonymous Oscar winner taunts Leonardo DiCaprio with statuette
Recently, a mysterious Oscar winner—or someone who has access to a statuette—anonymously named iHasanOscar has been mocking Leonardo DiCaprio over the Internet. iHasanOscar has been posting photos of the statuette with scenes of Leo's movies in the background, turning it into a meme for the whole Internet to see…and share.
People who saw the post naturally demanded to know who he was, but the mysterious Oscar winner wrote, "It's real. Stop asking me who I am please. I'm shy."
7. MMDA opens alternative routes to private vehicles
Private vehicles now have access to 17 "Mabuhay Lane" routes in MMDA's effort to ease the traffic situation in the Metro. The alternative routes have been opened for those travelling to Divisoria, Carriedo, Baclaran, Greenhills, and private vehicles moving from north to south and vice versa.
ADVERTISEMENT - CONTINUE READING BELOW
8. CA confirms appointment of AFP Chief Hernando Iriberri
The Commission on Appointments (COA) confirmed the appointment of Armed Forces of the Philippines (AFP) Chief Hernando Iriberri. The Surigao del Sur native was appointed together with 104 other senior military officers.
9. 10 Travel Journals That Will Fuel Your Wanderlust
We all know that travel journals can be too pretty to write on, but don't store those beautiful notebooks into oblivion. Here are 10 travel journals that'll inspire you to write and travel.
10. 10 Things You Want to Say to the MMDA Chairman
Yes, apparently someone else is partly responsible for EDSA traffic now, but we wanted to say a few words to the MMDA chief. We list some of the questions we really just needed to get off our chests.
Share this story with your friends!
---
Help us make Spot.ph better!
Take the short survey
Load More Stories