Coolest Offices in Manila: Ace Saatchi & Saatchi
This bright and open space encourages not only efficiency, but also good work-life balance.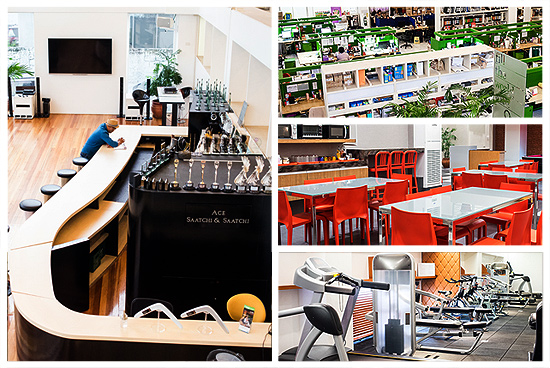 (SPOT.ph) Before Ace Saatchi & Saatchi moved to their new office along Pasong Tamo, the integrated communications agency was based in what could be described as a typical office building in Makati. "It was very dark and space was limited. We occupied two-and-a-half floors, and the layout wasn't as efficient as we wanted it to be," says Arthur John Young Jr., CEO and chair of Ace Saatchi & Saatchi.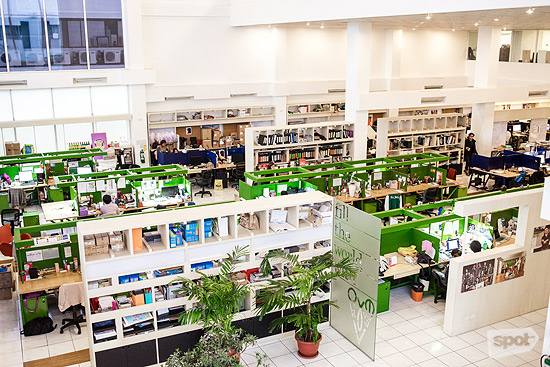 ADVERTISEMENT - CONTINUE READING BELOW
More than an interior design problem, the old setup felt counterproductive: "In our previous office, creatives were on one floor, accounts were on another floor, planning was on another floor. If you think about it, it's very hard to run a communications company when your people don't talk because there are barriers to that," explains Arthur.
The move to a new space in 2008 gave Saatchi the opportunity to create an environment that addresses the agency's needs and matches its culture. "What first attracted us to this new building was the brightness, openness, and the natural light that enters it," says Arthur. "The design is really all about openness and airiness. It's about giving us the ability to communicate."
CONTINUE READING BELOW
Recommended Videos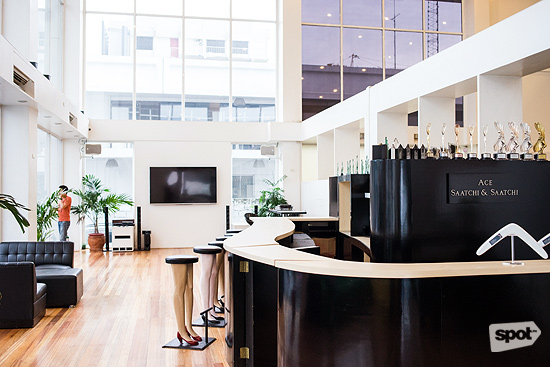 ADVERTISEMENT - CONTINUE READING BELOW
Thanks to the building's floor to ceiling windows and high ceilings, the bright and airy look to this office space was achieved. The lobby is bathed in natural sunlight and serves as an inviting, spacious reception area to receive guests and clients. Right by the lobby is a bar, which during the day, doubles as additional workspace for brainstorming meetings or for staff members who want to take breaks from their desks. On special occasions, it is turned into a videoke area and drinks are, of course, served here. "We have parties here, celebrating birthdays or milestones. It's great that we can just go to the bar, relax, and have a few drinks. It's where our people get together and can talk about things other than work. It's great for camaraderie," says Arthur.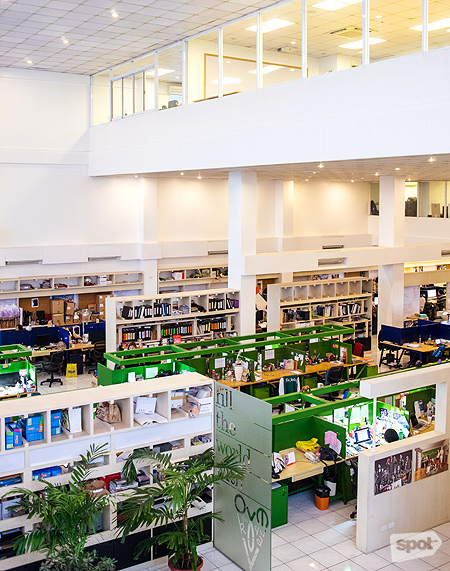 ADVERTISEMENT - CONTINUE READING BELOW
Building teamwork and camaraderie also meant having to remove the physical divisions between departments. This is reflected in the open layout of the work area. "Unlike the old office, we now have a space where everyone—accounts, creatives, and planning—are all on one floor. This allows them to just walk over to a teammate or call someone over, and cycle jobs easier. Being all on the same floor makes the workflow more efficient," describes Arthur. "And since our expertise is integrated campaigns, we really need to collaborate. The barriers that are now non-existent help a lot in the process, both physically and psychologically," adds Mio Chongson, COO of Ace Saatchi & Saatchi.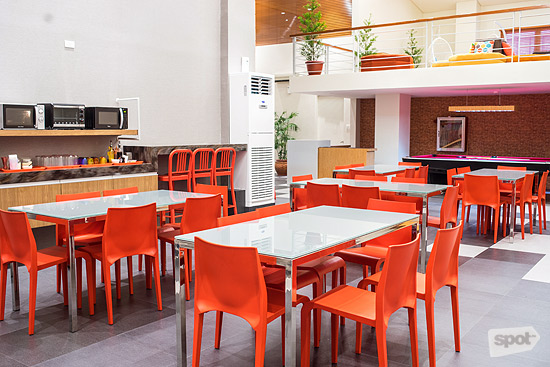 ADVERTISEMENT - CONTINUE READING BELOW
In March of this year, more improvements were made to the office. With the help of interior design company Trezza Group, headed by Tessa Prieto-Valdes and architectural firm Fareal Builders under architect Edwin Aquino, a number of common areas were renovated to create an even better work environment and to support work-life balance. "The old pantry looked like a canteen, in the very old sense of the word. It was cramped and dark, and seating was limited to around 30 people," describes Mio. "Turning it into a room with a high ceiling and adding drop lights and a brick accent wall really opened it up and made a big difference."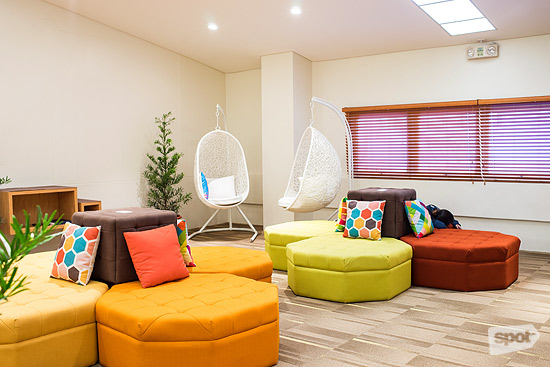 ADVERTISEMENT - CONTINUE READING BELOW
A new loft, complete with comfortable seating and a TV, was also added to the pantry area. "The goal was to give the staff more space to meet, brainstorm, and work comfortably. There's Wi-Fi access and a number of electrical outlets in the loft so people can really work there or sit around and think," says Arthur.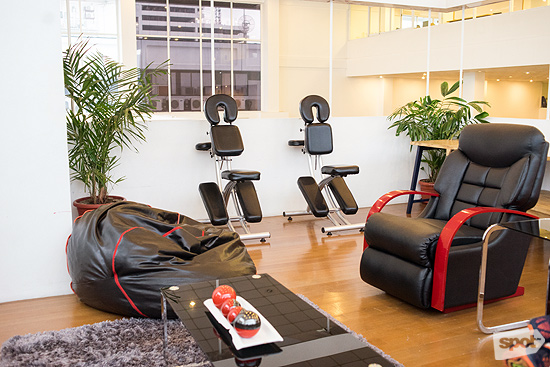 ADVERTISEMENT - CONTINUE READING BELOW
The original loft, on the other hand, continues to be a favorite spot among employees. Here, they can use the massage chairs or sign up for free massage therapies, which are available every Wednesday and Friday.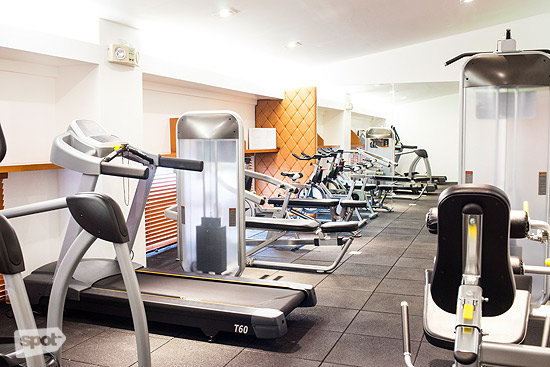 Another new addition that has been well received is the fitness gym. Here, staff members have access to gym equipment and a personal trainer. Twice a week, a Zumba instructor drops by to lead group classes. "When there's a project due or when traffic is bad or when the roads are flooded outside, it's common for the staff to spend extended hours in the office. The gym allows them to be productive with their time and do something other than work," says Mio.
ADVERTISEMENT - CONTINUE READING BELOW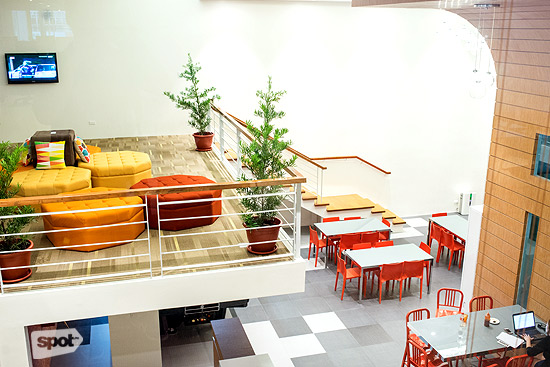 "The newly renovated areas have boosted morale," concludes Arthur. "We have an environment that encourages a balanced lifestyle. It's not just work-work-work; it's important to have that ability to enjoy the experience, too."
Click on the gallery below to see more cool details of the Ace Saatchi & Saatchi office.
ADVERTISEMENT - CONTINUE READING BELOW
Photos by Michael Angelo Chua
Also read:
Coolest Offices in Manila: Penshoppe
Coolest Offices in Manila: Migo
Coolest Offices in Manila: Avida Land
Share this story with your friends!
---
Help us make Spot.ph better!
Take the short survey
Load More Stories