Ex-couple Solenn Heussaff and Derek Ramsay reunite + more things you might have missed today
Waze says Manila has worst traffic on Earth, 100 years of wedding dress fashion, and more.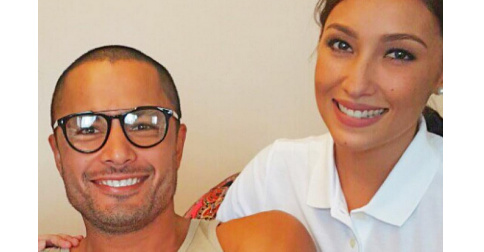 Photo via Derek Ramsay's Instagram account
(SPOT.ph) Busy day, Spotters? We quickly recap 10 things you might have missed while you were off the radar.
1. Ex-couple Solenn Heussaff and Derek Ramsay reunite
No, we don't mean they're dating again. The two are reuniting on the big screen for an upcoming romance flick entitled Love is Blind. In an interview, Derek said that he broke his own heart when he called it quits with Solenn, explaining, "Parang may nangyayari sa relationship na I guess, sobra kayong nagmamahalan, sometimes you bring the worst out of each other. For me, it was too much turmoil, I had to get out."
ADVERTISEMENT - CONTINUE READING BELOW
The two dated for four years before they both made it big in showbiz.
2. Joey de Leon and Lea Salonga make up
Over the weekend, Lea Salonga made headlines for her "kababawan" remarks about entertainment programs. Although she didn't name any names, AlDub fans criticized her for her comment. Eat Bulaga host Joey de Leon even joined in, saying, "Hindi naman pala daw AlDub pinatatamaan ni Lea. Baka naman yung kabila? Nagtatanong lang po."
On Thursday, Lea thanked him for "giving [her] the benefit of the doubt." Joey replied, "No worries. Wala na 'yon! Magsimula na lang tayong lahat ng a whole new world! Mabuhay ka!"
3. Ed Sheeran isn't writing a song for One Direction's album
In an interview with MTV, British crooner Ed Sheeran said that he will no longer be collaborating with One Direction. He explained, "They don't really need as much help anymore. They can kind of do their own thing." Ed has written a handful of hit songs for the boy band, including "Little Things," "Over Again," and "Moments."
ADVERTISEMENT - CONTINUE READING BELOW
4. Would you try caffeinated peanut butter?
Here's something that's sure to jolt you awake. A company called Steem has created caffeinated peanut butter, but that's not even the craziest part. Each jar contains the caffeine equivalent of two-and-a-half cups of espresso in just two tablespoons. (We're already palpitating at the thought.) The product reportedly tastes like normal peanut butter.
5. Watch 100 years of stunning bridal fashion in three minutes
Love weddings and the gowns that come with them? You'll love this video that traces the gorgeous styles of wedding gowns from 1915 to today. Who knows, maybe you'll even be inspired to wear a vintage design for your wedding!
6. DepEd to verify students' Philippine history "deficiency"
According to Communications Sec. Herminio Coloma Jr., the Department of Education will be checking with curriculum supervisors and teachers on the supposed "deficiency" of Filipino students about Philippine history. He also said that DepEd Sec. Brother Armin Luistro has assured the public that the lives of Filipino heroes like Apolinario Mabini are adequately taught in school.
ADVERTISEMENT - CONTINUE READING BELOW
Earlier, President Aquino expressed concern after reports that said some students asked why Mabini in Heneral Luna was always seated.
7. SET to release Poe citizenship decision by November
In an interview on Thursday, Sen. Loren Legarda said the Senate Electoral Tribunal (SET) will release its ruling on Sen. Grace Poe's citizenship case by early November. Legarda is part of the SET but refused to further comment on Poe's case. "It's better left to the discretion of the tribunal when we make our final decision," she said.
8. Waze says Metro Manila has worst traffic on Earth
According to community-based traffic and navigation app Waze, Metro Manila reportedly has the worst traffic on Earth. The survey also places Manila among the cities with the "worst roads to drive on" because of the "frequency and severity" of traffic jams and poor road infrastructure. Other countries on the list include Rio de Janeiro and Sao Paulo in Brazil, and Jakarta in Indonesia. The evaluation was made through 50 million users in 32 countries and 167 metro areas.
ADVERTISEMENT - CONTINUE READING BELOW
9. 10 Most Common Phobias in Manila
It seems as though there's a phobia for practically everything. When you're living in a place as hectic as Manila, here are 10 phobias you'll probably see.
10. Reading with Taste: 10 Essential Books for the Self-Proclaimed Food Nerd
There's more to food literature than just cookbooks! Here are 10 unique and creative books that will help fuel your love for all things food-related.
Recommended Videos
Load More Stories