Vertical Living
Clinton Palanca makes a case for the condo-constricted life.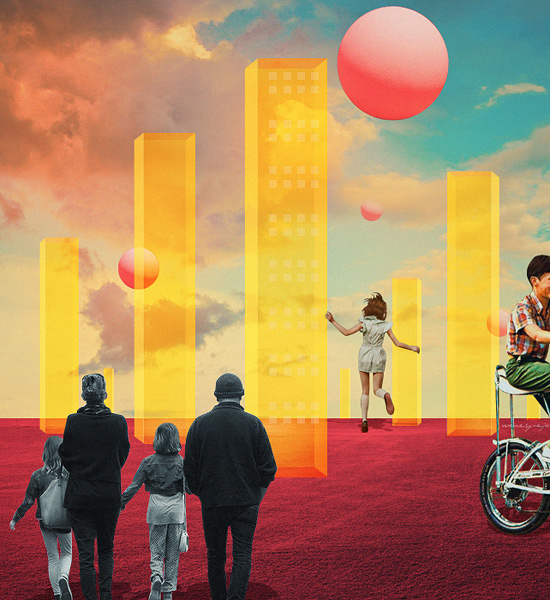 (SPOT.ph) It was a contest between my books, much as I loved them, and my family. I'm embarrassed to say that I hesitated for more than a nanosecond; but yes, I faced up to the reality: the books had to go. First editions of friends' old works, French philosophy in the original, long-borrowed (stolen?) from people who have since passed on from my life, were packed away and relocated. Such is the reality of condo living.
Anyone who chooses to live in a condominium is, almost by definition, socially ambitious. The "condominium" is different from a flat, an apartment, or a townhouse not because of certain architectural characteristics, but because it refers to a financial agreement among a group of homeowners who would otherwise not be able to afford living in a certain desirable neighbourhood. Living in a condo means living in a postcode better than what you should be able to afford.

In exchange for a relative lack of privacy and sharing a garden and communal space, one can live in the center of Manila rather than, for the same amount of money, somewhere in the boondocks and be condemned to hours spent communiting into the city. Thus, condominiums can be large or small, upscale or economical, but operate on the same basic principle of communality; it is also why the performance (or lack thereof) of the condominium association is such an important force in determining the quality of life of people living in the building, as well as the future value of the property.
ADVERTISEMENT - CONTINUE READING BELOW
The transition to living in apartments (technically defined as a purpose-built structure, rather than a flat, which is an old Victorian or Georgian house that has been divided up) in this country has taken place in the span of little more than a decade. Most people who live in condos now grew up in a house, or at least have some memory of what living in a house was like. Unlike places such as Hong Kong or Singapore where living in apartments has been the norm for a while and living in a house is a privilege reserved for the very rich, we still feel that living in a condo is convenient and economical but not really a proper home. Die-hard traditionalists even go so far as to say that a condo investment isn't really real; it's just "buying air."
CONTINUE READING BELOW
Recommended Videos
Take me and my family as an example. Both my wife and I grew up in houses that stood on solid ground and had a garden at the back, where there were fruit trees, grass, and space for dogs to run around, and even a chicken coop. We learned to ride our bicycles on the street outside, and played with the children who lived next door (no elaborate plans had to be made to be shuttled around for "playdates"). These were not luxuries, but accessible to any middle-class family. Today, the price for admission to this lifestyle is pegged at around 80 million for a house with a garden in the middle of Makati.
ADVERTISEMENT - CONTINUE READING BELOW
People live in condos, but with the mindset of people who live in houses. A look at the shopping carts of people checking out at S&R might lead one to think that they would be loading this into their SUV, and then unloading it in the garage of an American suburban home, the kind with a chest freezer in the basement and a giant pantry as big as a convenience store. This is where you store the barrel-sized tub of cheese balls; in the typical Manila apartment, it might make the difference between having an extra seat at the dining-table or not. Investments such as a baby grand piano, ping-pong table, single-ended triode tube amps, and inflatable bouncy castles are no longer an option.
On the other hand, technology is simultaneously propelling and easing the transition to apartment-dwelling urbanism. I no longer have space for the complete Encylopaedia Britannica or the 20-volume complete Oxford English Dictionary, but I can access both through the magic of the computer, which also serves as my music library, television and movie screen, and in some cases, library. I recently made the decision to switch my magazine subscriptions to digital and read all books other than cookbooks on my iPad, which has been a less trauamatic shift than I would have thought. For the moment I still have my vinyl collection and trusty old Garrard, but the next logical step is to listen exclusively to digital, which takes up almost no space.
ADVERTISEMENT - CONTINUE READING BELOW
Many of the people who move into condos see them as an intermediate step before they eventually get a house; but barring a sudden leap in the demographics of social mobility or the layout of the city, this is unlikely. The number of houses in the middle of the city is finite; developers aren't building more houses, they are tearing down houses and old buildings to build more apartment blocks. I grew up in a house, but will probably die in an apartment; my children grew up in either flats or apartments. There is only one way for a house to be both affordable and practical, and that is the creation of well-connected suburbs, with high-speed rail and "park-and-ride" access. But surburban living is another beast altogether.
The transformation of our city into condos and malls is spurring a great deal of nostalgia for the Manila we grew up in, but there is simply no going back. Metro Manila has long since passed the definition of a "megacity" (10 million or above), and is only likely to grow. In the 20 years since the condo boom began many of the first highrises have already begun to become derelict: leaks, cracks, faulty elevators. They were built and treated as transient dwellings, and have been abandoned as such; the owners have simply sold off and moved to a new condo. (Although the very first apartment buildings, along Ayala Avenue, where, among others, Imelda Marcos lives, seem to have retained their value.) The solution is for both developers and buyers to build homes that you'd actually want to live in, and maintain them as such. It's hard to feel really settled in a place when the sewage from the flat upstairs is dripping into your soup as you eat.
ADVERTISEMENT - CONTINUE READING BELOW
As the city grows, so will the income disparity between those who are able to live in a house smack in the middle of the city (and play 18 holes at the Manila Golf Club, a real estate anomaly that is brazen and ludicrous), and those who can only afford a tiny slice of air. Those who are convinced that the city was cooler (temperature, not hipness) in the past are not just imagining it: buildings trap heat; and banks of air-conditioners from closely spaced towers are literally battling to blast heat out of one building at the other.
And yet, there is actually a joy to condo living. Having someone else work on the garden means you get to enjoy it more; we have a shared pool large enough to do laps in that we would never be able to afford nor maintain. Most condos are safer than the average house that is not enclosed within a subdivision. But perhaps the key to having the excitement and energy that comes with population density while still enjoying a decent quality of life is having a city that one wants to be out in, rather than wanting to shut out. The best vertical cities are those where the smallness of the apartment with the high rent and perfunctory kitchen is made up for by access to parks where children can learn to ride a bicycle, streets one would want to walk around in, and plentiful restaurants and cafes to eat out at and meet people. The layering of communities and the interaction between different groups and classes is what makes for an interesting city, not the number of Starbucks outlets it has.
ADVERTISEMENT - CONTINUE READING BELOW
The good news is that it's not too late. Metro Manila will never go back to being that buccolic flat ramble of disjointed cities and municipalities it was in the 1970s. The vertical life, like it or not, is here to stay. But it need not be a punishment for those who aspire to be in the middle of all the vibrance that a city can provide. The burden is on our generation, both the public and the private sector, to build a city that is not just urban but genuinely urbane.
Artwork by Warren Espejo
Share this story with your friends!
---
Help us make Spot.ph better!
Take the short survey
Load More Stories