Francis Tolentino leaves LP; business is booming for Playgirls
The MMDA Chairman apologizes.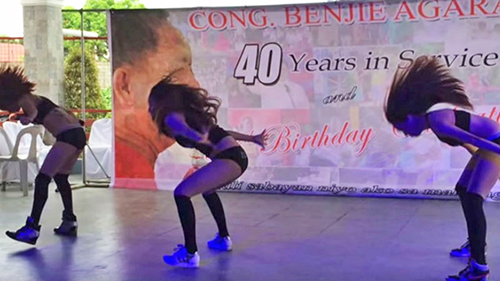 (SPOT.ph) Metropolitan Manila Development Authority (MMDA) Chair Francis Tolentino apologized on October 7 for allowing the widely criticized performance of The Playgirls at a Liberal Party (LP) event on October 1. LP was slammed on social media when a video circulated showing a sexually suggestive performance staged during the members' oath-taking, which coincided with the birthday celebration of Laguna 4th District Rep. Benjamin Agarao Jr. in Sta. Cruz, Laguna.
ADVERTISEMENT - CONTINUE READING BELOW
"I am asking for understanding and forgiveness especially from women groups who got hurt because of the incident," said Tolentino, according to a report by Inquirer.net. "I am asking forgiveness from everyone who got offended by the incident especially to the family of Cong. Agarao and our friends from Laguna. I also apologize to my mother, who also got hurt, to the Liberal Party and Sec. Mar Roxas, whose name was dragged into what happened," he added.
However, the MMDA Chairman claimed that he had no control over the show and such scenes "can also be seen every day by millions in television shows." He has also asked the LP to remove his name from their senatorial lineup.
On the other hand, the event worked in favor of The Playgirls. "We have received inquiries for birthday party bookings. And yes, we are booked for the campaign trail," said the group's manager, Michael Tupaz, in a separate report. Their video currently has over 1,000,000 views and the group has earned nationwide recognition. Tupaz said he doesn't find anything wrong with the said performance. In fact, the group is booked to perform in Dubai from November 5 to 9. Regarding Tolentino leaving LP's senatorial bets, Tupaz said, "We're sad, but it's beyond our control."
ADVERTISEMENT - CONTINUE READING BELOW
Recommended Videos
Load More Stories