10 Kickass Quotes on Love from Books That You Can Use in Life
Perfect for your #hugot tweets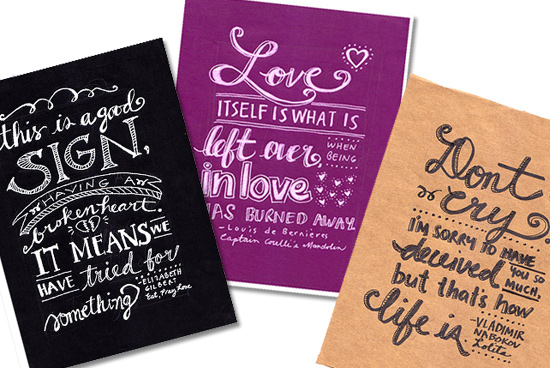 (SPOT.ph) Love is a great source of inspiration. It's one of those things that makes people giddy, miserable, and crazy—sometimes one feeling at a time, sometimes all at once. It's not always a matter of "If you've ever been in love, you'll understand." Writers like Shakespeare and Jane Austen, for example, use timeless words to perfectly capture love in their inspiring works that we still enjoy today.
ADVERTISEMENT - CONTINUE READING BELOW
Not the lovey-dovey type? You don't have to read romance titles for mushy and spot-on lines. You can actually get them from books about adventure, magic, and war. We've bookmarked 10 quotes about the good, the bad, and the truth about love (from awesome tomes) that you can apply in real life.
Lettering by Jenny Inumerable Suarez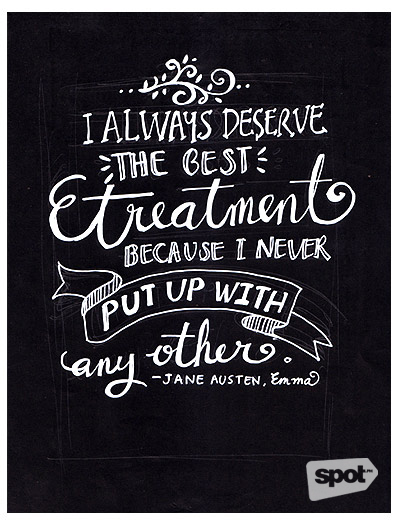 ADVERTISEMENT - CONTINUE READING BELOW
On not settling for less:
"I always deserve the best treatment because I never put up with any other."
―Jane Austen, Emma
On being in love:
"When you love you wish to do things for. You wish to sacrifice for. You wish to serve."
―Ernest Hemingway, A Farewell to Arms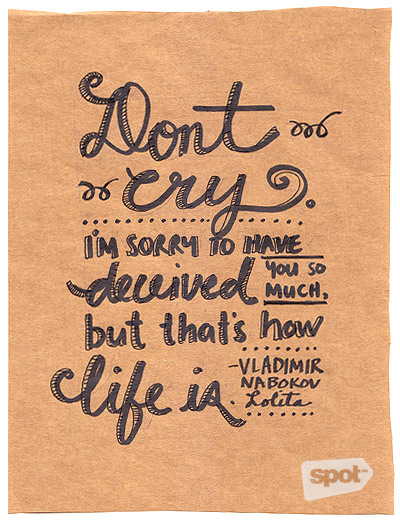 ADVERTISEMENT - CONTINUE READING BELOW
On confessions:
"Don't cry. I'm sorry to have deceived you so much, but that's how life is."
―Vladimir Nabokov, Lolita
On being yourself:
"You can't write a script in your mind and then force yourself to follow it. You have to let yourself be."
―Chimamanda Ngozi Adichie, Half of a Yellow Sun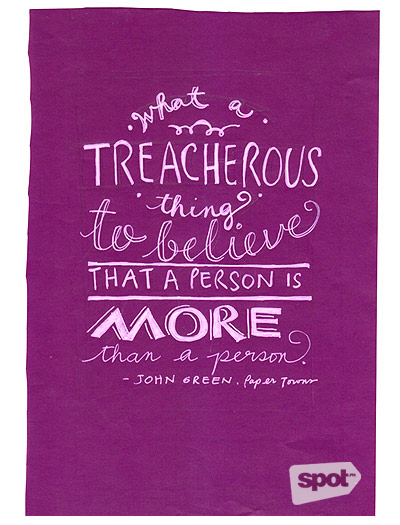 ADVERTISEMENT - CONTINUE READING BELOW
On expectations:
"What a treacherous thing to believe that a person is more than a person."
—John Green, Paper Towns
On moving on:
"Think of all the beauty still left around you and be happy."
―Anne Frank, The Diary of a Young Girl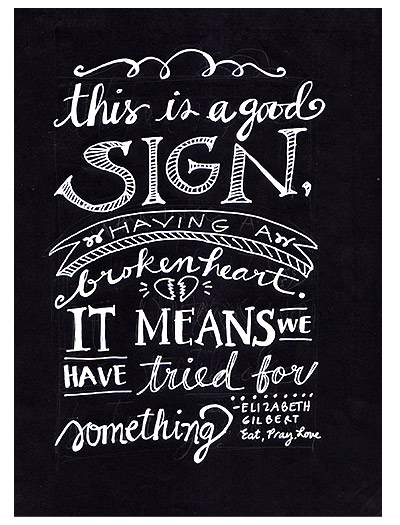 On optimism:
"This is a good sign, having a broken heart. It means we have tried for something."
ADVERTISEMENT - CONTINUE READING BELOW
―Elizabeth Gilbert, Eat, Pray, Love
On acceptance:
"I want you to have your own thoughts and ideas and feelings, even when I hold you in my arms."
—E. M. Forster, A Room With A View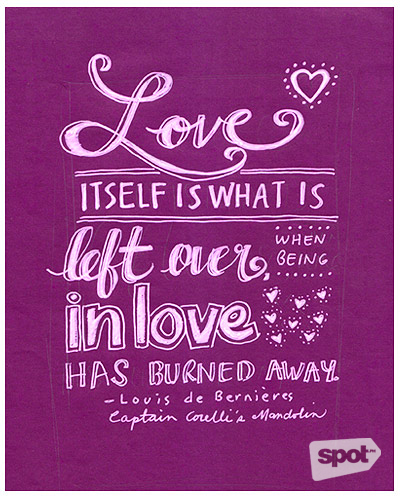 On real love:
"Love itself is what is left over, when being in love has burned away."
ADVERTISEMENT - CONTINUE READING BELOW
—Louis de Bernières, Captain Corelli's Mandolin
On denial:
"Numbing the pain for a while will make it worse when you finally feel it."
―J.K. Rowling, Harry Potter and the Goblet of Fire
Lettering by Jenny Inumerable Suarez
Recommended Videos
Load More Stories