Calvin Harris responds to breakup rumors with Taylor Swift + more things you might have missed today
No more nudity in Playboy, updates on the Heneral Luna trilogy, and more.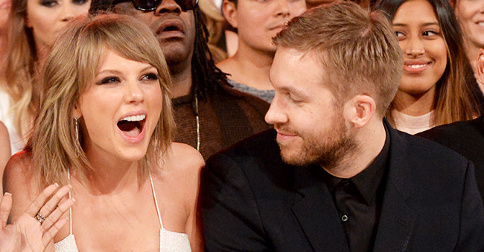 (SPOT.ph) Busy day, Spotters? We quickly recap 10 things you might have missed whole you were off the radar.
1. Calvin Harris responds to breakup rumors with Taylor Swift
Earlier on Tuesday, word broke out that Calvin Harris and Taylor Swift broke up after the former was allegedly photographed leaving a Thai massage parlor that, ahem, offered more than just normal massages. Calvin quickly took to his Twitter dispel the rumors, saying, "It's not going to be a 'happy ending' for everyone I sue for defamation of character for all these bullshit stories." Taylor has not responded, but her publicist also advised fans not to believe Radar Online, who first broke the news.
2. John Legend and Chrissy Teigen are having a baby
Musician John Legend and model Chrissy Teigen are expecting their first child together! On Monday, the couple announced the good news via Instagram showing John holding the belly of an ecstatic Chrissy. "As many of you know, we've been trying to have a baby for a while now," she wrote. "It hasn't been easy, but we kept trying because we can't wait to bring our first child into the world and grow our family." In an earlier interview, Chrissy said she's looking forward to having three or four children with John.
3. Benjamin Alves wants to keep playing Manuel L. Quezon in the Heneral Luna trilogy
In an interview with PEP.ph, Benjamin Alves said he hopes he can reprise his role as Manuel L. Quezon in the films following Heneral Luna. His character is set to have his own biopic as the third film in the trilogy. "I have to get the go signal first if they want me," he said. "I heard the plan was to make the [two following movies ng] sabay. Kasi I was afraid na if they do the Gregorio del Pilar [movie] now, and then they wait for it to finish and promote it, I have to wait four more years."
ADVERTISEMENT - CONTINUE READING BELOW
4. Star Wars fan? You should probably save up for this special edition laptop
Here's something that will fuel your excitement for the upcoming Star Wars movie this December. HP has unveiled a new line of Star Wars-themed laptops in time for the movie's release. The laptops are basically HP's 15-inch Pavilion laptops with Darth Vader on the lid, Storm Troopers on the track pad, and a keyboard that glows red. Our favorite feature, however, is the option to change the computer's sounds to mimic R2-D2 or a lightsaber.
5. Margot Robbie's Harley Quinn may be the top costume for Halloween
CONTINUE READING BELOW
Recommended Videos
Haven't decided who (or what) you'll be this Halloween? How about going as Margot Robbie's Suicide Squad character, Harley Quinn? Although the movie is still set to be released next year, that didn't stop fans from purchasing "Daddy's Lil Monster" shirts and baseball bats, and dyeing their pigtails ombre red and blue. Harley is also "ranked number one in Bing's early costume search data," followed by the Minions, and classics Wonder Woman, Poison Ivy and Maleficent.
6. Say goodbye to nudity in Playboy
Sorry, boys! According to the magazine's chief executive Scott Flanders, the publication is getting rid of their famous nude covers and centerfolds due to the rise of online pornography. "You're now one click away from every sex act imaginable for free," he told The New York Times. "It's just passé at this juncture." The magazine will still continue to feature spreads of women in provocative poses but as of March 2016, "there will be no nudity whatsoever." Still, the magazine is also well-known for their articles, which include interviews with Martin Luther King Jr., John Lennon and Yoko Ono, and a serialized form of Ray Bradbury's novel, Fahrenheit 451.
ADVERTISEMENT - CONTINUE READING BELOW
7. Japanese emperor, empress to visit Philippines in 2016
According to Malacañang, Japanese Emperor Akihito and his wife Empress Michiko will be visiting the Philippines. Communications Sec. Herminio Coloma Jr. said the Philippines is already preparing for this visit, which is a response to P-Noy's invitation during his state visit in Tokyo last June. In an e-mail to reporters, Coloma wrote, "We are pleased to announce that the Philippines has started necessary coordination with Japan for a visit of Their Majesties, the Emperor and Empress of Japan, to the Philippines, possibly in early 2016." This is the first time that a reigning Emperor of Japan will visit the country.
8. COMELEC says Junjun Binay may be kept from running in 2016
According to COMELEC Chair Andres Bautista, Junjun Binay may not be able to run in the 2016 elections if he fails to secure a temporary restraining order on the Ombudsman's recent order for his dismissal as Makati City mayor and perpetual disqualification from holding office. Experts say that the Ombudsman's decision can still be appealed and Binay may still be able to file a certificate of candidacy.
9. 10 Kickass Quotes on Love from Books That You Can Use in Life
They say love is a strange and funny feeling, so much so that there have been millions of songs and books written about it. We zero in on some quotable quotes from our favorite writers that spoke to all our feels.
10. 10 Lipstick Hacks Every Girl Must Know
ADVERTISEMENT - CONTINUE READING BELOW
There's so much more to a lipstick tube than just painting your pout a fabulous color. We give you 10 nifty hacks that will help you put that lippie to good use!
Share this story with your friends!
---
Help us make Spot.ph better!
Take the short survey
Load More Stories