This video of Adam Levine and his biggest fan is too cute for words + more things you might have missed today
A new Adele song, disqualification case filed against Poe, and more.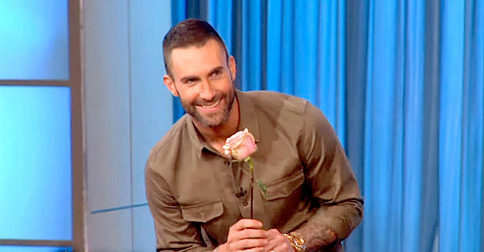 (SPOT.ph) Busy day, Spotters? We quickly recap 10 things you might have missed while you were off the radar.
1. This video of Adam Levine and his biggest fan is too cute for words
You might remember earlier reports of a viral video of a three-year-old girl crying in the backseat because she found out that Adam Levine was married. In a recent episode of The Ellen DeGeneres Show, Adam finally met his biggest fan and even gave her a pink rose! She seemed really overwhelmed the whole time, which is something we would probably feel if we were in her place, too.
2. Hillarie Danielle Parungao is Miss World Philippines 2015
On Sunday, Hillarie Danielle Parungao from Nueva Vizcaya was officially crowned Miss World Philippines 2015. She will be representing the country at the Miss World 2015 pageant in December. Hillarie bagged nine special awards and aced the question and answer portions during the semi-finals and among the top five candidates. The Nursing graduate and freelance model will be succeeding Miss World Philippines 2014 Valerie Weigmann.
3. Lindsay Lohan announces her intention to run for president in 2020
Kanye West isn't the only celebrity looking to become America's next president. On October 17, Lindsay Lohan hinted via Instagram that she "may run for president" in 2020, tagging both West and President Barack Obama in her post. In a second post that featured Lindsay with West, she wrote, "The first thing I would like to do as president of is take care of all of the children suffering in the world. [Queen Elizabeth] showed me how by having me in her country." Even the U.S. isn't exempt from mind-boggling presidential aspirants.
ADVERTISEMENT - CONTINUE READING BELOW
4. A teaser for new music from Adele has been released
There have been no albums released by Adele since 21—that was four years ago. However, viewers of U.K.'s The X-Factor were in for a surprise during a commercial break when the screen went black. Then Adele's voice crooned, "Hello. It's me. I was wondering if after all these years you'd like to meet. To go over everything. They say that time's supposed to heal 'ya, but I ain't done much healing." The screen faded to black once again, then showed ellipses. Could this be a hint to the most-awaited comeback album of the singer?
CONTINUE READING BELOW
Recommended Videos
5. People are freaking out over an ominous cloud in China that looks like a floating city
Footage of a cloud formation that eerily looks like a floating city hovering over China began circulating around the Internet over the weekend. The formation allegedly brought many people "to a standstill," before disappearing after a few minutes. The footage reached Chinese media but according to experts, the phenomenon was an optical mirage. Others claimed it was simply Photoshopped, while some proposed more elaborate conspiracy theories.
6. The world's largest rubber duck floats to New York
If you've been wondering where the viral gigantic rubber duck is now, it's in Long Island, New York. Dutch artist Florentijn Hofman's Mama Duck—the 11-ton (but still ridiculously cute) inflatable rubber duck—has been all over the world. It recently docked at Oyster Bay, just in time for the annual oyster festival that took place from October 17 to 18.
ADVERTISEMENT - CONTINUE READING BELOW
7. Typhoon Lando leaves two dead, affects over 4,000 families
As of October 19, the National Disaster Risk Reduction and Management Council (NDRRMC) has reported two fatalities and over 4,000 families affected by Typhoon Lando. The two confirmed victims were identified as a 62-year old woman from Subic; and a 14-year old from Quezon City. Based on NDRRMC's records, 6,529 passengers, 89 vessels, 42 motor bangkas, and 633 rolling cargoes are currently stranded due to the typhoon that's expected to leave the Philippine Area of Responsibility (PAR) by October 21 or 22.
8. A disqualification case vs. Grace Poe has been filed
On Monday, former senator Kit Tatad filed a disqualification case against Sen. Grace Poe, just days after the last day of filing of certificates of candidacy for the 2016 elections. In the motion, Tatad said Poe cannot run as president because she is not a natural-born Filipino and she did not meet the residency requirements. This is the second case filed against Poe before the COMELEC.
9. 10 Most Controversial Pinoy TV Show Segments
When it comes to local showbiz, sometimes real life is more entertaining than fiction. We relive some of the most memorable and controversial TV show segments from Pinoy TV shows.
10. 6 Things You Should Never Post on Social Media
As the saying goes, "Pics or it didn't happen." But in the digital age, everything is accessible to everyone, and it would be wise—not to mention necessary—to be selective of what we share with the world. Here are six things you should never share online, according to Style Bible.
ADVERTISEMENT - CONTINUE READING BELOW
Share this story with your friends!
---
Help us make Spot.ph better!
Take the short survey
Load More Stories