Here's what you shouldn't do in other countries
Stay stress-free on your next overseas trip! Take note of these handy reminders.
Every country we visit has its own set of laws and cultural practices we may not be familiar with. Although most fundamental laws are the same, there are some things you commonly do back home that can be seen as rude, offensive, or even against the law abroad. Read on for some simple tips when visiting a new country.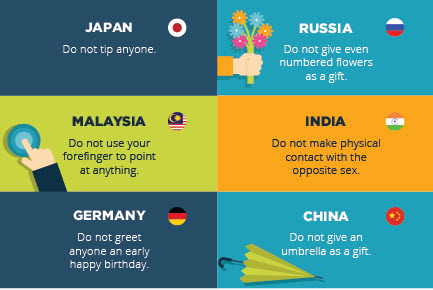 ADVERTISEMENT - CONTINUE READING BELOW
Norway – Do not talk about going to church.
According to the European Social Survey, only 2% of the Norwegian population attend church. Bringing it up can seem intrusive, and you might be deemed rude if you talk about going to church.
Ireland – Do not try to imitate their accent.
To the Irish, they don't have a singular accent but rather plenty of distinct accents, depending on what part of Ireland they're from.
France – Do not talk about money.
Money talk is considered rude. You can talk about it in general terms, but talking about specifics is downright frowned upon.
Singapore – Do not spit in public.
You can get fined for doing things in public if you get caught; this includes spitting, urinating, and smoking.
China – Do not give an umbrella as a gift.
Words and homophones are important in Chinese culture. In Chinese, the word "umbrella" sounds like the word for "separation" so that's a big no, especially if you're talking about someone's relationship.
ADVERTISEMENT - CONTINUE READING BELOW
Read the full article, "Things Not to Do in Other Countries," on TravelBook.ph
Recommended Videos
Load More Stories