What You Need to Know About the APEC Summit in Manila
From flight cancellations to road closures to new traffic schemes.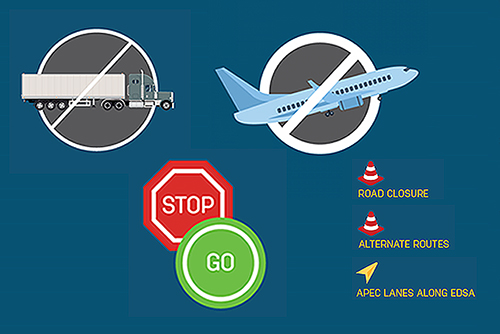 (SPOT.ph) We're sure you've already heard: the Philippines is hosting the Asia-Pacific Economic Cooperation (APEC) this year. The APEC Economic Leaders Meeting (AELM), a gathering of high-profile leaders, officials, businessmen, and industry experts from the 21 participating countries, will be held in Manila from November 18 to 19.
If you're wondering how this will affect your typical November work week, here's what you need to know about this event.
Which days have been declared non-working days?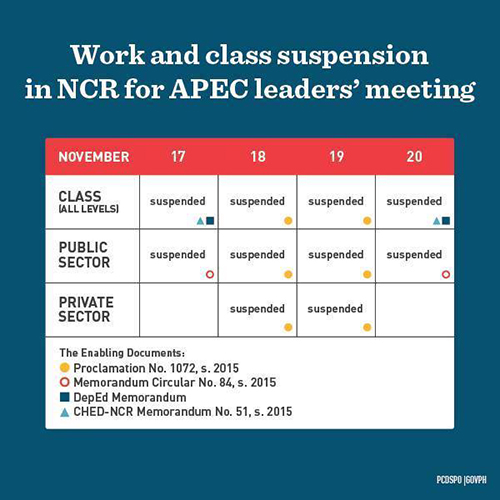 Chances are, you already know this. But for those still confused about which dates you won't have to report to work, the government has announced November 18 and 19 as special non-working days in the National Capital Region for those in the private sector. For the public sector, work is suspended from November 17 to 20. Classes are suspended from November 17 to 20 for all levels.
Will traffic be terrible?
Take note of the rerouting schemes within Metro Manila from November 16 to 20: Roxas Boulevard and EDSA will allocate some of its lanes strictly for APEC use.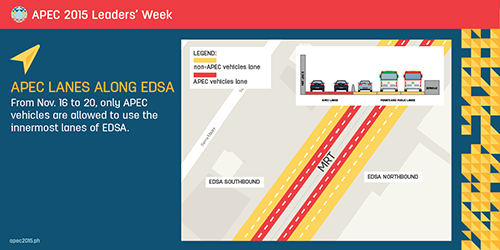 The inner lanes of EDSA are only passable for APEC vehicles from November 16 to 20.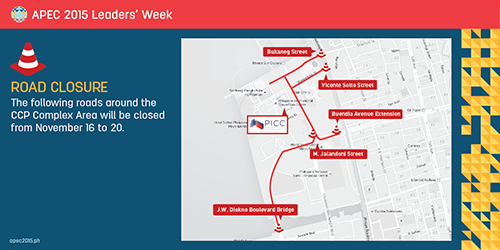 The following streets around the CCP Complex in Pasay City will be closed from Novermber 16 to 20:
Bukaneg Street
Vicente Sotto Street
Buendia Avenue Extension
M. Jalandoni Street
J.W. Diokno Boulevard Bridge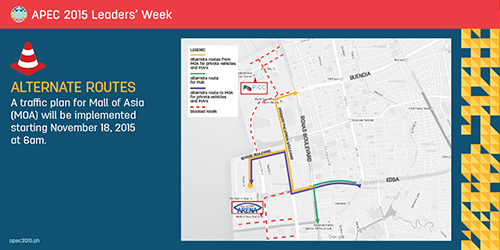 When going to and from Mall of Asia, both private and public vehicles are advised to take the alternate routes in Diosdado Macapagal and Seaside Boulevards.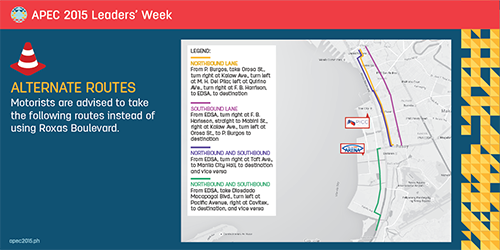 Alternate routes:
On the Northbound Lane, from P. Burgos, take Orosa Street, turn right at Kalaw Avenue, turn left at M.H. Del Pilar. Take another left at Quirino Avenue, then turn right at F.B. Harrison going to EDSA, to your destination.
On the Southbound Lane, from EDSA, turn right at F.B. Harrison straight to Mabini Street. Turn right at Kalaw Avenue, and then turn left at Orosa Street to P. Burgos, going to your destination.
From EDSA, you may turn right at Taft Avenue to Manila City Hall, to your destination, and vice versa.
Another option would be to take Diosdado Macapagal Boulevard from EDSA, turn left at Pacific Avenue, then turn right at Cavitex, to your destination, and vice versa.
What's the "Stop and Go" Scheme?
Prepare your patience. A "Stop and Go" scheme will be implemented along parts of EDSA, Roxas Boulevard, Skyway, SLEX, and areas around Ninoy International Airport (NAIA) from November 15 to 20. It basically means that traffic will be stopped whenever any APEC leaders are passing through.
ADVERTISEMENT - CONTINUE READING BELOW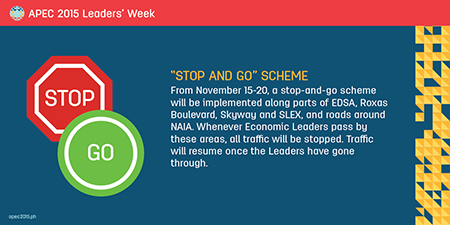 Don't be surprised if you get stuck in a non-moving traffic in Manila from November 15 to 20. Traffic flow will be stopped to give way to APEC leaders' vehicles.
Will the number coding scheme apply?
Yes, the number coding traffic scheme in Metro Manila will still be implemented during APEC week.
— Official MMDA (@MMDA) November 3, 2015
Stay tuned for more traffic updates via the MMDA Twitter.
How about the truck ban?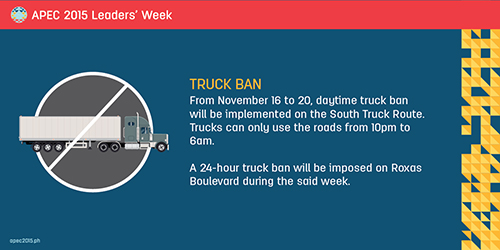 There will be a 24-hour truck ban on Roxas Boulevard from November 16 to 20. Meanwhile, trucks can only pass through the Southern Truck Route (from Port Area to Southsuper Highway) from 10 p.m. to 6 a.m. 
What will happen to flights in and out of Manila?
Expect stricter security measures in all NAIA terminals from November 17 to 20. Several runways in NAIA will be closed to give way to the departure and arrival of APEC leaders.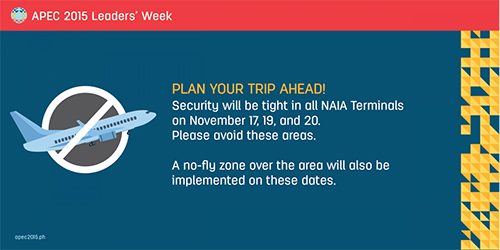 If you have travel plans (local or international) from November 15 to 20, check with your airline for possible flight cancellations. 
For more information, visit the official website of APEC Philippines 2015. 
Photos from APEC2015.ph
Load More Stories