50 Quotes Worth Thinking About From Pinoy TEDx Talks
"It is the experience of being lost, of being confused, and finding your way out of that that ends up teaching you the lessons you'll never forget."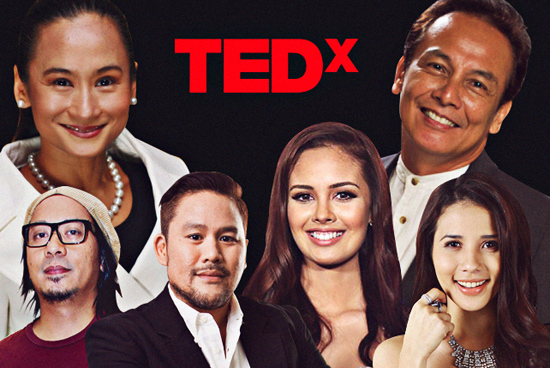 (SPOT.ph) Do yourself a favor and familiarize yourself with inspiring Filipinos sharing "ideas worth spreading" in TEDx Talks. We know you don't have the time to binge-watch all the TEDx sessions (which are all shorter than a How I Met Your Mother episode), so we've tried to make it easier for you. Here are 50 nuggets of wisdom from Filipino TEDx Talks speakers that you can use in life.
Also read: 10 Most Inspiring TEDx Talks by Pinoys
"'Safe' is the enemy of greatness." – Rajo Laurel
"Kapag importante pala sa iyo ang isang bagay, kahit 'yong mga hindi mo pinaniniwalaan, pipilitin mong panghawakan para 'wag mo sayangin 'yong pagkakataon na 'yon." – Juan Miguel Severo
"Trying puts you [in] the door. It gets you a step further. Success and even happiness are earned. They don't just come your way. It takes a lot of work to get there." – Megan Young
"You wanna make it in the world? Come as a Filipino. Come as you are." – Jim Paredes
"When a woman flaps her wings, she creates, she nurtures, she transforms." – Jenny Elmaco
"The unexplainable secret to success is out there, and it's called grit...Grit is passion and perseverance combined." – Jonathan Yabut
"'Wag kang pumayag na ikaw mismo ang magkulong sa sarili mong kakayahan." – Sabsy Ongkiko
"In this fast-paced life that we're living in, do we even have the capacity to sit and wait for things? Why not just act now? Make things happen, and see how things go." – Abbey Sy
ADVERTISEMENT - CONTINUE READING BELOW
"Kailangan mo munang itaya ang iyong sarili sa mundo bago magbukas ang mundo ng oportunidad para sa iyo." – Czarina Medina-Guce
"Let us use our personal [suffering]. Let us use our personal [journey]...in order to find [solutions] to the many wrongs in our country." – Raymund Narag
"When you intersect these three things, you will find revocation: something that you're good at, something the world needs and something you love doing." – Delfin Villafuerte
"Our current situations, our present dispositions, should not limit us in trying to embrace life as it is." – Miguel Garcia
"When you do things with love, you attract more people and change happens faster." – Anna Oposa
CONTINUE READING BELOW
Recommended Videos
"Have you guys ever experienced going to a place that's so beautiful and then you say, 'Wow, parang wala ako sa Pilipinas,' isn't that sad?" – Pepe Diokno
"What really matters at the end of the day is that you're doing something you love for a place that you love." – Michi Ferreol
"Art reflects who we are as a people. Art reflects our soul and culture is the string element that binds us as a nation no matter how diverse and divided we are." – Loren Legarda
"We are most creative when our emotions are [at their] highest." – Antoinette Jadaone
"I don't know what the future of Metro Manila is. I do know who it depends on, because essentially, you are the city. Your experience of the city will define where it will go. It's not dependent on government alone. It's dependent on you as a citizen." – Benjamin de la Pena
ADVERTISEMENT - CONTINUE READING BELOW
"I learned that it was okay to ask questions, in fact, it was good to ask them and to look for the answers." – Reina Reyes
"Trust that... in being average, we can create something...truly, truly creative."– Gabe Mercado
"My close friend and I went to the streets and decided to paint on empty walls. If the galleries won't show our art, we will create the conditions to show our art." – Leeroy New
"That is what the law is: sometimes it is for you, sometimes it's against you." – Marvic Leonen
"Every opportunity that we could use, any distribution channel to tell a story, please use it because it helps a lot." – Rick Rocamora
"Despite technology with YouTube, there's nothing like seeing and feeling the exchange of energy between the performer and the audience. There's nothing like that connection that you make during a live performance." – Lisa Macuja-Elizalde
"It does matter what you want to do, but don't do it without the passion to do it." – Gary Valenciano
"May masakit sa pagmamalasakit...You always have to dignify, define, and nurture the pain in your passion. Otherwise, your 'because' or 'why' would never be sustained." – Prim Paypon
"We, especially Filipinos, sing because we love to...We simply love to sing." – Mark Anthony Carpio
"When people do not get the information they need, they do not get the care they need—or worse, they get (medical) care that they don't need." – Dr. Iris Isip Tan
"Paikot tayo (Filipinos) eh—very accommodating and very non-confrontational." – Joey Ayala
ADVERTISEMENT - CONTINUE READING BELOW
"What's more tragic than Cebuanos finding their own language baduy?" – Lorenzo "Insoy" Niñal
"The medium is not only the message. The medium defines the messenger. Who we are is not only based on what we say, but who we are is also defined by how we say it and by the fashion in which we gather information to be able to come up with messages." – Jose Javier Reyes
"Allow yourself to get lost. Allow yourself to get confused. Allow yourself to be in situations where you don't know the answer, where there is no step by step guide. It's the experience of being lost, of being confused, and finding your way out of that that ends up teaching you the lessons you'll never forget." – Brian Maraña
"As always, process equals result. Your process is as important as result." – Buck Sia
"Pero kung dati may Beatles para magsilbing gabay sa paghabi ng magagandang himig, paano ba tayo humantong sa mga bangungot na gaya nito ("Friday" by Rebecca Black)?" – Lourd de Veyra
"When a person is always involved in creating something that is beautiful, like painting, hindi na po s'ya makakaisip ng anumang masama." – Fernando Sena
"We've got all of these small, micro things scattered all around the country, and the trick really is to think big things out of these many small things. So let's embrace our heritage of smallness and dream big things for our country." – Mark Ruiz
"No matter what we do, we are all connected. No matter what we do, our decisions will affect someone from somewhere in a positive or a negative way." – Reese Fernandez
ADVERTISEMENT - CONTINUE READING BELOW
"It's good to be kayumanggi, what's wrong with that?" – Leticia Shahani
"There's this great freedom in the Internet, but at the same time, we become spoiled...We stop caring about the value of information that we're getting." – Deondre Martin Ng
"It may be possible to take inspiration from outside your field, and use it to innovate in your line of work. The possibilities are endless." – Jerrold Tarog
"Authenticity is needed to connect effectively." – Karylle Yuzon
"Sometimes we must also be held accountable. We must also [say], 'Oo, sablay ako eh.'" – Jose Tence Ruiz
"In the face of poverty and destruction, absolutely, books matter...In the face of terrible governance, there is no better weapon than books." – Rica Bolipata-Santos
"God did not make a mistake when he made me Filipino; that there is so much wealth in this country, that there is so much opportunity that we can offer our people." – Tony Meloto
"The things which are real, the things which create depth...they take time. They take a long time. And when we force things, we destroy." – Eddie Calasanz
"Wala pong pangarap na imposible...'Pag nangarap ka, one half of your journey, tapos na. You just need to finish the other half."– Gloc-9
"I wanted to start collecting moments, and not collecting things, awards, achievements anymore because those didn't really matter." – Julia Chu
"Oo, maaring minsan nararamdaman mo na iba ka, pero hindi yun sapat na dahilan para itigil mo yung pagsama sa daloy, agos ng buhay." – Jetro Rafael
ADVERTISEMENT - CONTINUE READING BELOW
"'History repeats itself,' that's not true. History doesn't have a life of its own...The thing that repeats history is not history, [it is us]. And we will stop repeating history when we get to know it, and one day, [we will] get to liberate ourselves from it." – Ambeth Ocampo
"If you really can't find beauty and poetry in Manila, you'll never find it anywhere else." – Carlos Celdran
Also read: 10 Most Inspiring TEDx Talks by Pinoys
Share this story with your friends!
---
Help us make Spot.ph better!
Take the short survey
Load More Stories