Boyce Avenue to hold five-city tour in PH + more things you might have missed today
New Facebook reactions, road closures force thousands to walk to work, and more.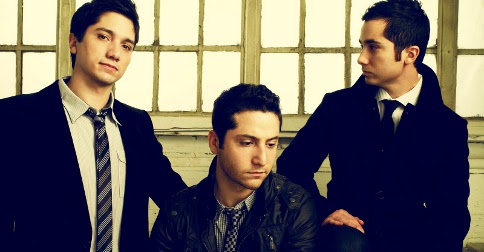 (SPOT.ph) Busy day, Spotters? We quickly recap 10 things you might have missed while you were off the radar.
1. Boyce Avenue to hold five-city tour in PH
American band Boyce Avenue will be returning to the Philippines—and we don't just mean Manila! They'll be doing a five-city tour around the country beginning at the Smart Araneta Coliseum on February 16, followed by the Waterfront Cebu City Hotel on February 18, the Limketkai Mall in Cagayan de Oro on February 19, the La Salle Coliseum in Bacolod on February 20, and the University of Baguio on February 22. Tickets for the Araneta Coliseum show will be available starting November 19.
2. Charlie Sheen to reportedly admit he is HIV positive
According to reports, Charlie Sheen will be revealing a "personal announcement" on the Today show Tuesday (Wednesday in Philippine time). Rumors allege that he is HIV positive, following a recent blind item report about an "A-list actor diagnosed with HIV" that fit Sheen's description. The volatile actor had a very public meltdown in 2011, which coincided with his exit from his hit sitcom, Two and a Half Men.
3. Christopher Nolan's Memento is getting a remake
File this under news you might not want to hear. Christopher Nolan's widely celebrated film, Memento, is reportedly getting a remake by AMBI Pictures. The studio promised that they will "stay true to Christopher Nolan's vision" and will deliver a movie that is equally "edgy, iconic, and award-worthy." So far, no other announcements have been made. The original film, told in a non-linear narrative, starred Guy Pearce as man tracking down his wife's killer but suffering from memory loss.
ADVERTISEMENT - CONTINUE READING BELOW
4. Facebook Reactions now available in the Philippines
Facebook has rolled out the expanded Like button in the Philippines. The iconic thumbs up button now comes with other buttons, to allow the expression of different emotions other than positivity. "A lot of times, people share things on Facebook that are sad or tough cultural or social things," Mark Zuckerberg said. This development coincided with the nation having simmering reactions to being the host country for the Asia Pacific Economic Cooperation (APEC) Summit.
— ㅤ (@mansooon) November 13, 2015
5. Need to take a discreet selfie? This "selfie arm" is the way to go
CONTINUE READING BELOW
Recommended Videos
Drop the selfie stick! Someone has finally created the best way to take discreet selfies in public...with this incredibly inconspicuous selfie arm! Before you get too excited (or confused), the selfie arm is not a real product. It was created by Japanese comedy site Omocoro with the use of fake hands and a very, very long-sleeved shirt.
ADVERTISEMENT - CONTINUE READING BELOW
6. Yay or Nay: Rainbow eyebrows are now a thing
Will rainbow eyebrows be your next #kilaygoals? Whether it be ombre or the full rainbow palette, the new rising makeup trend from the runway is color cosmetics, particularly for your arches. Winky Lux is one of the cosmetic brands carrying highly pigmented makeup for the eyebrows. "Rainbow brows is kind of a makeup artist exclusive...No one really knows how to do it unless you're in beauty," Winky Lux founder Natalie Mackey said. "We thought we would make it for everybody, so it's very easy and all in one place." People in the U.S. have started wearing colorful brows in music festivals and even on normal days.
7. France says show must go on with call to go to cafes and concerts
On November 16, French officials urged the public to go back out to bars, concerts, and restaurants as an act of defiance to the recent terror attacks in Paris. Culture minister Fleur Pellerin advised that in the face of "barbarism...culture is our biggest shield and our artists our best weapon." He also said that the government is preparing a special fund for live entertainment and additional security measures. The hashtag #MonPlusBeauSouvenirDuBataclan (My most beautiful memory of the Bataclan) trended on Twitter, as citizens posted photos and videos of artists performing in the establishment.
8. Road closures force thousands to walk to work
This week, thousands of commuters walked on foot to their destinations due to road closures set for the APEC Summit. The closure of eight lanes along Roxas Boulevard to both pedestrians and motorists starting November 16 was only announced on November 15. According to chief of Manila Disaster Risk Reduction and Management Office Johnny Yu, the task force handling APEC security decided to prevent people from passing through to ensure the world leaders' safety. Metropolitan Manila Development Authority (MMDA) Task Force APEC head Emmanuel Miro said they will be more lenient towards buses who will decide to cut and reroute trips. "The most advisable thing to do is to walk," he said. He advised motorists and commuters from Cavite to use Daang Hari going to South Luzon Expressway (SLEX) or take C5 Road to avoid traffic.
ADVERTISEMENT - CONTINUE READING BELOW
9. Top 10 Steaks in Manila (2015 Edition)
We're not referring to "steaks" in fast food restaurants or those served in sizzling plates with lots of gravy (although those are yummy, too). We're talking about the BEST steaks in Manila, so you'll have to spend for them. Quality meat doesn't come cheap, so just remember: You deserve these 10 steaks.
10. 10 Surplus Shops to Check Out in Manila
Whether you're on a tight budget or you just love thrift shopping, we give you a handy list of 10 surplus shops that will satisfy all your (cheap) retail needs.
Share this story with your friends!
---
Help us make Spot.ph better!
Take the short survey
Load More Stories