Alma Moreno "hurt" by Internet bashing + more things you might have missed today
Adele says no to music streaming, Facebook makes breakups easier, and more.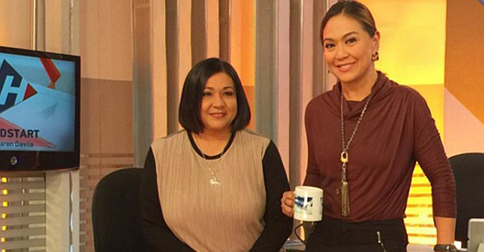 (SPOT.ph) Busy day, Spotters? We quickly recap 10 things you might have missed while you were off the radar.
1. Alma Moreno "hurt" by Internet bashing over viral interview
According to a report from GMA News, aspiring senator Alma Moreno admitted she was "hurt" over the Internet's reaction to her viral and awkward interview with Headstart's Karen Davila. She made the statement during a speech delivered in Parañaque on Thursday, and thanked those who came to her defense. She also said that although she might not be as "well-read and intelligent" as other politicians, it didn't make her any less of a "genuine public servant."
2. Sarah Carlos is out of Pangako Sa 'Yo
Showbiz newcomer Sarah Carlos, who plays Bea Bianca in the currently airing Pangako Sa 'Yo, told an Instagram follower that she is no longer part of the show. "I'm going back to college for now to finish my 12 remaining units in Accountancy," she explained. Prior to joining the telenovela and playing third wheel to Kathryn Bernardo and Daniel Padilla, Sarah went to San Beda College.
3. Adele's 25 will not be available on Spotify and Apple Music
Adele's new album 25 will not be available on any streaming device or music service, according to a report by Reuters. Spotify confirmed that its followers will not have access to the album. "We love and respect Adele, as do her 24 million fans on Spotify. We hope that she will give those fans the opportunity to enjoy 25 on Spotify alongside 19 and 21 very soon," said Spotify in a statement. Chief executive of music streaming company Deezer, Tyler Goldman, also confirmed that it would not have Adele's album on its launch. The album's first single "Hello" had record-breaking downloads and views since it was first released in October, which is quite a game-changer given our "rented music" age. We still love you, Adele!
ADVERTISEMENT - CONTINUE READING BELOW
4. Facebook will make your next breakup easier with new tools
We all know how hard it is to end an actual relationship, and along with it—a relationship status on Facebook. The social networking site has begun testing its new tool that gives newly separated users an option to "see less" of a former partner's posts and updates (that is, if the "unfollow" button isn't already enough for you). The next time you change your relationship status, you will be prompted to select whether you want to limit the posts that will be visible to your ex or un-tag yourself from posts with them. You can also choose not to see them on your newsfeed and you also won't be prompted to tag them on photos. All these without your ex having any clue because they won't be notified. The new feature will be released soon.
CONTINUE READING BELOW
Recommended Videos
5. World's second-largest diamond found in Botswana
According to the Lucara Diamond firm, the world's second-largest diamond has been discovered in Botswana, Africa—the biggest to be discovered in over a year. "The significance of the recovery of a gem quality stone larger than 1,000 carats, the largest for more than a century... cannot be overstated," William Lamb, the CEO of Lucara Diamond said. Two other "exceptional" white diamonds (an 813-carat stone and a 374-carat stone) were also found.
6. Donald Trump wants U.S. Muslims to carry special IDs for surveillance
To no one's surprise, Republican presidential candidate (and frontrunner) Donald Trump made some very disturbing comments on U.S. Muslims, following the recent ISIS attacks on Paris. In an interview, he said that should he be elected, he would require U.S. citizens who practice Islam to carry special IDs as increased surveillance. He also said that he was open to warrantless searching for Muslims, deportation of Syrian refugees, and shutting down mosques (which he called "hotbeds" of terrorist activity).
ADVERTISEMENT - CONTINUE READING BELOW
7. Trudeau says he "absolutely adored" his stay in the Philippines
Canada's Prime Minister Justin Trudeau said in a press briefing on November 19 that he "absolutely adored" his short visit to the Philippines for the Asia Pacific Economic Cooperation (APEC) Leaders' Meeting. The Prime Minister cited the large Filipino community in Canada, and said that being in the place they call their original home is a "real pleasure." When asked about the Filipinos' fascination over his looks, he replied, "One of the things about growing up somewhat in the public is that I had to develop a capacity to separate people's perceptions of me from who I really am."
8. OTS sacks 17 employees after "Laglag Bala" investigation
The Office of Transportation Security (OTS) has finally released the results of its investigation on the "Laglag Bala" scheme allegedly happening at the Ninoy Aquino International Airport (NAIA). OTS Chief Rolando Recomono confirmed that they found discrepancies in the records of passengers detained for allegedly possessing contraband, which led to the dismissal of 17 OTS personnel. Recomono also admitted that during the course of their investigation, they tried carrying bullets through the airport, and these not discovered by the screeners. "Depende ngayon 'yon dun sa machine. 'Pag hindi tumunog, there's something wrong dun sa walkthrough, dun sa machine. Kina-calibrate po 'yong machine," he explained. Recomono said his office is already coordinating with the Department of Transportation and Communications (DOTC) for possible changes in the system to get the public's trust back. The investigation results have been sent to the Department of Justice (DOJ).
ADVERTISEMENT - CONTINUE READING BELOW
9. 10 Chocolate Treats That Will Sweeten Your Day
There are so many words in any language that can describe chocolate, but to put it simply: It makes us happy. Here are 10 chocolate treats for when you need an instant pick-me-up, because let's face it—we'll always find an excuse to indulge in chocolate.
10. 10 Things We've Learned From Campaign Ads
Did you know that each airtime slot for political ads cost about P100,000 to P500,000 depending on the time? We figured we might as well learn from something so expensive and important.
Share this story with your friends!
---
Help us make Spot.ph better!
Take the short survey
Load More Stories